Canada
Tickets for Globe Theater's next Christmas show are selling fast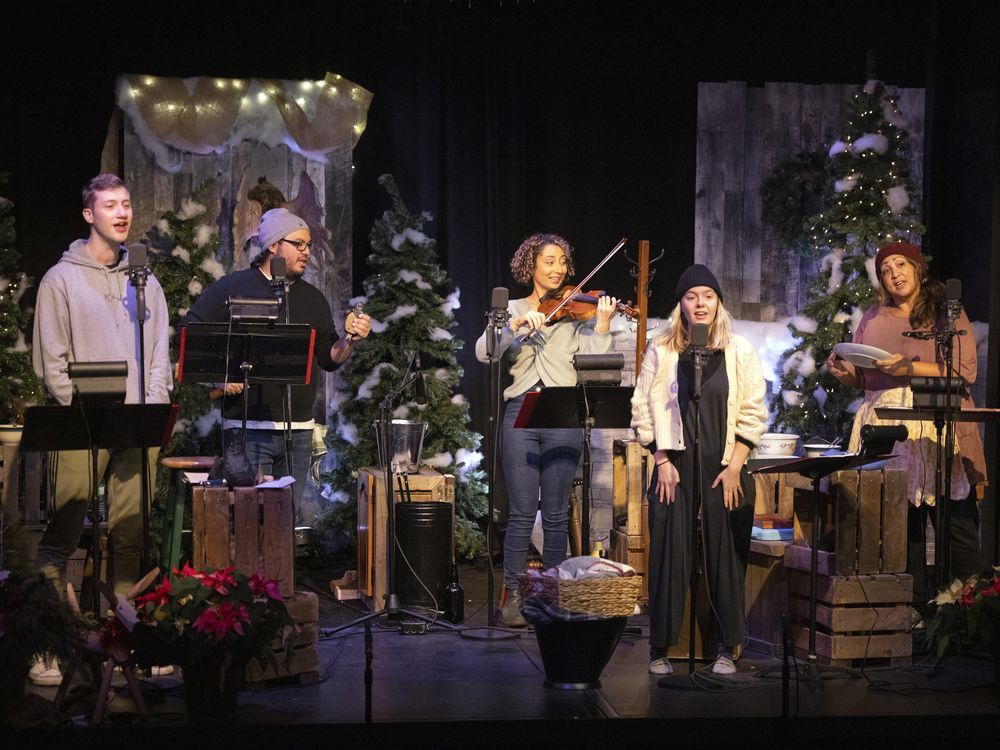 The local arts and entertainment scene is plentiful, with upcoming shows by the Globe Theater and the Regina Symphony Orchestra.
Reviews and recommendations are unbiased and products are independently selected. Postmedia may earn affiliate commissions from purchases made through links on this page.
Article content
For the second year in a row, The Globe Theater's Christmas show, Making Spirits Bright, will be at The Artesian from December 2nd to December 23rd.
Article content
By Wednesday, over 80% had already sold out.
Article content
The show includes two works by Canadian authors performed in the spirit of old-fashioned live radio music, featuring musical elements with actors performing multiple parts and sometimes playing their own sound effects. is.
The cast consists of Chris Alvarez, Skyler Anderson, Sarah Bergbusch, Sierra Haynes, and Lualdi MacDonald.
The show begins with a performance of Thomas King's classic children's book, Coyote Solstice Tale.
According to a media release, "This sweet and heartfelt comedy story follows Trickster Coyote as he learns that finding peace and goodwill during the holiday season always starts with family and friends. "
The second half features a performance of WO Mitchell's Christmas voice, taken from the Jake and Kid series.
Article content
"Set in the 1940s, Jake has one Christmas wish: to speak to his father for the first time since he was sent to war," the release said. 's timeless tale is a reminder to never take connection for granted."
For more information or to purchase tickets, please visit globetheaterlive.com.
——-
The Regina Symphony Orchestra continues its Classical Series on Saturday night with a celebration of Jewish music at the Conexus Arts Centre.
The show includes selections by award-winning Ottawa composer Kelly Murphy, who will join us for a pre-concert chat with conductor Gordon Gerard at 6:45 PM.
Murphy's work is titled "En el Escuro es Todo Uno (In The Darkness All Is One)". In 2018 he was awarded the Azrieli Commission of Jewish Music.
Article content
"When Kelly Murray writes a new piece, I always try to listen to it," Gerrard said in a media release. It creates a unique and beautiful world of sound for everything you write."
RSO will be joined by Couloir, an internationally renowned duo from Vancouver, Ariel Barnes (cello) and Heidi Krutzen (harp).
"The idea of ​​a double concerto for harp and cello particularly caught my attention even before I heard it," said Gerrard. "There is tremendous energy, color and warmth in this piece. I can't wait for the audience to hear it."
RSO will also perform Symphony No. 4 by iconic composer Gustav Mahler, who faced anti-Semitism throughout his life. To secure his job, he converted from Judaism to Catholicism in Vienna in the late 1800s.
Article content
"Mahler had a complicated relationship with his identity, but there is no doubt that he was Jewish," Gerrard said. "His struggles and victories can be heard in all his symphonies. Both Marie's concerto and Mahler's symphony inspire us with unmistakable optimism and hope for a brighter tomorrow."
Tickets can be purchased at reginasymphony.com, conexusartscentre.ca, or by calling the RSO Box Office at 306-586-9555.
Meanwhile, RSO's Baroque series kicks off with two shows on December 3rd (2pm and 7:30pm) at the Holy Rosary Cathedral. The Christmas Concerto features NL St. John's renowned guest conductor Kathleen Allan.
Article content
——-
SaskExpress is presenting its latest musical (it's actually Seussical) at the SaskExpress Theater (2272 Pasqua St.) from December 1-11.
10 shows over 11 days in Regina, followed by performances in Yorkton (December 13, Ann Portnuff Theatre) and Weyburn (December 15, Cugnet Centre).
"A musical perfect for the whole family, Susikar takes us into the world of Dr. Seuss…," said a media release. "Today, his Seussical, one of the most widely produced musicals in the country, weaves stories of friendship, loyalty and love. It teaches strength and the importance of fighting for what you believe in."
Get details and tickets at saskexpress.com.
——-
The days of Alley Dawgs, who have hosted Honky Tonk Tuesday in Regina since 2015, are over.
The Regina-based band recently announced an "indefinite hiatus." His final three shows in the group are scheduled for December 6th, 13th and 20th at The Fat Badger.
——-
Regina's On Cue Performance Hub presents a trio of new dance performances by Katherine Ricketts and friends.
Bromster | Garden Plots | Land(ing) will be held December 7-9 (7:30pm) at the docks of local market YQR.
Tickets for Globe Theater's next Christmas show are selling fast
Source link Tickets for Globe Theater's next Christmas show are selling fast