Canada
You Said It: Trudeau's Hits, Part 1 — Disgusting Show by PM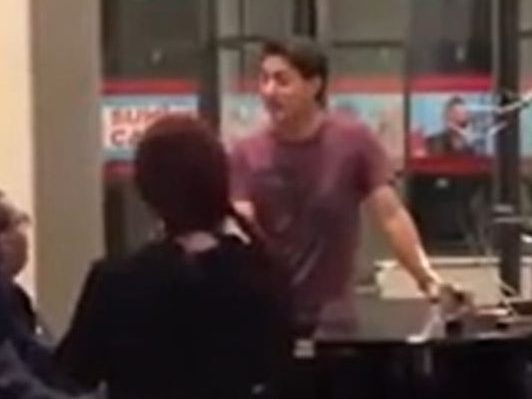 Here is today's Ottawa Sun letter to the editor.
Article content
Disgusting show by PM
Article content
Re: No music to their ears.Prime Minister accused Bohemian Rhapsody's "tone deaf" production, column, September 20
Article content
With tears in my eyes when I watched the Queen's funeral on Monday, I was disgusted to see our leaders singing and partying in bars with taxpayer's dime.
I'm just an old man, so what do you know? This Queen is the only one I know who has learned to sing God save her Queen in her honor.
He was there to represent us who were saddened to not be able to be there. His press is bound to dismiss this as a youthful vigor. This is another abominable act of this prime minister who cares about no one but himself.
Bob Morris
Ottawa
(Worse still, he was terribly unwell.)
crappy crooner
Mr. Freeze has become a crooner of sorts, albeit a terrible one. Here he's singing Queen's Bohemian Rhapsody with a group of other elites in the lobby of a swanky, multi-thousand-dollar-per-night hotel. This event happened on Saturday. Did His Royal Highness of Canada need our money to stay that long? No, he didn't, but he doesn't care.
Article content
Now the millions of people who have returned to this country can barely pay their rent, fill their tanks with water and put food on their tables, but they're not "pretty boys." In previous letters I wrote, it was stated that he was going to be the center of attention at this event.
Stephen Flanagan
Ottawa
(Unfortunately he can't juggle.)
I apologize
Congratulations to Justin Trudeau for looking like an idiot in the hotel's piano bar when he sang with a British pianist while attending the Queen's funeral.
We can only assume that he did what he did to see if he could "outdo" his father, who pirouetted behind Queen Elizabeth's back at Buckingham Palace a few years ago.
A great show of disrespect for the late, greatest queen ever.
Article content
Unfortunately, the leader of the opposition, Pierre Polivre, was not present in place of the so-called prime minister. I can assure everyone that he and his family have shown due respect.
Trudeau, you embarrassed me and probably millions of other Canadians. You owe us an apology for your actions that night.
Bruce McMahon
Petawawa
(PMJT: Add "fun" to "funeral")
Karaoke instead of dignity
The scale of Monday's astonishing funeral, seen by so many, will probably never be repeated. No other country does. The fact that the Queen requested that the RCMP be centered showed her love for Canada and the organization that has donated six horses to her over the years.
Unfortunately, Trudeau made news in England and America for the wrong reasons. Trudeau, he felt, was called upon to do karaoke skits rather than to act with the dignity expected of a prime minister on the world stage.
What a national disgrace he suffered!
Larry Comeau
Ottawa
("I see a small silhouette of a man…")
you said it: it doesn't make sense

You said it: Turned off by Trudeau
You Said It: Trudeau's Hits, Part 1 — Disgusting Show by PM
Source link You Said It: Trudeau's Hits, Part 1 — Disgusting Show by PM