Canada
'We need shelter beds now': Supporters protest outside Edmonton City Hall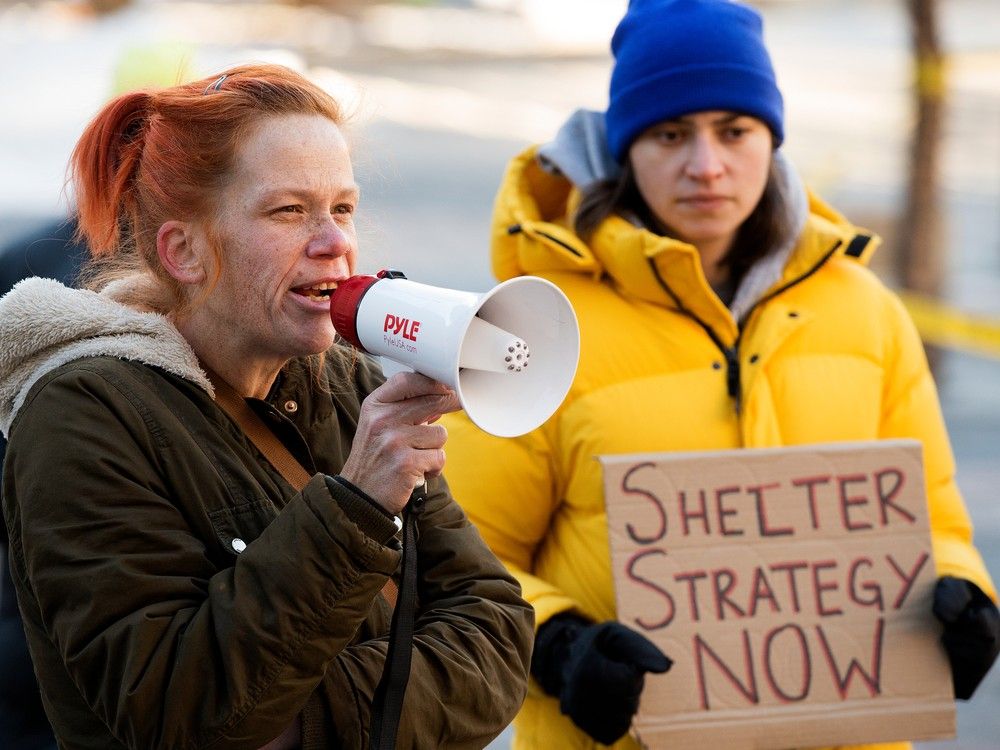 Article content
Advocates are demanding more shelter in Edmonton as winter approaches, and say the city must act now to prevent people from dying from the cold.
Article content
About 20 people gathered outside City Hall on Monday to protest the lack of shelter space and housing for those experiencing homelessness, chanting "shame", "people are dying" and "food and food". They held up placards that read, "Housing is a basic human right."
Article content
Two city-funded extreme weather buses will return to service this winter. Local governments have funded the opening of emergency shelters in the past two winters, but nothing has been announced for this season. Instead, Edmonton is relying on newly released state funding to open 450 emergency shelter spaces with a total of 1,072 beds across the city, just like last year.
Article content
But homelessness has nearly doubled since the COVID-19 pandemic began. The Homeward Trust identified 2,650 people experiencing homelessness as of mid-October. Council members have repeatedly stated that it is the state's responsibility to resolve this crisis.
Angie Stains, founder of 4B Harm Reduction, said city councils need to stop waiting for the state to do something and act now.
"We need shelter beds now.
"This is Alberta. We get winter here every year. Why are you here in November asking where the shelter beds are?"
Article content
She said the city needs a concrete housing strategy to break the vicious cycle of exposure to the cold, with people at risk of frostbite and death.
"I've never seen these city councilors sleeping in tents outside. They couldn't last an hour our community[live]," Staines said. "It's inhumane…it's just inaction, it's social murder and we need to do something now.
"This is an emergency. It's a crisis."
The bylaws officer should also not issue tickets to people seeking shelter or confiscate harm reduction supplies, Mr Staines said. I showed the intrusion ticket to Postmedia.
Article content
City spokesman Brent Wittmayer said in an email that the city does not allow people to use LRT stations as shelters. When it goes down to , it will start running. "LRT stations are not suitable shelters because they lack facilities such as heating and proper washrooms," he said.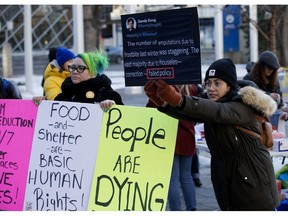 'We know how dire the situation is:' Mayor
Asked about the call to action from the council, Mayor Amarjeet Sohi said the city is doing what it can through funding social services and emergency warming buses, and vowed to continue to reach out to federal and state governments. .
"We know how dire the situation is in Edmonton when it comes to homelessness, addiction and intergenerational trauma. I need to step up to hold the state government accountable from day one. I've worked hard to convince them," he told the Post Media after an unrelated press conference on Monday.
Article content
"We are exploring more options, but our resources and capabilities are very limited when it comes to these highly complex social issues.
In October, the Alberta government pledged $63 million to tackle homelessness statewide. Hunter Basil, spokesman for Jeremy Nixon's Minister for Aging, Communities and Social Services, said Monday the state is actively working on the plan.
Ward O-day'min Coun. Ann Stevenson said she was happy the state had taken the lead and increased the number of beds in shelters, but the need outstripped supply.
"This is an issue that needs to be addressed, and whoever can act, should act," she told the Post Media. We are not satisfied. We need to keep moving forward on all fronts."
Stevenson expects an update on the municipality's winter response this week. She also plans to advocate for long-term funding in her forthcoming four-year budget discussion.
lboothby@postmedia.com


'We need shelter beds now': Supporters protest outside Edmonton City Hall
Source link 'We need shelter beds now': Supporters protest outside Edmonton City Hall