Canada
TUPOC digs into St Brigid as eviction notices expire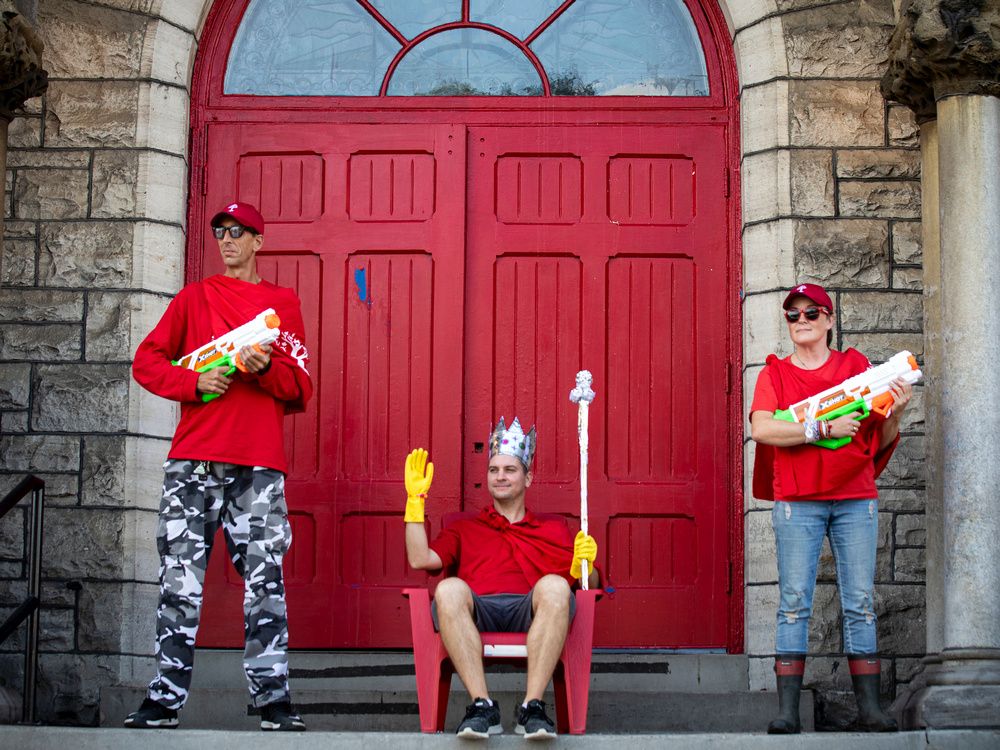 Article content
Thursday was a day of political drama at the Canadian National Union 'Embassy' in St. Brigid's Church, but not much drama.
Article content
The 12:01 am deadline, when the bailiff's eviction order could be enforced, came and went without incident. The owner wants TUPOC out of the unconsecrated Catholic Church, founded since early summer, saying TUPOC has not paid rent nor provided proof of insurance.
Article content
TUPOC director William Komer said they were insured and the owners refused to accept bank drafts of more than $10,000 that the group tried to provide.
On Thursday, the controversy erupted as Comer held court in front of a church, flanked by two TUPOC "bodyguards" armed with a child's crown on his head, a foil-wrapped scepter and Super Soaker squirt guns. It turned into a farce.
Comer says the charade is an attempt to defuse tensions between the group and its Lowertown neighbors.
Article content
On Wednesday, St Brigid's owner's deputy Sees Bayliffe said he would not comment on the plans, but texted him that he could "advise TUPC to leave."
Comer reiterated to reporters on Thursday that the organization was a legitimate tenant and would try to arrest the enforcement officers for trespassing if they tried to enforce the order.
Meanwhile, neighbors continue to complain of being harassed by TUPOC supporters.
Heather Cole said she saw TUPOC members take one of TUPOC's critics home after Wednesday night's confrontation.
The local business owner asked not to be named, but said that Comer had visited him and asked for advice on how to drive Good Hope's Shepherd's Shelter out of Lower Town.
"You move here and start complaining about people doing drugs on the streets?" said the business owner. "Well, welcome to the hood. I told them to get lost."
Cole was almost in tears when she explained her frustrations on Thursday.
"I don't feel like anyone is doing anything," she said. "I know that might not be true, but that's how it feels. The mayor may say, 'You guys should go,' but someone is pushing us." It's nice to feel like."
TUPOC digs into St Brigid as eviction notices expire
Source link TUPOC digs into St Brigid as eviction notices expire