Canada
Today in History: Robert Thirsk breaks a Canadian space record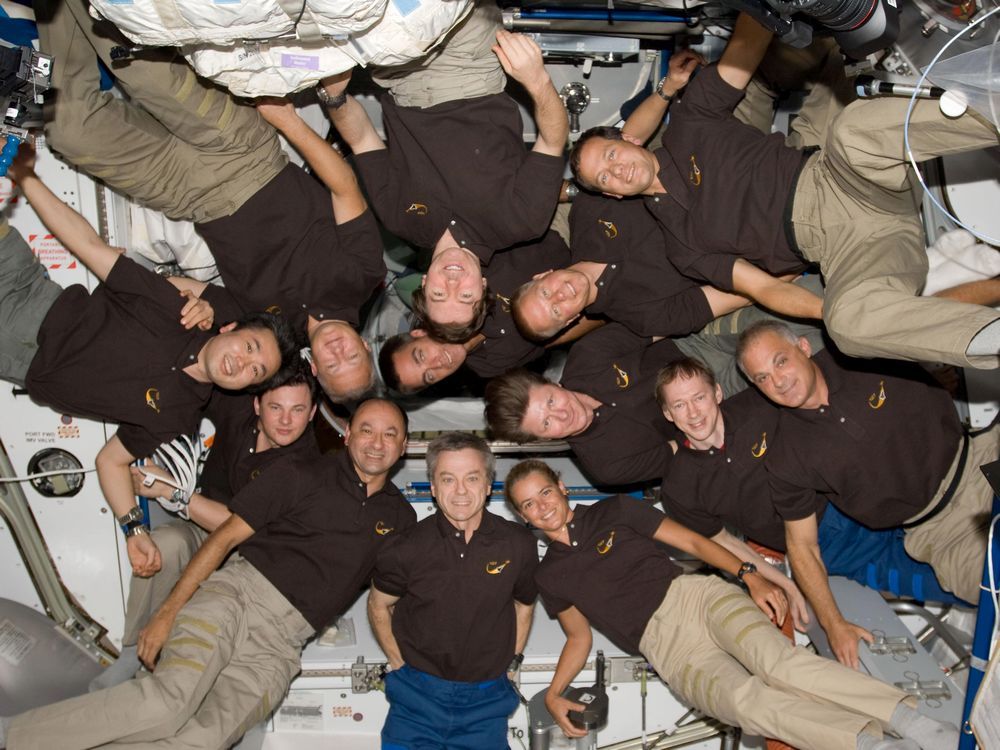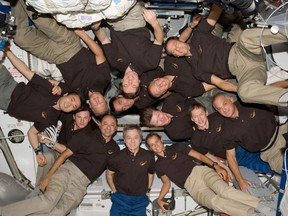 Article content
On this date, Dec. 1, in history:
Article content
In 1680, a comet appeared close to Earth and was clearly visible until the end of February.
Article content
In 1841, the first copyright in Canada was issued for A Canadian Spelling Book.
In 1855, the Canadian post office opened a money order branch.
In 1869, the vast territory owned by the Hudson's Bay Co. was officially transferred to the Canadian government.
In 1904, the Louisiana Purchase Exposition in St. Louis closed after seven months and some 20 million visitors.
In 1913, the first drive-in automobile service station, built by Gulf Refining Company, opened in Pittsburgh.
In 1917, Father Ed Flanagan founded Boys Town, a home for poor, orphaned or problem children, in Omaha, Neb. In later years, the facility expanded to a farm and Flanagan travelled the world spreading his ideas on how to deal with delinquent boys.
Article content
In 1918, the Serbs, Croats and Slovenes united to form what would become Yugoslavia. The name change came in October 1929.
In 1919, millionaire Ambrose Small sold his Canada-wide chain of theatres and then within 24 hours disappeared without a trace. He sold his interests to Trans-Canada Theatres for $1.7 million. After receiving a down payment of $1 million, Small disappeared from his Toronto office. He is thought to have been murdered but the mystery has never been solved.
In 1922, driving on the right-hand side of the road began in New Brunswick.
In 1923, Queen's University set the record for points by one team in a Grey Cup game. The Golden Gaels blasted the Regina Roughriders 54-0 at Toronto's Varsity Stadium.
Article content
In 1942, the Beveridge report, a white paper on social welfare commissioned by the British wartime government, was published. It laid the foundations for the modern welfare state in Britain.
In 1943, the leaders of the United States, Britain and Russia concluded a meeting in Tehran. Franklin Roosevelt, Winston Churchill and Josef Stalin agreed on the scope and timing of operations to smash the German army in the Second World War. They also planned an era of peace, in which all countries would be invited to join a world family of democratic states.
In 1955, Rosa Parks, a black seamstress, refused to give up her seat to a white man on a Montgomery, Ala., city bus. Parks was arrested, sparking a year-long boycott of the buses by blacks.
Article content
In 1959, 12 countries signed a pact in Washington making Antarctica a scientific preserve.
In 1960, the new terminal building at Montreal International Airport (Dorval) was officially opened.
In 1960, Gordie Howe of the Detroit Red Wings became the NHL's all-time leading scorer with 1,092 points. (Oct. 15, 1989, Wayne Gretzky registered his 1,851st point to surpass Howe and become the NHL's all-time leading scorer. Gretzky retired with 2,857 regular season points).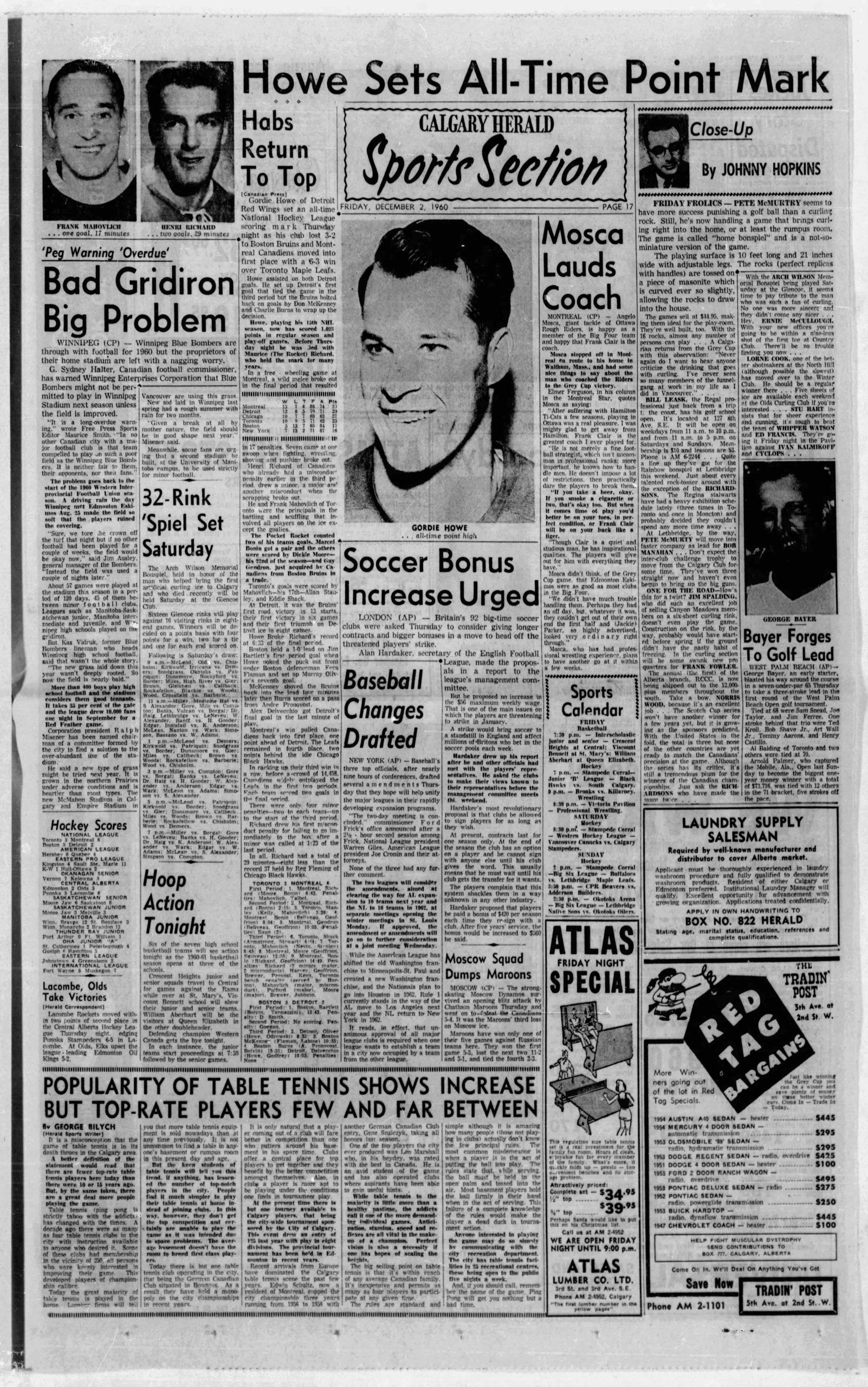 In 1962, for the only time ever, the Grey Cup game failed to finish on the day it started. Fog at Toronto's CNE Stadium forced the game between the Winnipeg Blue Bombers and Hamilton Tiger-Cats to be suspended in the fourth quarter. The game resumed the next day, but there was no further scoring as the Bombers won 28-27 to win their fourth CFL title in five years.
Article content
In 1973, David Ben Gurion, a founder of modern Israel and its first prime minister, died at the age of 87.
In 1981, a Yugoslav DC-9 airliner crashed into a mountain in fog as it came in to land at the airport in Ajaccio, Corsica, killing all 180 people aboard.
In 1984, John Austin, co-founder of Austin Airways Ltd., Canada's oldest bush airline, died in Toronto at age 72.
In 1986, the Supreme Court ruled that Canada Post does not have to provide door-to-door delivery.
In 1987, George (Punch) Imlach who managed and coached the Toronto Maple Leafs hockey team to four Stanley Cup victories, died in Toronto at age 69.
In 1988, Benazir Bhutto was named prime minister of Pakistan, the first woman to lead a Muslim country in modern times, after her party won a plurality of seats in the parliamentary elections.
Article content
In 1989, Soviet President Mikhail Gorbachev announced after a historic meeting with the Pope that the Vatican and the Soviet Union agreed to establish diplomatic relations. Gorbachev also pledged that religious believers of all faiths would be allowed to worship in the Soviet Union.
In 1989, Romanian gymnast Nadia Comaneci, 28, was granted political asylum in the United States after her Nov. 28 defection from Romania.
In 1989, the Arabian peninsula states of North and South Yemen agreed to merge into a single state. They were united as the Republic of Yemen on May 22, 1990.
In 1992, in Mineola, N.Y., Amy Fisher was sentenced to five to 15 years in prison for shooting and seriously wounding Mary Jo Buttafuoco — her lover's wife. Fisher served seven years.
Article content
In 1996, Peter Bronfman, the business tycoon, who with his brother Edward, controlled the largest corporate empire ever assembled in Canada, died at age 67.
In 1998, Exxon agreed to buy Mobil for $73.7 billion.
In 1999, Canadian boxing officials cancelled an entire weight division at the national championships in Campbell River, B.C., rather than allow a young Sikh, Pardeep Nagar, to compete wearing a beard.
In 1999, the internationally renowned Montreaux Clinic for eating disorders in Victoria, B.C., was ordered to close by Jan. 31, after losing its licence.
In 1999, Northern Ireland began an unprecedented era of self-rule at the stroke of midnight as 25 years of direct administration from Britain ended.
Article content
In 2000, Vicente Fox Quesada was sworn in as president of Mexico. He was the first national leader in 71 years who was not from the long-ruling Institutional Revolutionary party.
In 2002, Quebec Premier Bernard Landry created a Council for Sovereignty for a more aggressive political independence policy.
In 2004, Tom Brokaw hosted his last broadcast of NBC's Nightly News. He had been on the anchor desk for 23 years.
In 2004, the Ukraine parliament passed a vote of no confidence, bringing down Prime Minister Viktor Yanukovych's government. It was just the latest turn in the Orange Revolution which began after the elections of Oct. 31, which the opposition under Viktor Yushchenko declared fraudulent. The Supreme Court declared the results invalid and ordered another election, which Yushchenko won on Dec. 26.
Article content
In 2005, South Africa's highest court approved same-sex marriages.
In 2008, the Liberals, NDP and Bloc Quebecois, which together held more than half of the seats in Commons, signed a historic accord that would support a Liberal-NDP coalition government for at least 18 months, in the event the minority Conservative government fell on a non-confidence vote. (Three days later, parliament was prorogued by Governor General Michaelle Jean upon Prime Minister Stephen Harper's request.)
In 2008, the cargo vessel, Cap Blanc, from the French island of St-Pierre-Miquelon, capsized off the southeast coast of Newfoundland with the loss of four sailors.
In 2008, the TSX dropped more than 800 points, its worst plunge since the 1987 crash.
Article content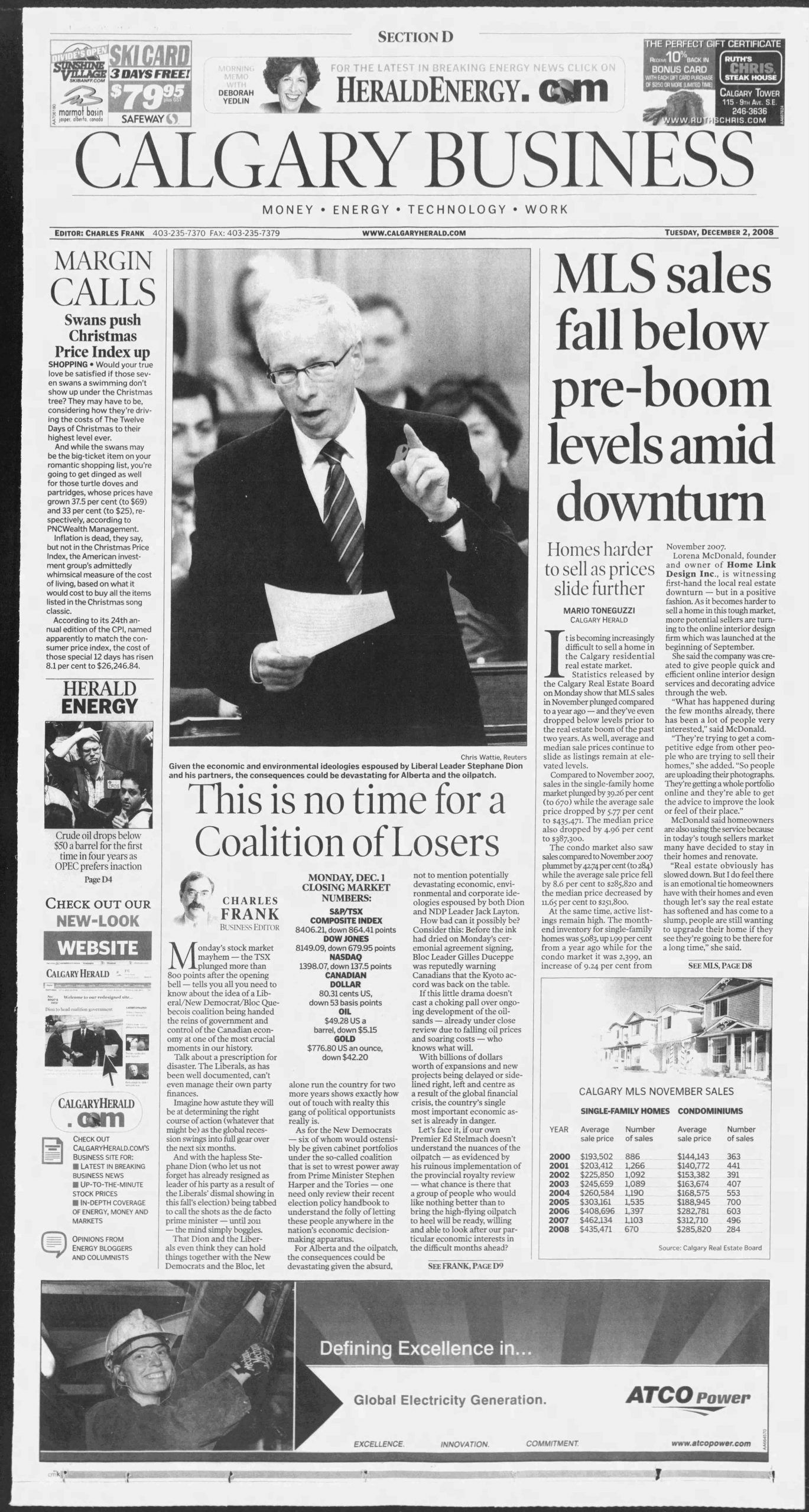 In 2009, record-breaking Canadian astronaut Bob Thirsk returned to Earth after spending six months aboard the International Space Station, where one of the goals of the six astronauts was to gather information on the effects of space on the body. Thirsk's stay on the I.S.S. also marked a pair of firsts — not only was it the longest space stay for a Canadian, but it also marked the first time two Canadians had ever crossed paths in outer space — when astronaut Julie Payette arrived aboard a shuttle.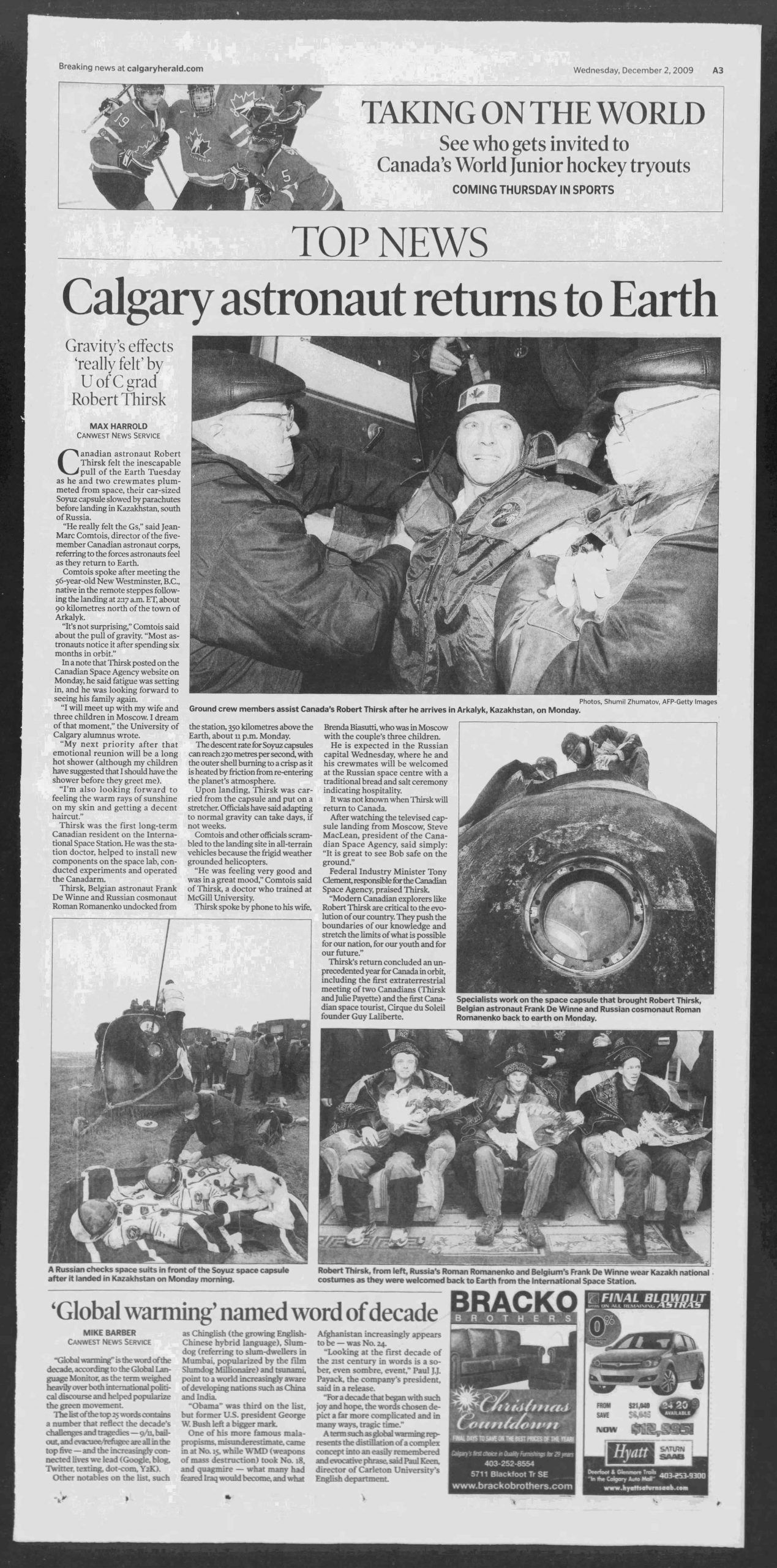 In 2009, U.S. President Barack Obama ordered 30,000 more U.S. troops to be deployed in Afghanistan — but he also pledged to begin withdrawing American forces in about 18 months, beginning in July 2011.
In 2011, the Maple Leaf flag was hauled down for the last time in Afghanistan's Kandahar in a quiet ceremony at Kandahar Airfield, marking the end of Canada's military presence in the province.
Article content
In 2012, Enrique Pena Nieto took the oath of office as Mexico's new president, bringing the Institutional Revolutionary Party back to power after a 12-year hiatus.
In 2013, a speeding New York City passenger train on the southbound Hudson Line derailed on a riverside curved section of track in the Bronx, killing four people and injuring more than 60 others.
In 2014, the tumultuous era of scandal-plagued Rob Ford came to an end as his successor, John Tory, officially took over as mayor of Toronto.
In 2016, former Laval mayor Gilles Vaillancourt pleaded guilty to three fraud-related charges and was incarcerated after defence and Crown lawyers agreed to a six-year prison term. He had to reimburse about $7 million, mostly from Swiss bank accounts, as well as hand over his condominium to the city he headed for 23 years.
Article content
In 2017, former U.S. national security adviser Michael Flynn pleaded guilty to lying to the FBI, becoming the first Trump White House official to face criminal charges and admit guilt so far in special counsel Robert Mueller's wide-ranging investigation into Russian meddling in the 2016 election.
In 2017, the Federal Court of Appeal upheld a ruling from the Competition Tribunal that Canada's largest real estate board must allow its realtor members to make home sales data available online, dismissing a Toronto Real Estate Board appeal.
In 2018, Quebec boxer Adonis Stevenson was knocked out in his light heavyweight title fight in Quebec City and was placed into a medically induced coma.
In 2018, Canada acted on an American request and arrested a top Chinese tech executive in Vancouver. Meng Wanzhou is the CFO of Huawei Technologies and daughter of the company's founder. The U.S. wanted her to face allegations of fraud as it says Huawei used unofficial subsidiary Skycom to do business with Iranian telecommunications companies between 2009 and 2014 in violation of sanctions. (Wanzhou was released in September 2021 after reaching an agreement with the US Justice department.)
Article content
In 2019, Canada's premiers said they want the federal government to increase health-care transfer funds by just over five per cent and allow the provinces to opt out of any national pharmacare program. They emerged from a meeting in Mississauga, Ont., to say they had reached a consensus on four priority areas, including on federal health-care funding. They reiterated their call for a 5.2 per cent increase in annual health-care transfer payments from the federal government. They also said the federal government should recognize the right of any province to opt out of its proposed pharmacare program with full compensation. The premiers said they are also eager to address economic competitiveness, the fiscal stabilization program and Northern priorities with the federal Liberals.
Article content
In 2019, the woman who says she was a trafficking victim made to have sex with Prince Andrew when she was 17 asked the British public to support her quest for justice. Virginia Roberts Giuffre told BBC Panorama in an interview that Britons "should not accept this as being OK." Giuffre's first UK television interview on the topic described how she says she was trafficked by notorious sex offender Jeffrey Epstein beginning in 2001 and made to have sex with Andrew three times, including once in London. Giuffre said "this is not some sordid sex story. This is a story of being trafficked, this is a story of abuse and this is a story of your guys' royalty." Andrew, 59, categorically denied having sex with Giuffre and apologized for his association with Epstein, who died in prison in August in what New York City officials said was a suicide.
Article content
In 2020, U.S. President Donald Trump's science adviser announced he is leaving his post. Dr. Scott Atlas, who had no formal experience in public health or infectious diseases, gained infamy for his skepticism of measures to control the coronavirus outbreak. Atlas joined the White House in the summer, clashing with top government scientists as he resisted stronger efforts to contain the COVID-19 pandemic.
In 2020, the end of November meant the official end of the record-setting 2020 Atlantic hurricane season. The season produced 30 named storms, including 13 that reached hurricane status.
Today in History: Robert Thirsk breaks a Canadian space record Source link Today in History: Robert Thirsk breaks a Canadian space record