Canada
The Seeing Eye provides blind Canadians with a canine companion to serve in all facets of life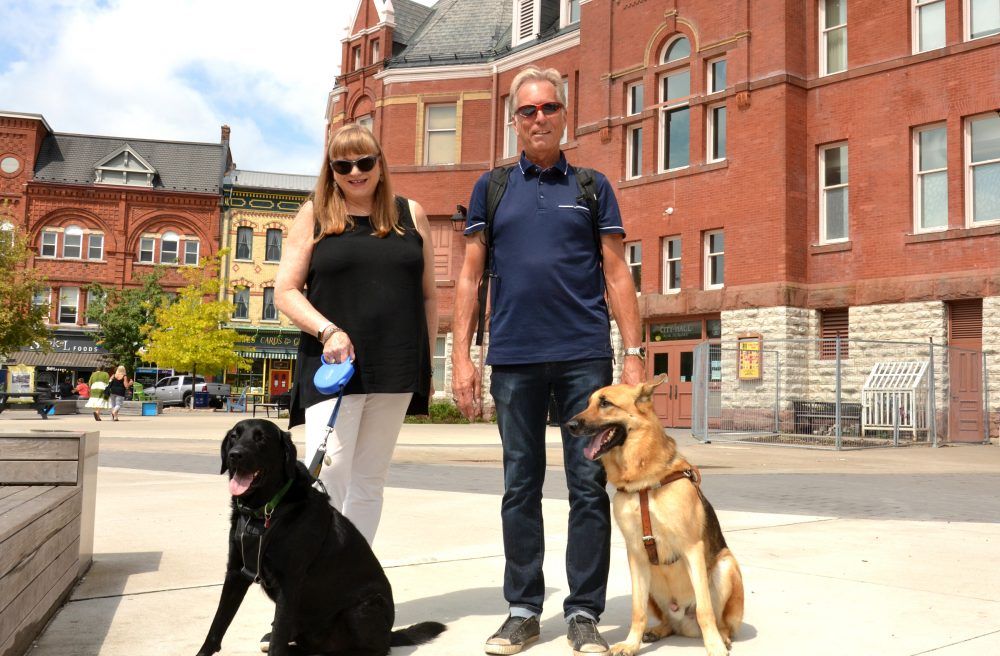 After losing the majority of his vision as an adult, Stratford's Marlin Nagtegaal says he's grateful to The Seeing Eye for matching him with his guide dog and faithful canine companion, Champ.
Article content
From shopping for groceries to navigating busy sidewalks to get from one place to another, Stratford's Marlin Nagtegaal relies on his Seeing Eye dog, Champ the German Shepherd, in nearly all facets of life.
Article content
Marlin, a retired Wilfrid Laurier University music professor who lost the majority of his sight as an adult, had one eye removed due to a worsening detached retina and has low vision in his other eye to the point where he can only see shadows and shapes as a result of inflammation from macular edema, a condition where blood vessels leak into a part of the retina called the macula, causing it to swell.
"I'd be extremely limited without Champ," Nagtegaal said. "You're walking around with a cane, so even with that bit of (vision), you're still always banging into things and even being able to find things (is difficult). I remember one time in Kitchener – and I was pretty sure I had the way in my head – I was going to go from downtown to Home Hardware. I was walking along, I just stopped paying attention, and I was standing there and I realized I was completely lost.
Article content
"I had no idea where I was so I just sat down, closed my eyes and tried to retrace my route inside my head. I thought, 'I think I'm here, so if I go further I should get where I'm going.' That doesn't happen with Champ, especially if he's been there before. If I'm in a new area, I have to tell him, 'Left, right, you know,' but he'll always stop at an intersection and won't go until I give him the command to go."
Champ can help Nagtegaal find items like milk at the grocery store, he can help him safely navigate through crowded coffee shops and busy parking lots, and he's trained to be unobtrusive in settings where non-service animals aren't usually allowed, like in concert halls during a performance or while eating at restaurants.
Article content
And that independence Nagtegaal now enjoys with the help of his canine pal is all thanks to the affordable and accessible training and support both man and dog received through The Seeing Eye, a charity that crosses the Canada-U.S. border to match blind people who qualify for the program with a guide dog that suits them best.
"There's two Seeing Eye organizations. There's the Canadian one and the one in the U.S.," said Canadian Seeing Eye board chair and Stratford resident Karon Bales. "We don't breed, train or deliver guide dogs (in Canada). We retain the Seeing Eye in the U.S. to do all of that for us, and they have been accepting Canadians as well as Americans really from the beginning.
"An individual who wants a guide dog applies online and they're assessed to make sure they've done the orientation, the mobility training, and that they are active enough to use a guide dog because these dogs are highly bred to ensure that they are smart because they need to do something called intelligent disobedience."
Article content
Intelligent-disobedience training, Bales explained, allows a guide dog to either stop or navigate around obstacles and safety hazards. A Seeing Eye guide dog, for example, would stop if it encountered a hole in the sidewalk and is also trained to look up to keep their owner from walking into low-hanging branches other obstacles off the ground.
The Seeing Eye's guide dogs are trained until they are roughly two years old, at which point they are matched with people like Marlin during four weeks of intensive training together at The Seeing Eye's American campus outside Morristown, N.J.
"We run basically a hotel facility down there. … It's a vigorous program with the blind person after they are matched with their dog. They do something called a juno walk (with a Seeing Eye human representative) to see how fast you walk to make sure they pair you with the right kind of dog," Bales said, adding that lifestyle, employment and fitness, as well as the dog's temperament, are also taken into account when matching a guide dog with a blind person.
Article content
"I was in school within five months of applying," Nagtegaal said, noting that other guide-dog organizations in Canada have as long as three-to-four-year waiting lists. " … They're just unbelievable. You arrive at the airport, they book everything for you … so when you come out of the gate, they're standing there waiting for you, they get your luggage and they bring you to school. And then once you're there … there's beautiful walking paths all the way around the property so you can work with your dog outside. And you work hard. We had to get up at 5:30 a.m. and … you went until 8 p.m."
At a cost of just $150 U.S. for that first four-week visit – less for those who can't afford it or just one dollar for military service members and veterans – and $50 for each additional visit, those in The Seeing Eye program pay only a small fraction of what it costs to breed, train and care for the dogs. And with no government funding for guide-dog programs in either Canada or the U.S., Bales said The Seeing Eye relies entirely on private donations and fundraisers.
Article content
While she said Canadian donors can be assured the money they contribute will go directly to helping a fellow Canadian receive and train with a guide dog, she noted the money raised in Canada is subsidized by funds raised in the U.S. to ensure every Canadian who qualifies for the program gets a dog.
"This gives independence to people who otherwise would really be having a great deal of difficulty navigating their own life or (would be) reliant on other to help them get around," Bales said. "Fostering independence among all of us is a good objective and at The Seeing Eye we try and work very efficiently. It costs a lot to do this, but it brings such benefit. People can donate to the Canadian organization, they get their Canadian charitable tax receipts, and we (have a seat on the board in the U.S.) to make sure they're doing it right.
"It is an amazing organization. The devotion of these people to making sure the dogs are properly looked after and perform to the right standards is amazing."
For more information about The Seeing Eye and to donate, visit www.seeingeye.ca.
gsimmons@postmedia.com
The Seeing Eye provides blind Canadians with a canine companion to serve in all facets of life Source link The Seeing Eye provides blind Canadians with a canine companion to serve in all facets of life