Canada
Stu Cowan: Survival of the fittest as the Canadiens fight on ice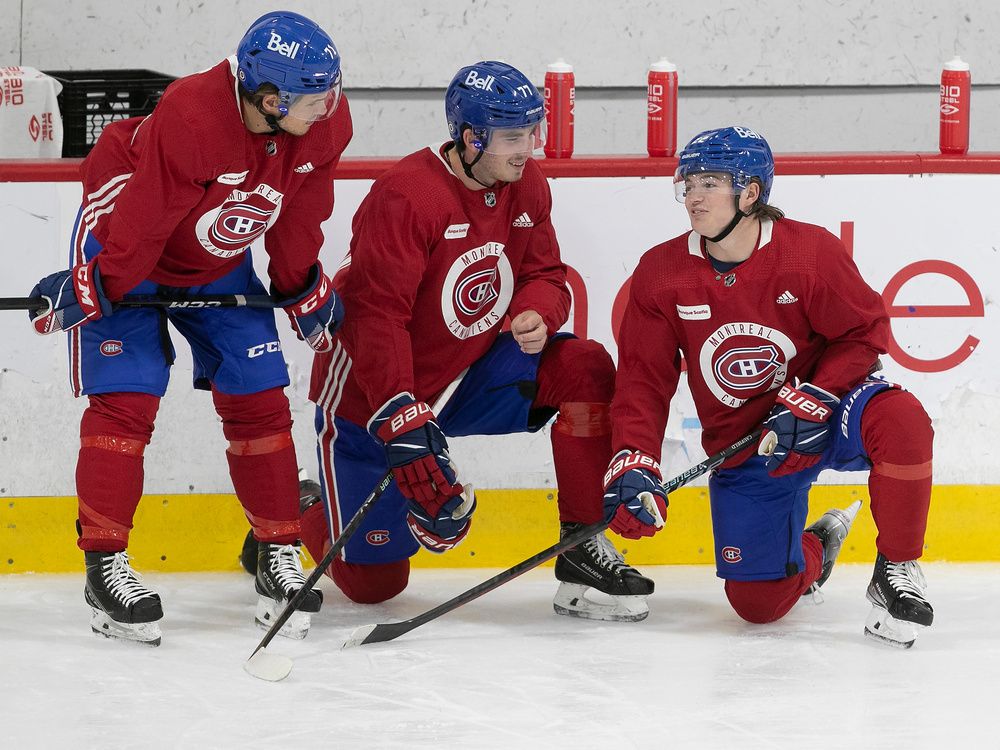 Shortly after the first group had completed an exhausting training session, the team announced that they already had injuries to report.
Article content
Canadiens head coach Martin St. Louis took a quick look at the players' physical condition on Thursday.
Article content
When they first hit the ice at their training camp in Brossard, they were divided into six groups of about 12 players each.
Article content
Athletes first analyzed their stride length by skating several lengths of ice with a cord attached to the back of their trousers. They then skated lap by lap across the full ice surface at top speed with very short breaks in between.
It looked like a survivor test and I thought someone would throw up.
Shortly after the first group finished on the ice, the Canadiens announced Wednesday's medical and physicals had already resulted in injuries.
Captain Nick Suzuki will be out for two weeks with a lower body injury, while vice-captain Joel Edmundson will also be sidelined with a lower body injury. Josh Anderson and Jake Evans are routinely listed with upper body injuries. was already known not to play at all this season.
Article content
It's not the best way to start camp for a team that finished last in the NHL overall standings last season and set a record of 731 man-games lost to injury.
"It's tough," said Brendan Gallagher, who missed 26 games with injury last season. We don't have everyone all year round, so it's good for others to step up."
While Suzuki was named captain at the team's golf tournament on Sept. 12, no player needs to step up as a leader more than Gallagher after being named assistant captain along with Edmundson.At least at the beginning of camp. will spend two weeks on the ice, with the opening game scheduled for October 12, when the Toronto Maple Leafs visit the Bell Center.
Article content
"I've been here long enough to understand that we need multiple leaders," Gallagher said. "I have played with some very good captains and they have very good support in terms of leadership and that permeates the locker room. They will continue to be part of the group's work." But when you're on the ice, especially when you're in different groups, you're going to need someone to take charge and check on your team — probably day 3 of camp. , low energy — and you need people to spice up the group and make every day a productive day.
Article content
"We're just a few steps away from starting the season," Gallagher added. "It feels like a long way off, but it comes quickly and before you know it, you're dropping the pack for Game 1 and want to make sure you're ready. Definitely have to step up and take charge of the group and make sure every day is a productive day.
Newcomer Mike Matheson, who was acquired from the Pittsburgh Penguins over the summer in exchange for Jeff Petrie, said good teams are built through tough times — and Thursday was definitely a tough day on the ice.
"I see everyone supporting each other and tapping as they pass by and reps saying, 'Let's go! Alright, let's go! It's almost here! said Matheson. "It just brings people together and brings them closer together.
Article content
"I have to train all summer to be ready for these things," he added. "It's a good tool for coaches to use just to keep everyone on top of things."
There was a team meeting Wednesday night and St. Louis addressed the players.
"As I walked out of that meeting, I used to say to other people, 'Hey, he excites you,'" Matheson said. "He just has a way of talking. He was a player himself, a very successful player. I know what motivates people. We're trying to build a culture here that can be sustainable and have a lot of success, and he's clearly the biggest driver of that."
Survivor test was a good start.
scowan@postmedia.com
Canadiens hit high-intensity drills on day one of training camp

Canadiens' Nick Suzuki out two weeks with lower body injury

Stu Cowan: Harris on track to be key cog in Canadiens rebuild


Stu Cowan: Survival of the fittest as the Canadiens fight on ice
Source link Stu Cowan: Survival of the fittest as the Canadiens fight on ice