Canada
Stratford writer's posthumous memoir offers insight, humour in the face of illness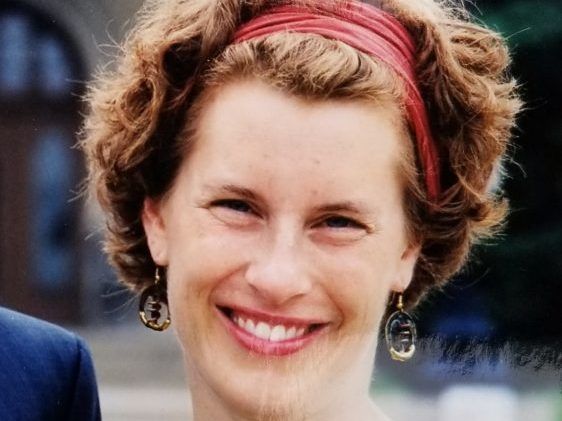 Stratford writer Samantha Albert died in 2021 following a two-decade struggle with amyloidosis, a rare disease affecting her liver. Her posthumously published memoir shares her insights and humour while contending with her illness.
Article content
Samantha Albert was sitting on a city bus in Toronto on her way to a stem cell transplant when she suddenly found herself face to face with Death.
Article content
It was Halloween, Albert wrote in her soon-to-be released memoir, but the Stratford wife, mother and tai chi enthusiast – already terrified about her appointment – couldn't help but wonder if her anxious mind somehow manifested a living, breathing version of her greatest fear.
Then, her sense of humour kicked in.
"It was funny to me," Albert wrote. "Perhaps he would want to come to the hospital with me to get acquainted with the other patients. 'No, no, he's with me!' I imagined reassuring them as we did the rounds. We could take our mocha lattes into the sunny atrium and watch the crowd, helping people normalize their own deaths.
"The more I spun these stories about him, the less mired I felt in the bleakness of what I was about to face," Albert continued. "I rang the bell without hesitation and walked tall as I made my way to the doors and descended the steps, the heroine of my own movie."
Article content
Albert was 32 when she was diagnosed with a form of amyloidosis, a fatal disease that occurs when a protein called amyloid builds up in an organ – in this case, her liver. She got the news not long after moving to Stratford with her husband, Daniel Shoag, where she was hoping to raise their son, Zev, and pursue a career in rural economic development.
Albert's prognosis was poor, but she lived longer than many expected. 
She died last April in the midst of the pandemic at age 54.
That part was "terrible," said Shoag, a Stratford therapist. Albert and her family had been contemplating her death for years, but when it finally came only 10 people were allowed to attend the funeral in person.
"She was sick for 22 years, so her death wasn't unexpected, but it was a surprise because we had just been chatting and she had been lively a day before," Shoag said. 
Article content
Fortunately, they still had her memoir, one of the projects Albert focused on following her diagnosis. Before she died, Albert completed a master's degree in creative writing from the University of British Columbia as she began chronicling her struggle with a fatal illness.
Albert's family and friends are posthumously releasing the self-published book – How I Met Death on the Avenue Road Bus – at a public memorial in Stratford on Oct. 2.
"It was ready for publication years ago, but she kept … polishing every story until it shined," Shoag said. "I think it was cathartic for her. I think it was a way for her to process what she was going through and make sense of her story."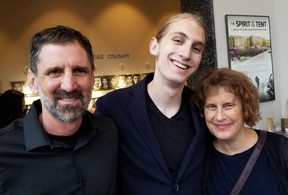 The book, which has garnered positive reviews from Canadian authors Alison Wearing and Wayne Grady, dives into Albert's life before she became ill. Originally from Toronto, she earned a bachelor's degree in environmental science before meeting Shoag at the University of California, Santa Cruz, where they were both studying organic horticulture.
Article content
"I was in Santa Cruz because I wanted to change the world," Albert wrote. "I believed I had a responsibility to do big things to help protect our planet, and that only big things would make a difference."
Albert was forced to abandon those ambitions following her diagnosis. How she navigates her new reality is what makes her perspective unique.
"She struggled in the early years of her illness, and it took a really focused energy to get past the grief and get to this place where she could just appreciate what she had," Shoag said. "We can rebel against what life has presented to us or we can learn to accept it and appreciate the good that we do have in our lives, and Sam was really a shining example of this."
As Albert faced her own mortality, she feared the ways her illness would impact her relationships, including with her young son, but she also reveals how she coped. She remained positive, focusing her mind not only on writing but also tai chi and cooking. Albert liked to make pickles – the "strong, distracting sensations" were helpful, she wrote — and she shares a number of recipes referenced in her memoir on the book's final pages.
Article content
"I think we all envision this golden road for ourselves with money and love and a career and good health," Shoag said, "and yet how many of us go through life without challenges? How many of us don't struggle with our physical health, or our mental health, in our relationships? Even though I think Sam's story was an extreme example of this, the theme of the book is universal. How do you thrive when life falls apart?"
Some of Albert's anecdotes drip with frustration. Her enlarged liver often prompted questions from strangers about how pregnant she was, an occurrence that happened so often she turned it into a column for the Globe and Mail in June 2011. 
But Albert was rarely angry, Shoag said, and many of her anecdotes highlight her sharp sense of humour. 
Article content
He isn't surprised her brush with Death inspired the book's title.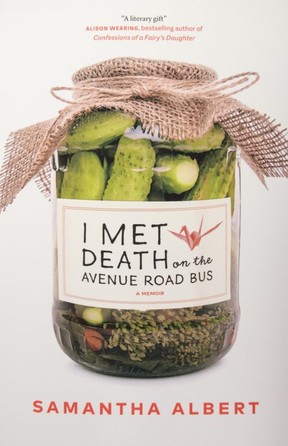 That story "sums up Sam so well," Shoag said, including the part where she insisted on travelling to the appointment by herself. "She was this courageous, strong, independent, funny woman. She looked for humour wherever she could find it."
Albert's memoir comes out Sunday before the memorial. Shoag said he hopes those who pick up a copy find it comforting.
"When you hear her voice telling her story and realize that she can still manage to see what really matters in the world, even when she is so very ill, it is instructive in the art of being," Shoag said, "in the simplest and most profound way."
cmontanini@postmedia.com
IF YOU GO:
What: A book launch and memorial service for Samantha Albert, who's family is posthumously releasing her memoir, I Met Death on the Avenue Road Bus.
When: Oct. 2, 2:30 p.m.
Where: Arden Park Hotel
More information: samanthaalbert.ca
Stratford writer's posthumous memoir offers insight, humour in the face of illness Source link Stratford writer's posthumous memoir offers insight, humour in the face of illness