Canada
Stratford pooch, named after superhero canine Krypto, saves the day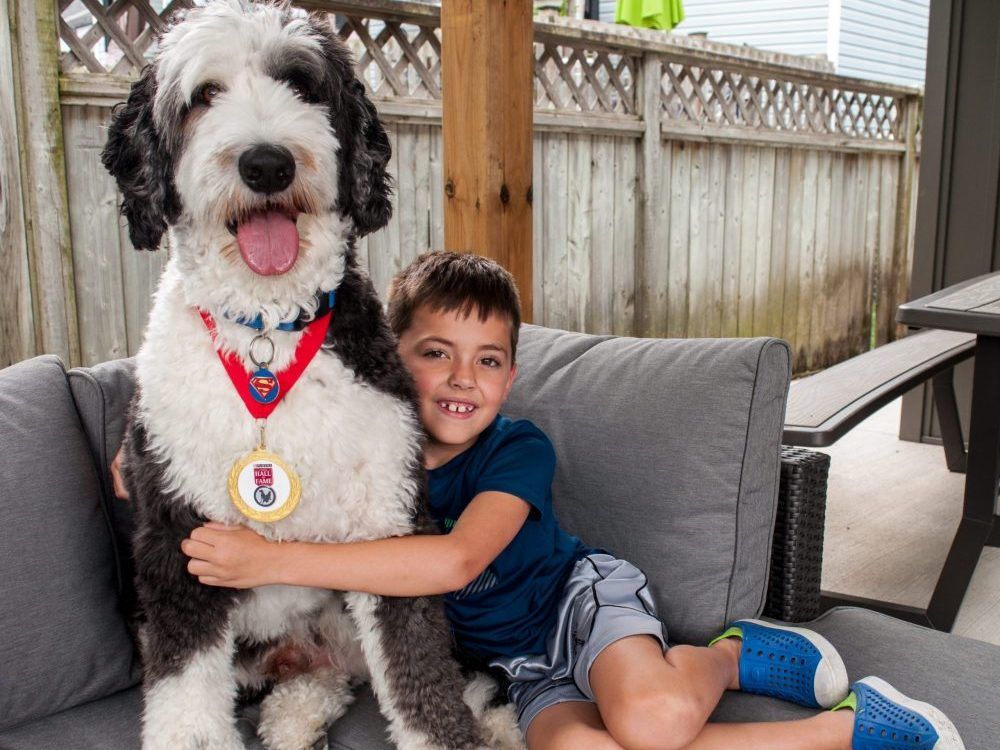 Article content
The heroics of a Stratford sheepadoodle who just so happens to be named after Superman's canine companion has earned him national recognition – and a pile of treats.
Article content
After months of planning, Jackie and Kyle Harrison adopted Krypto in April 2020, just a few weeks after the COVID-19 pandemic struck Ontario. The family's newest addition – named with some help from the Harrisons' young son, Clarke, a big Superman fan – arrived at his new home just before demand for puppies across the province began to spike.
"We lucked out," Jackie, a local teacher, said Friday. "It was good timing."
What the family didn't realize then was just how lucky they were, and just how appropriate Krypto's name would turn out to be.
That October, Krypto – about eight-months-old at the time – woke Kyle up one evening around midnight, insisting that his owner get out of bed. The late night wake up call was out of character for the pup, so Kyle shook off his blankets and walked to the bedroom window.
That's when he noticed an orange glow. Kyle ran downstairs. When he got outside, the family's deck was ablaze and flames were shooting up the side of the house about three feet from a gas line connected to their barbecue. 
"(Kyle) was concerned that the fire was going to cause an explosion, so he quickly got the garden hose … while I took Clarke and Krypto out and called 911," Jackie recalled. "My heart was definitely racing."
Firefighters quickly arrived to douse the blaze. Jackie said the culprit was likely droplets of hot grease from the barbecue that had dripped between the deck boards and smouldered for hours before igniting.
Article content
More importantly, Jackie was told, the family was able to act before the fire reached the attic and spread to other areas of their home. That was thanks to Krypto, who was popular with emergency crews that evening, Jackie said. 
"We have working smoke detectors – we're very conscious of all that – but because the smoke was outside it wasn't setting off the alarms in the house," she said. "We're very lucky that (Krypto) woke us up. He kind of saved our house. I don't even want to think about what could have happened with the gas (line)."
Encouraged by the family's vet during a routine visit, Jackie told Krypto's story to Purina Canada, the pet food brand with offices in Mississauga. She found out this week Krypto has been given a spot on the company's Animal Hall of Fame, a honour that comes with a medal and a bunch of other goodies.
Purina has been running its Canadian pet-recognition program since 1968, according to a press release. Krypto was one of three dogs inducted to the hall of fame this year "due to their incredible intuition and dedication to their humans."
The others include Daisy, a pooch in Brampton who helped her owner get help after suffering a stroke, and Foreman, a service dog in Toronto who helps his owner manage a rare life-threatening condition.
"The connection between pet and person is an unbreakable bond and each year we are amazed by the ways in which loyal animals save human lives," said Jenn Terra, Purina Canada's vice-president of marketing. "This year's inductees have shown an incredible ability to sense trouble and take action, rescuing their people in distress."
In total there are 161 dogs, 27 cats, and one horse in Purina's hall of fame, which means Krypto is in pretty rare company.
"Now we say he earned his superhero name," Jackie said.
cmontanini@postmedia.com 
Stratford pooch, named after superhero canine Krypto, saves the day Source link Stratford pooch, named after superhero canine Krypto, saves the day