Canada
Reflections: A treasured collection of ALPHABET magazine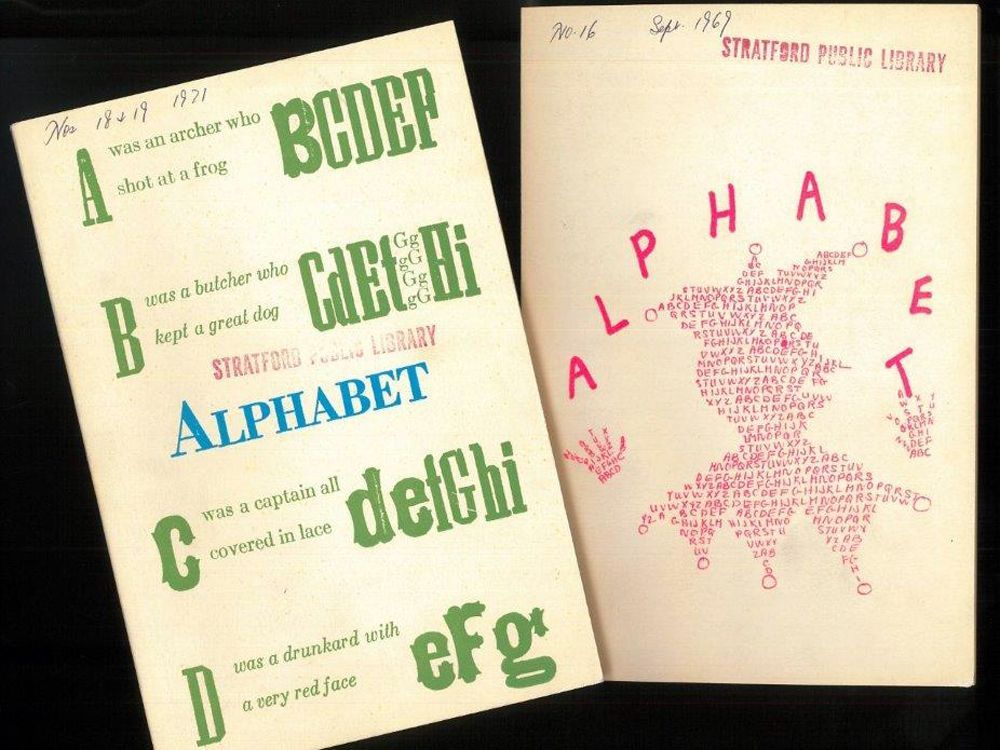 In September 1960, ALPHABET magazine announced itself as "A Semiannual Devoted to the Iconography of the Imagination."
Article content
In September 1960, ALPHABET magazine announced itself as "A Semiannual Devoted to the Iconography of the Imagination." A few months later, Maclean's had an article reporting that "Canada's littlest little magazine, now on the newsstands, is the product, literally, of James Reaney…(who)… set the type, composed the pages, read the proofs, ran the press — did, in fact, all the physical labor involved in the production of a magazine except deliver the finished copies by hand. … Reaney started on ALPHABET in the autumn of 1959, when he was teaching at the University of Manitoba, by enrolling in the typesetting course at Winnipeg Technical and Vocational School. …Painstakingly, often working till 2 or 3 a.m., Reaney set his type in page forms and rolled the forms off the press."
Article content
Reaney eventually paid others to print ALPHABET but continued to handset type for books put out by Alphabet Press and certain shape poems in the magazine.
Eleven years after his first issue, he said "I suppose it's a rather sad thing to write the editorial for the last ALPHABET… the end of a decade & almost twenty issues published seemed the best stopping place. ALPHABET started with a flash of electricity suddenly darting out from literature. (i.e. the Narcissus myth) and illuminating some life (i.e. the experience of being a twin, of being a reflection). Readers might wonder if this went on in every issue, if it is going on in these last numbers. I hope so…this was why ALPHABET was founded; to set up a magnetic field in which people could get ideas, patterns for almost anything civilized – gardens, ballets, cities, plays, paintings, lives, children…" Besides articles, ALPHABET published a variety of poets, including Jay Macpherson, Margaret Atwood, Al Purdy and Milton Acorn; and the work of such artists as Tony Urquhart and Greg Curnoe.
Article content
James Reaney was born on a farm in South Easthope Township, near Stratford, on Sept. 1, 1926. He was well-known as a poet and dramatist, eventually earning three Governor General's awards, the Chalmers Award for drama, four honorary doctorates and the Order of Canada.  His works include a well-known trilogy of plays about the Donnelly family called Sticks and Stones, The St. Nicholas Hotel and Handcuffs. They are listed among the 1,000 most significant plays of all time by the Oxford Dictionary of Plays. Encyclopedia Britannica says that his "works transform Ontario small-town life into the realm of dream and symbol."
When Stratford Central high school celebrated its centennial in 1979, it gave a gift to the community by inviting "one of our most illustrious graduates, Dr. James Reaney," to write a new play about a depression era furniture workers' strike. Originally called Stratford: 1933, the play would explore, in Reaney's words, "a time when the people of Stratford weren't just spectators of a parade – they were in the parade. Students in researching this material would get to know their town a lot better and … would also step outside their school and their young lives to see how both school and lives fit into a larger pattern. …We visited every classroom (at Stratford Central), we sent home a questionnaire, we held two workshops with 600 students apiece in the gymnetorium; if you're going to write a play about a community, particularly a Stratford which in 1933 came out on the streets and shouted what it wanted, then you have to persuade the students and teachers to do likewise, to explore the roots of the community in every way possible. … Not a few citizens were horrified at the idea of a play about the 1933 strike. …Why should we stir up old dirt? Why not let sleeping dogs lie? But ever since as a kid of seven I'd actually seen the strikers parading down Ontario Street with a Union Jack at their head, I had wanted to handle this great story."
Article content
This is week 37 of a series of articles celebrating the 50th anniversary of Stratford-Perth Archives, and its treasures. This week's treasure is the nearly complete set of James Reaney's magazine, ALPHABET, in our collection. They came to us in 1980 as part of a large group of books "released from the collection of the Stratford Public Library" that was immediately recaptured for the archives. We are grateful for the many transfers of books by local authors from Perth County libraries.
The Stratford-Perth Archives is open for in-person research using collections by appointment and drop-in access to Reading Room microfilms, etc. For details, please visit www.stratfordpertharchives.on.ca, call us at 519-271-0531 ext. 259 or email archives@perthcounty.ca   
Reflections: A treasured collection of ALPHABET magazine Source link Reflections: A treasured collection of ALPHABET magazine