Canada
Politician denounces harassment Deputy Prime Minister Chrystia Freeland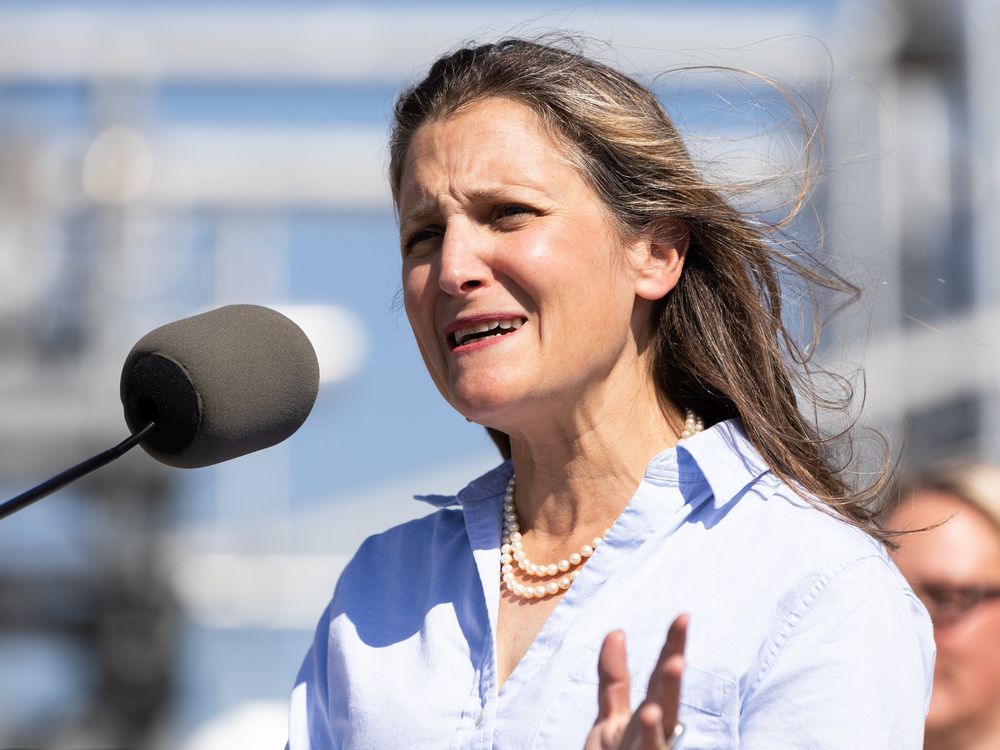 "This incident will deter good people – women – from holding public office."
Article content
Politicians past and present from all corners of the political spectrum have taken to social media to condemn the verbal harassment and intimidation Deputy Premier Chrystia Freeland faced during her recent visit to Alberta.
Article content
a video posted on twittershows a man and a woman waiting in the lobby of Grand Prairie City Hall. It's Friday and the pastor is walking towards the elevator. When a man calls her name, she says yes.
Article content
The man then called her a "traitor bitch" while saying "What are you doing in Alberta?" and said "Get the f out of this state."
The video ends with the woman saying "You don't belong here" and following Freeland to the elevator.
Freeland, who represents riding in downtown Toronto, was born on the Peace River.
Freeland recently toured a hydrogen production facility in Edmonton on Thursday and met personally with Edmonton Mayor Amaljeet Sohi.
Article content
She posted a photo on social media on Friday of a meeting with Grand Prairie Mayor Jackie Clayton.
Former Conservative Party deputy leader Lisa Raitt posted on Twitter that she felt bloated when she saw the video and worried that a man would follow Freeland into the elevator.
McKenna received additional security for certain events during his tenure.
Ministers are not normally protected from RCMP, but can be arranged if circumstances permit. After the incident, many politicians and pundits took to social media to question whether additional security should be made more common.
Article content
Michelle Lempel Garner, a former federal minister in the Stephen Harper government and current Conservative MP in Calgary, also responded to Raitt: You are facing someone who is hostile and physically larger than you. "
Many liberal MPs have expressed support for Freeland, and Public Security Minister Marco Mendicino said acts of harassment, intimidation and intimidation should be "condemned by all, regardless of political affiliation". I tweeted that there is.
Prime Minister Jason Kenny said on Twitter that the "verbal harassment and threats" directed at the minister were "reprehensible".
Article content
"If you disagree with a politician, be sure to exercise your right to protest," he said in a tweet. "But shouting threatening words and physical threats cross the line."
The prime ministers said their governments had many serious disagreements, but Freeland said, "We welcome you to come and visit us in the state where you grew up and where your family lives! As do all Canadians."
Article content
UCP lead candidate Travis Toews called the incident "frankly disgusting and totally unacceptable."
"This is not the Alberta I know and love," he posted on Twitter. "This is not the prairie I know and love. You can disagree without resorting to this kind of despicable behavior."
Article content
Alberta's NDP leader, Rachel Notley, also tweeted that the incident was "disgusting and unacceptable."
"This incident will deter good people – women – from holding public office."
Article content
In a tweet, Sohi called Freeland "a proud and dedicated public servant of Alberta."
"I have seen her commitment to our state and country firsthand. The harassment and intimidation she has faced is completely unacceptable and in no way represents Alberta."
Article content
Freeland has not publicly commented on the incident.
– Using files from The Canadian Press


Politician denounces harassment Deputy Prime Minister Chrystia Freeland
Source link Politician denounces harassment Deputy Prime Minister Chrystia Freeland