Canada
Phil Tank: Lives lost to COVID-19 now count for Saskatchewan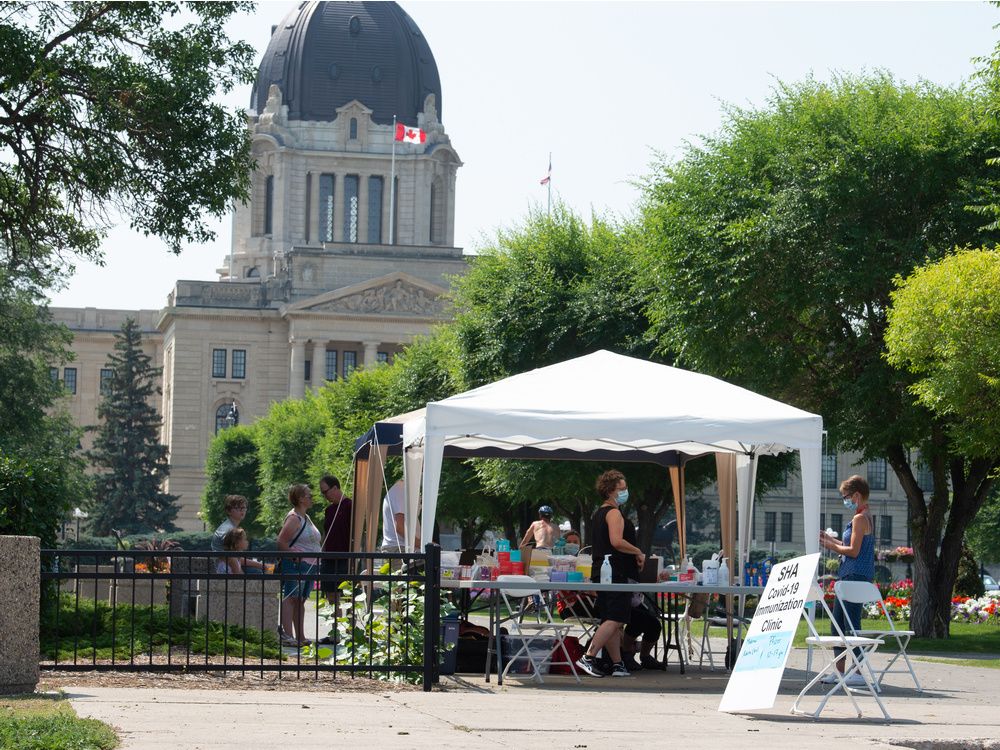 The ministry's unexplained move to monthly pandemic reporting comes with a sharp decline in the amount of information available.
Article content
About a year ago, as the delta wave of COVID-19 began to hit Saskatchewan, the government stopped talking about deaths due to lack of public health measures.
Article content
Chief Medical and Health Officer Dr. Sakib Shahab has made increasingly rare public appearances, abandoning his previous practice of offering condolences to those who have lost loved ones in the pandemic.
Article content
Prime Minister Scott Mo barely mentioned the deaths as the Delta variant overwhelmed hospitals and intensive care units as he shifted to addressing concerns about those opposing public health measures. .
The Delta variant proved more deadly than previous iterations and put the province's health system at risk as COVID-19 patients were sent to Ontario for treatment.
Health care remains reeling as a result of strains from a surge in infections, even as states reluctantly reimpose restrictions to curb the spread of the deadly disease.
Article content
A year later, in 2022, COVID-19 proved to be deadly. As of August 13, 521 deaths have been reported, compared to his 433 for the same period last year.
As usual, due to Saskatchewan's mysterious switch to monthly reporting (a practice no other state has replicated), the numbers for 2022 are out of date, with no new information for the past two weeks.
Furthermore, the death toll has been reduced to mere numbers, with much of the relevant information removed from the already sparse data. The last weekly report was 23 pages, the new monthly report is less than half that.
Although we no longer break down the number of newly reported deaths based on age or location, we do have a chart that divides the monthly deaths into three age categories. old.
Article content
A response from the Department of Health to this week's inquiry into the changes provided no clue as to why most of the death data had been removed and the format changed.
So we can only speculate. The most obvious guess is that the government is more worried about looking bad than helping people navigate a deadly respiratory disease.
The total death toll is now 1,476, but to determine that we have to look at various reports and add them up.
Even without the latest reports, Saskatchewan's death rate from COVID-19 leads all states without postmortem testing for the disease. It is well above the national average.
Article content
Furthermore, Saskatchewan's mortality situation differs from the nation as a whole, with just over half of the deaths under the age of 80. Nationally, the majority of deaths were in people over the age of 80.
That being said, the age and location of people dying from COVID-19 should be considered important when we make our own risk assessments.
Also gone is a series of graphs showing how well vaccinations prevent hospitalizations, ICU admissions, and deaths, another key element of the weekly report.
If we're really interested in preventing death instead of ignoring it, why not actively promote this data instead of hiding it?
For the record, the unvaccinated mortality rate remains dire as of last week's weekly report, and in the six months to May 21, the unvaccinated mortality rate was four times higher than those who received two doses of the vaccine. He is 6 times more when given 3 doses.
Article content
Despite continued efforts to create skepticism about the vaccine, there have been no deaths conclusively linked to the vaccine despite 2.5 million doses administered in the state. Only eight people died within a month, and none were determined to have been caused by the injection.
This is incredibly good news, but lost as states continue to restrict the flow of pandemic information.
Phil Tank is Digital Opinion Editor at Saskatoon StarPhoenix.
ptank@postmedia.com
Tank: Sask.Canada Leads Again With Most Reckless COVID-19 Strategy

Tank: Saskatchewan, rate yourself.However, COVID data is more limited
Want to know how the Saskatoon StarPhoenix and Regina Leader-Post decide what to cover and how editorial decisions are made? letter from the editor Subscribe to Editor-in-Chief Russell Wangelski's newsletter and join the discussion on how to cover news and distribute commentary, both in print and online. Click here to subscribe.


Phil Tank: Lives lost to COVID-19 now count for Saskatchewan
Source link Phil Tank: Lives lost to COVID-19 now count for Saskatchewan