Canada
Overage goalkeeper Onuska finally gets back in action to help Spitfires win 7-4 over Firebirds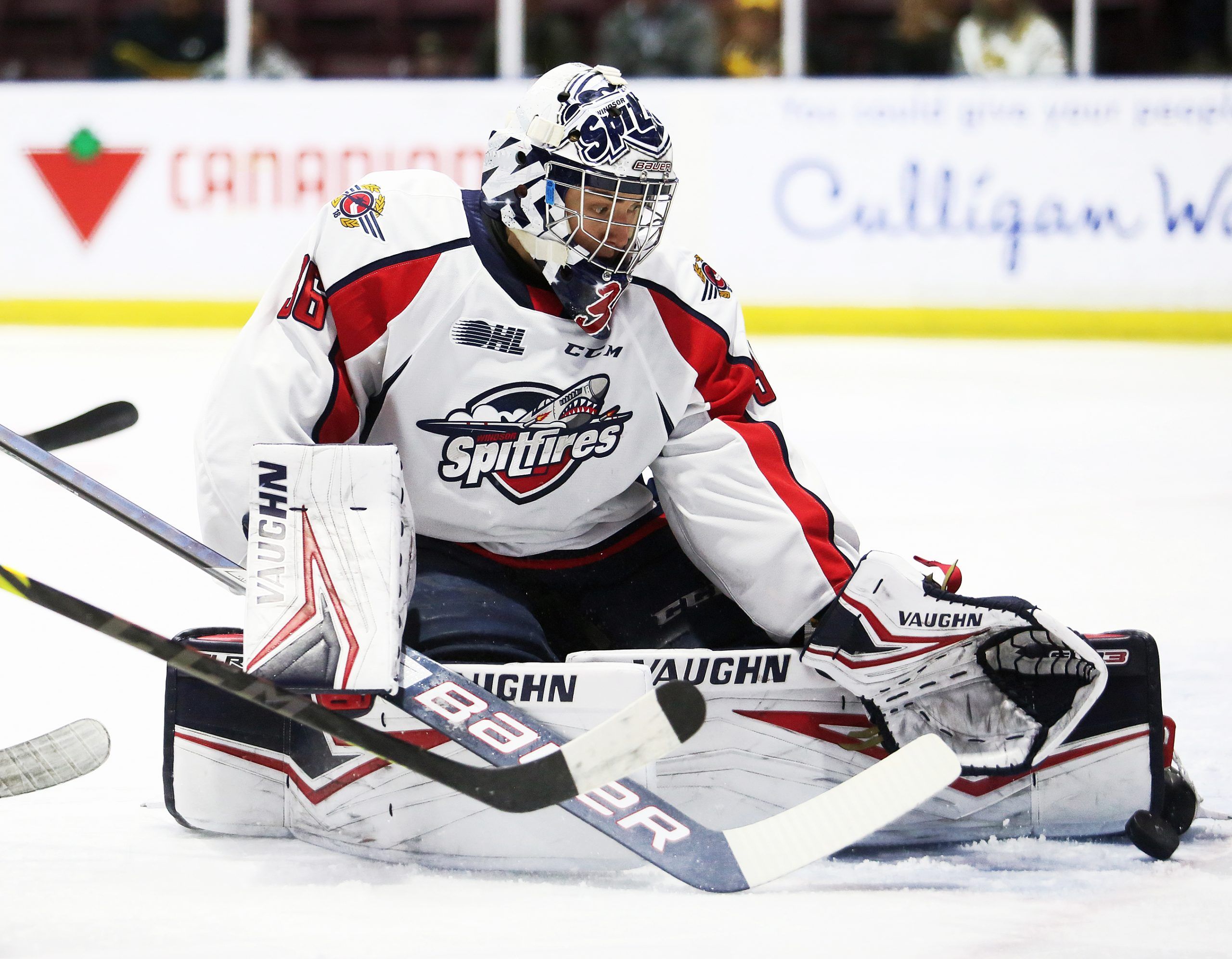 Article content
Windsor Spitfires' overage goalkeeper Matt Onuska's wait is finally over.
Article content
Onuska, 20, whose nagging injury from last season was no longer an issue, made his exhibition debut for the Spitfires on Tuesday against the Flintfirebirds at the WFCU Center.
Article content
Onuska, who attended Windsor's first three exhibition games, said:
At 6-foot-3 and 180 pounds, Onuska played a key role in helping Windsor reach the Ontario Hockey League Finals last season.
Onuska, who signed with the London Knights just before the trade deadline, went 19-3-1-1 in 26 regular-season games with the Spitfires and 12-6-2 in 22 playoff games.
He picked up the win Tuesday with a 30-save performance and had plenty of offensive support. Defensemen Michael Renwick and Oliver Peer each scored twice. Rookie AJ ​​Speracy and defenseman Daniil Sobolev scored goals and assists. Alex Christopoulos scored his one more goal for Windsor, with Colton Smith scoring his four assists and Ryan Abraham scoring his three.
Article content
Spitfires head coach Mark Savard said of bringing Onuska back to the team, "We just wanted to be patient with him. He had a great finish (last season) for us. It gave me a good feeling in practice."
Onuska is happy to get back in action as Windsor plays its final three exhibition games over five days.
"You definitely want to be in the exhibition games and speed up the game, so when the regular season starts you feel good," said the Spitfire, who improved to 2-2 in exhibition play. Onuska saw this and said,
Onusuka began training camp with goaltending coach Michael Layton after practice and finally returned to full practice with his teammates a little over a week ago.
"I practiced a lot," Onuska said. "I made sure I was in a controlled environment with Reitz, made sure I was working on my game and not pushing myself too hard.
Article content
"I feel good and excited to finally put that in the back of my mind and just play my game."
roster formation
Forward Wiley Burkett is no longer with the Spitfire.
"(Burkett) has left the club to explore other opportunities," said Spitfire general manager Bill Bowler.
The 6-foot-6, 195-pound forward was selected by the club in the ninth round of the 2020 OHL Draft.
The 18-year-old Birkett had three assists in 16 appearances for the Spitfires last season, but spent most of the season with the Junior B LaSalle Vipers. He has been pointless in two exhibition games this season.
Meanwhile, while Sobolev was also included in the club's lineup, Smith returned to the club after spending rookie camp with the New York Islanders. I was planning to attend, but due to visa issues, I was unable to cross the border.
Article content
Draft pick for the Islanders and potential overage contender for the Spitfires, Matthew Maggio, was last season's OHL scoring leader and most outstanding player, as was Dallas Stars prospect Wyatt Johnston. In 2009, he moved to the NHL team's main training camp.
tatmir dies
Former Spitfire equipment manager Wally Tatomir died Sunday at his home in Boone, North Carolina, at the age of 76.
A native of Leamington, Tatmir worked for the Spitfire in the 1980s and took ownership when the club secured the expansion rights for the Detroit Jr. Red Wings.
He moved to the NHL when ownership bought the Hartford Whalers, and the club when it became the Carolina Hurricanes.
After bringing the Stanley Cup to Essex in 2006 after the Hurricanes championship, Tatmir spent 17 seasons with the organization and retired in 2002 after more than 30 years in business.
Funeral arrangements are imperfect.
jpparker@postmedia.com
twitter.com/winstarparker
Check out our sports section for the latest news and analysis. Do you care about betting? For news and odds, visit our sports betting section.


Overage goalkeeper Onuska finally gets back in action to help Spitfires win 7-4 over Firebirds
Source link Overage goalkeeper Onuska finally gets back in action to help Spitfires win 7-4 over Firebirds