Canada
NFL WEEK 3 TAKEAWAYS: Stats are for losers. Ask the Bills, especially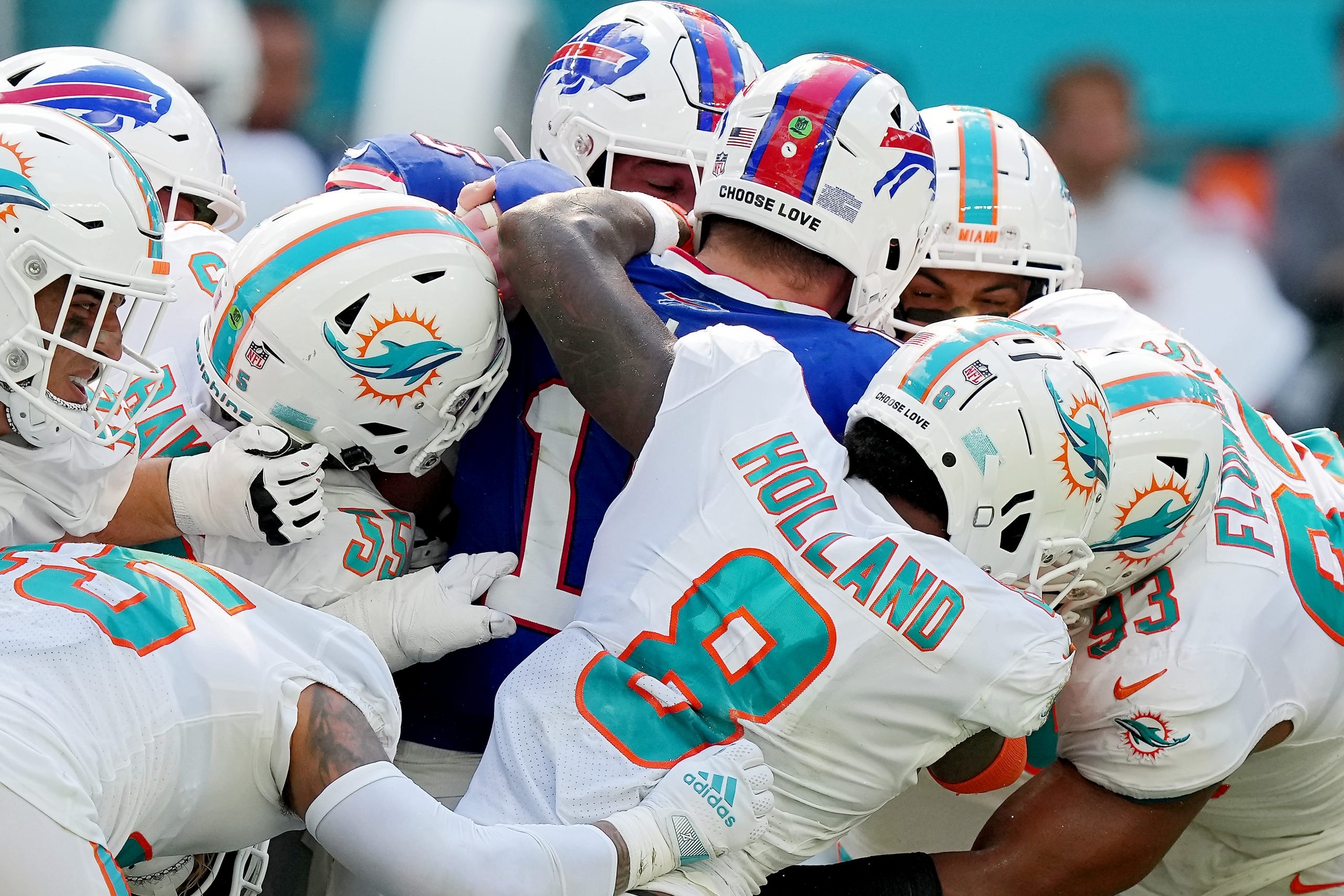 Six of nine winners in the early-afternoon window got outgained, yardage-wise, particularly the Dolphins against the Bills
Article content
Stats are for losers, we've heard for years. Sunday's early-window NFL provided ample proof.
Article content
The Buffalo Bills outgained the Miami Dolphins 497 total yards to 212, but lost 21-19.
Article content
The New Orleans Saints outgained the Carolina Panthers 426 to 293, but lost 22-14.
Those were the most striking examples. But six of Sunday's nine early games were won by teams outgained in total yardage. Scores and yardage totals:
Article content
Indianapolis 20 (259), Kansas City 17 (329)
Minnesota 28 (373), Detroit 24 (416)
Baltimore 37 (394), New England 26 (447)
Tennessee 24 (361), Las Vegas 22 (376)
Look, we could probably do this several weeks every NFL season, citing a slew of losing teams that won only the yardage battle. But on this Sunday, most losers moved the ball with particular ease most of the time — between the 30-yard lines, often with impressive chunk gains, only for too many drives to stall or hiccup, or otherwise end because of some dumb screw-up.
Article content
The most glaring example? The Bills' first loss of the season.
OVERHEATED BILLS DO EVERYTHING BUT WIN
How does a team lose despite outgaining the opposition by 285 yards, or more than double the winner's output?
The Bills found a way on Sunday in sultry Miami Gardens.
Yeah, the Dolphins are 3-0 after barely beating the Bills. But no one ought to, and few outside blindly loyal Dolphins fans likely will, conclude that Miami is the better team than the Bills.
Consider, the Bills:
possessed the ball for 40:40 of the 60 minutes, compared to Miami's 19:20;
were playing without their entire starting secondary, and with a banged-up offensive line;
and had players (one reporter counted more than 10) dropping on the field left and right, with cramps or injuries, amid South Florida's renowned mix of late-September heat and humidity, which is uncommon at any time of year in Western New York.
Article content
Bills head coach Sean McDermott afterward praised his team's heart, for battling through the heat, injuries and disappointments to still nearly pull out a win at the end.
"I think we learned something about our team today, that's for sure, and I'm proud of the guys for the way they battled to the end," McDermott said. "We used just about everybody we could."
This was the only game of Week 3 featuring a pair of 2-0 teams, and it did not disappoint. It was a thriller, if only because Buffalo kept proving unable to score to put the game away. Seven times Josh Allen led the Bills into Miami territory, five times as deep as the Miami 20. All they got out of all that offensive output was 17 points; a late safety accounted for Buffalo's other two points.
Article content
Buffalo trailed 21-17 with 1:49 left but two Allen incompletions from the Miami two-yard line killed off the Bills' best chance to win it, late.
Four plays later, Miami's Thomas Morstead punted the ball from deep in his own end zone, but he kicked it off the butt of his blocker Trent Sherfield, and the ball bounded backward out of the end zone for a safety.
Remember Mark Sanchez's Butt Fumble? This was the Butt Punt Block.
Morstead, though, immediately atoned. He boomed the subsequent free kick 74 yards to the Buffalo six, and despite Jamison Crowder's 17-yard return the Bills were left with about 40-45 yards to go to get into Tyler Bass's field-goal range.
They nearly got there, to the Miami 41, but the game clock hit 0:00 before Allen could spike the ball following Isaiah McKenzie's 12-yard catch.
Article content
Allen finished 42-of-63 for 400 yards and two touchdowns, without a pick.
"It came down to margins there, and we didn't do enough," McDermott said. "We didn't capitalize on some of the opportunities that we had for points. Give credit to (the Dolphins). They won the game."
They did. Somehow. With star wideout Tyreek Hill being a non-factor (two catches, 33 yards). Ditto, an otherwise good Miami run game. And also with QB Tua Tagovailoa returning after seemingly being concussed mid-game (which afterward prompted the NFLPA to request an investigation).
So, we should apply one big, fast asterisk to Miami's third straight win, and to Buffalo's first defeat of the young season.
That said, the Dolphins are the last undefeated team in the AFC, and one of only three left in the league entering Monday night, along with the rolling Philadelphia Eagles (3-0 after manhandling Washington 24-8) and New York Giants (2-0 prior to facing Dallas Monday night).
Article content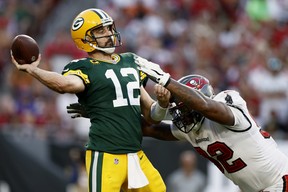 RODGERS OUTDUELS RATTLED BRADY IN TAMPA
It's been no secret this season that neither Tom Brady nor Aaron Rodgers has been exactly over-joyed with the quality and depth of his pass catchers. At least the healthy and unsuspended ones.
Rodgers made the most of his on the Green Bay Packers, much more than Brady did with his on the Tampa Bay Buccaneers, in a 14-12 victory.
Rodgers told Fox afterward on the field that his team thought 21 points would be enough to win.
"Thankfully 14 was enough," he added.
Brady struggled until the last drive, as happened in last week's tightly fought defensive battle at New Orleans. Brady looked sharp and comfortable only on Tampa Bay's last drive.
Down 14-6, Brady drove the Bucs 89 yards in 13 plays, throwing a touchdown pass to Russell Gage with 14 seconds left.
Article content
But on the two-point conversion attempt to tie it and likely force overtime, Brady inexplicably didn't get the snap off before the play clock expired. The delay penalty made it a two-point conversion from seven yards out, and Brady, on a rare rollout after being flushed out of the pocket, threw a shot-in-the-dark pass into the end zone to a well-covered Gage, but it got broken up by a Packers linebacker to seal Green Bay's win.
In Brady's defence, his top three wideouts did not play. Mike Evans was suspended for his mind-losing tackle, between plays, of New Orleans cornerback Marshon Lattimore last Sunday. And Chris Godwin and Julio Jones were inactive with injuries.
The 45-year-old Brady struggled to find anyone open not named Russell Gage, who caught 12 balls for 87 yards.
Article content
While Brady's usual precision timing with his backup receivers usually was amiss, Rodgers', as usual, was crisp. The 38-year-old prototypically leapt and hopped about in the backfield, releasing pinpoint passes all over the field, short and long, especially on Green Bay's first two drives, which resulted in the Pack's only points, even if only the first two drives resulted in points.
"It's special," Rodgers said of playing, and defeating, Brady. "I've been really fortunate to play in a great era of quarterbacks — some absolute legends and the all-time pantheon of NFL quarterbacks. I just feel really blessed to still be here, still playing. I can't believe Tommy's 45 and still doing it, at a really high level, with not a lot of guys to throw to tonight.
Article content
"But it's a big win for us. It's going to be a great plane ride home."
RAIDERS STILL WINLESS: RALLY FALLS SHORT
The NFL tells us only four teams over the past 32 seasons have made the playoffs after starting 0-3.
The talented Las Vegas Raiders will have to buck those daunting odds to become the fifth. They remain winless in 2022 after losing 24-22 at Tennessee. Which means Josh McDaniels is 0-3 as head coach of the Raiders.
Tennessee, no less desperate coming in, also at 0-2, jumped out to a 24-10 lead at halftime. Thereafter Derek Carr slowly rallied the Raiders as the Titans attack simultaneously dried up. A fourth-down Carr touchdown pass to Mack Hollins brought Vegas to within two points with 1:14 left, but on the two-point conversion attempt Carr misfired to tight end Darren Waller.
Article content
Ryan Tannehill — who had his best half throwing-wise in ages for Tennessee, in completing all but three of 17 throws for 195 yards and a TD before halftime — then took two knees. Ball game.
"We dug ourselves a hole again," McDaniels said. "We're going to have to learn how to play a full 60 minutes and earn the right to win. That's kind of where we're at right now … Losing gets old — fast."
MAHOMES FINALLY PICKED OFF AT WORST TIME
Until eight seconds were left in Sunday's game at Indianapolis, Kansas City Chiefs quarterback Patrick Mahomes had yet to be picked off this season.
This, despite throwing a slew of unwise passes over nearly three full games that either were intercepted but got overturned by penalty or replay, or should have been picked.
Article content
Time is the great leveler, however, and in trying to rally the Chiefs from a 20-17 deficit, and the ball only 10-15 yards from game-tying field-goal range, Mahomes finally took one too many chances. His bullet to a tightly covered JuJu Smith-Schuster got deflected, then intercepted by Rodney McLeod.
K.C. fell to 2-1, Indianapolis improved to 1-2.
The Chiefs had taken their first lead of the game just before halftime, and held it until Colts QB Matt Ryan led a late, clutch 16-play, 76-yard, go-ahead touchdown drive, capped by a 12-yard strike on a goal-line crosser to tight end Jelani Woods with 24 seconds left.
Mahomes had got into a war of words with Chiefs offensive coordinator Eric Bieniemy as time ran out at halftime, when the superstar QB was livid the Chiefs let the last 20 seconds run off the clock, with K.C. in possession at its 36, up 14-10.
Article content
In the second half, Mahomes was off — hitting on only 10-of-20 throws, as K.C. possessions ended with a field goal, on downs, a missed field goal and Mahomes' fateful pick.
"We had some mistakes that shouldn't have taken place," Chiefs head coach Andy Reid said. "In the NFL the parity is crazy, so any mistakes get magnified. That's just how it goes."
MAC JONES INJURES ANKLE IN LOSS TO RAVENS
Once again, Bill Belichick's New England defence couldn't do much at all to slow down an elite, dual-threat quarterback. Lamar Jackson threw for 218 yards and four touchdowns and ran for 107 yards and another TD in Baltimore's 37-26 road victory.
The biggest takeaway from this game, however, occurred late, when Patriots quarterback Mac Jones hopped off the field with a potentially serious left lower-leg injury, after reaching for that ankle upon being crunched (legally) by Ravens defensive lineman Calais Campbell.
Article content
Belichick afterward said he didn't have an update on Jones, but it didn't look good.
LIONS BLOW TWO-SCORE LEADS AT MINNESOTA
If you recall, early last season Detroit blew a sure win at Minnesota, falling 19-17 on a last-play 54-yard field goal.
On Sunday, the Lions fell 28-24 to the Vikings after blowing leads of 14-0 (early in the second quarter) and 24-14 (late in the third), no thanks to a 28-yard TD pass from Kirk Cousins to K.J. Osborn with 45 seconds left.
Lions head coach Dan Campbell said he regretted his "frickin'" decision to have Austin Siebert attempt a 54-yard field goal on 4th-and-4 at the Minnesota 36 with 1:14 left, up 24-21. Siebert missed wide right.
EXTRA POINTS
Jacksonville dominated from start to finish for the second straight week in beating the Chargers 38-10 in Los Angeles, with Trevor Lawrence completing 72% for 262 yards and three TDs without a pick … Los Angeles Rams handled the Cardinals in Arizona, 20-12, as Aaron Donald notched career sack No. 100 … Joe Flacco returned to earth and Joe Burrow was sacked only twice (and not until late in the first half) as Cincinnati's offence got uncorked in a 27-12 win at the New York Jets … Carolina ended a nine-game losing streak by holding off New Orleans … Chicago beat Houston 23-20 in spite of another brutal passing outing from Justin Fields … Cordarelle Patterson rushed for 141 yards and a score as Atlanta won 27-23 at Seattle.
John Kryk writes a weekly newsletter on NFL matters. That's where you can first see his straight-up picks each week. You can have the newsletter automatically dropped into your email inbox on Wednesdays simply by signing up — for free — at https://torontosun.com/newsletters/
JoKryk@postmedia.com
@JohnKryk
Check out our sports section for the latest news and analysis. Care for a wager? Head to our sports betting section for news and odds.
NFL WEEK 3 TAKEAWAYS: Stats are for losers. Ask the Bills, especially Source link NFL WEEK 3 TAKEAWAYS: Stats are for losers. Ask the Bills, especially