Sports
Meet the Flames' marquee additions: Nazem Kadri's historic summer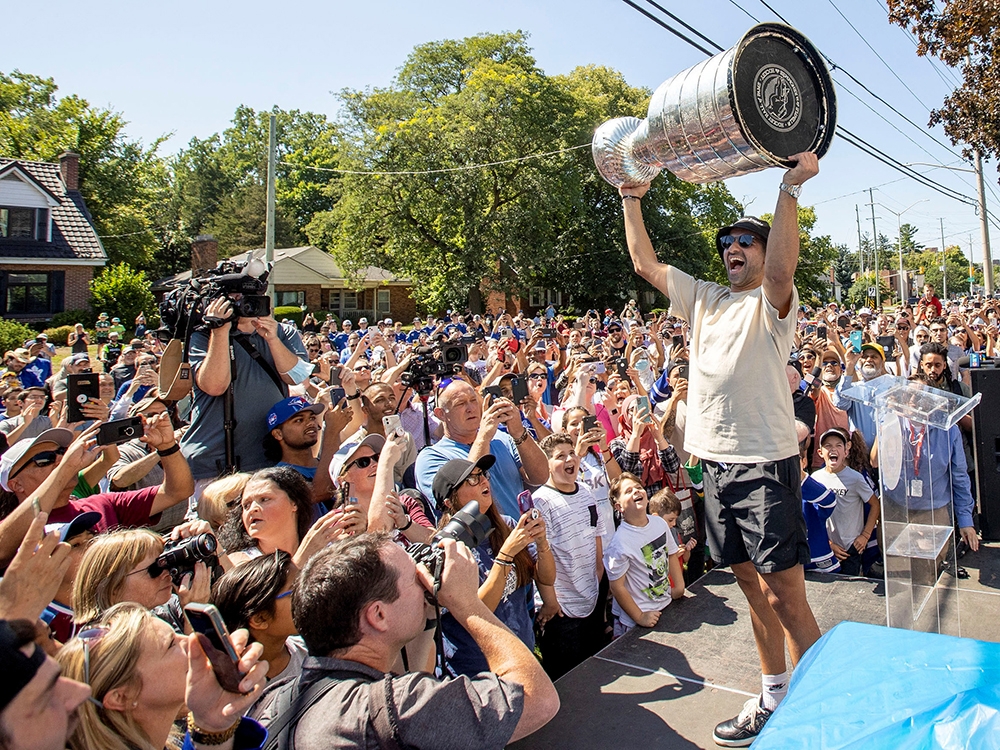 Article content
Calgary Flames fans will love this comparison.
Article content
Especially coming from one of the guys who helped to raise a Stanley Cup banner at the Saddledome in 1989.
Article content
Mark Hunter knows what it takes to win. And he knows Nazem Kadri, who recently inked a doozy of a deal with the Flames as an unrestricted free agent. They go way back.
"What comes out every game is his competitiveness. It's all about winning for Naz," said Hunter, a former NHL forward and now owner and general manager of the Ontario Hockey League's London Knights. "You know, he reminds me of a Dougie Gilmour. He makes plays. He can pass the puck. He makes other people better. He was a very good teammate. All those good things. So that's who he reminds me of."
Article content
Another Gilmour would be great — he is, after all, the dude who scored the championship-clinching goal for the 1989 Flames — but it's also been a special summer for the original Nazem Kadri, who was born to Lebanese parents and raised as a hockey-loving kid in London, Ont.
Article content
The 31-year-old centre hoisted the Stanley Cup, playing a crucial role for the Colorado Avalanche during their title run. He even scored an overtime winner in the final series. An injured hand/thumb didn't seem to be bothering him as he cut around a defenceman and fired a blocker-side shot.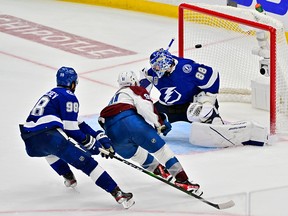 And he made another sort of history, something his loved ones and biggest fans have been talking about since before he'd even skated a shift at the highest level. Hassan Mostafa, a longtime friend of the family and now a director for the Nazem Kadri Foundation, remembers those imagine-if conversations among a crew of about 50 supporters who travelled to the 2009 NHL Draft in Montreal, where the Toronto Maple Leafs made Kadri the seventh-overall pick. At that point, a Muslim had never won hockey's ultimate prize.
Article content
"It was me and all his uncles, we were saying, 'If he wins the Stanley Cup someday, we're taking it to the mosque. That would be really cool,' " Mostafa recalled.
Kadri impressed with Flames' off-season rebound, expects to contend with new team

MacKenzie Weegar's winding path to NHL workhorse

Jonathan Huberdeau has always been a helping hand
Someday arrived, and Kadri did exactly that. There was added significance to this celebration because of what occurred in London in 2021, when four members of a Muslim family were killed in a hate-motivated vehicle attack.
"It was emotional, to go from a really, really deep low one year earlier to such a tremendous high and a level of pride and excitement in Nazem and in the community," Mostafa said. "And it was also really for the kids. You know, there's a lot of kids out there named Mohammed and Ahmed who get bullied on the playgrounds every day for whatever reasons, sometimes because they're different. When they get to look and say, 'Someone from my community, he won the Stanley Cup and the Stanley Cup was in my mosque,' I think that's something special and that's something that kids can be proud of and then they have a good role model."
Article content
As he climbed the minor-hockey ranks, Kadri refused to be deterred by the fact that his NHL idols didn't necessarily have the same background as he did. He's faced racism, including threats he received after colliding with St. Louis Blues goaltender Jordan Binnington while challenging for a loose puck in these past playoffs.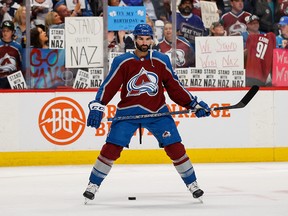 "One thing I had in common with Naz is I'm second-generation … My parents came from Italy after the war," said John Caldarozzi, who coached Kadri as a youngster in the London Junior Knights program. "I remember saying to him, because I would have people say it to me when I was growing up, 'Not many Lebanese players in the NHL, eh? Don't be afraid to be the first.' He'd just kind of nod his head.
"He's not the type of boy that you say, 'You can't do this.' If I wanted to motivate him, it was really easy. I would tell him, 'You can't do this.' That's all the motivation he needed."
Article content
He certainly never lacked determination.
Hunter realized that even before he had Kadri on his roster with the OHL's Knights or before they were reunited in the Maple Leafs organization.
"My son played all the way through against him so I remember watching him at a young age and going, 'Who is this young man that is knocking our boys all over the place?' " Hunter reminisced. "Sure enough, it's Nazem Kadri and years later, still being who he is.
"He's got a trait there that a lot of hockey players want a piece of. He has it. He wants to win. And you know the other thing that I haven't heard enough about? Every day is a good day for Naz. Every day he wakes up, it's a good day. That's a really good trait to have. As a young man, he'd screw up sometimes in a game or whatever. And he took it in, but he didn't let it get him down. He took it the right way, but he moved on with a smile on his face. That's contagious, and it's outstanding for a room."
Article content
For Kadri, those occasional screw-ups are part of the story, part of what sculpted the man.
During his stint with the Maple Leafs, he was twice suspended in the opening round of the playoffs. It happened again in his second season with the Avalanche. He was labelled by the NHL's Department of Player Safety as a repeat offender and, worse, by some observers as a guy you can't win with. On the night he lifted the Stanley Cup, he told Sportsnet in an on-ice interview: "I've had supporters in my corner from Day 1, never wavered. And for everyone that thought I was a liability in the playoffs, you can kiss my ass."
The Flames figure that Kadri — signed to a seven-year contract with an annual cap-hit of US$7 million — can be a significant part of a successful spring run at the Saddledome. Or better yet, several of them.
Article content
As they analyzed their loss to the Edmonton Oilers in a long-awaited Battle of Alberta playoff series, they figured they weren't deep enough down the middle. With the addition of Kadri, who should slot as Calgary's second-line centre, and with Elias Lindholm and Mikael Backlund also capable of major minutes and tough matchups, it's been a long while since the locals were so strong at the pivot position.
Kadri piled up personal-best 87 points in 2021-22, nudging his career total just past 500. He can also be a difference-maker in the defensive zone as a dependable shutdown type. During an interview on Sportsnet 960 The Fan, Darryl Sutter praised his leadership abilities and remarked that the prized free-agent signing "has a bit of old-school in him." Coming from the hard-nosed coach, that's a serious compliment.
Article content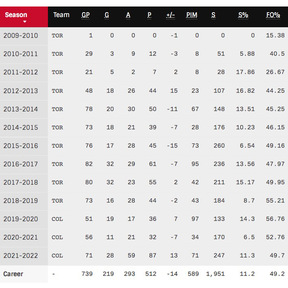 "He's got a real blend to him, right? As I said when we got him, it's that rare combination of skill and snarl and I think a real competitive spirit to him, too," said Flames general manager Brad Treliving. "Ultimately, there are lots of guys that have ability, but it's that competitive nature to strive to not only be very good yourself but push those around you to be good. And he's done that throughout his career.
"I think Naz would be the first one to tell you, when I talk to him or talk to people around him, just how he's matured his game," Treliving continued. "When he came into the league, he was really an offensive guy. Through junior, he was a top-end offensive player. He's rounded out his game. He's learned now, as guys do throughout their careers, to be more committed away from the puck and take pride in not only being an offensive producer but playing against good players and shutting people down.
Article content
"And then it's also maturing that competitive edge. It's been well-documented that he's crossed the line on occasions, and he's learned to find that rhythm to, as an important player, stay on the right side of the line and be able to use all his assets but use them in a way that doesn't negatively impact his team. That's just a young player maturing and going through those things. But you love that competitive spirit.
"When the chips are down, you want him on your side."
It speaks volumes that the Avalanche wanted to keep Kadri on their side. They simply didn't have enough salary-cap space.
On his personal day with the Stanley Cup in August, after that historic visit to the London Muslim Mosque and then a slow cruise on a vintage fire truck, Kadri addressed a large crowd and declared: "We're going to try to run this thing back, and I'm going to Calgary to get the job done."
Article content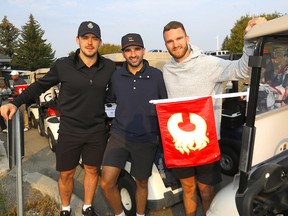 "In Naz's case, I think the thing that separates him from his peers and from the people he plays against is the courage he plays with,"  Caldarozzi said. "You've seen him play. He runs into people bigger than him. He doesn't ever get out of the way. That overtime goal he scored against Tampa, with an oven mitt on … I mean, you've got a broken hand, you could have curled up at the hashmarks. You could have given it to somebody trailing. But no, he plays with this courage that I wish every kid had.
"I think we saw that in this year's playoffs, and I know you're going to see it in Calgary. I'm telling you, from what I saw at the parade, this was not a one-off. I get no impression of, 'OK, I've made my money. I've won my Stanley Cup.' The first thing he said was, 'I'm going to Calgary to run this thing back.'
"I'm sure they all want to do it again, right? But if there is a parade in London at this time next year, I will not be shocked."
wgilbertson@postmedia.com
Twitter.com/WesGilbertson


Meet the Flames' marquee additions: Nazem Kadri's historic summer Source link Meet the Flames' marquee additions: Nazem Kadri's historic summer