Canada
Man charged with punching woman in face on North York sidewalk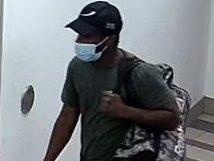 Article content
Police are seeking help from the public to identify a man charged with repeatedly punching a woman in the face on a sidewalk in North York.
Article content
Toronto police responded to a call of assault in the Yonge Street Shepherd Avenue neighborhood around 5 p.m. Tuesday. A woman was walking on the sidewalk when police attacked her and punched her in the face as a man passed by.
A man is unknown to a woman.
The suspect is described as being 25-30 years old, 5'8-5'9, and of medium build. He wore a dark blue baseball cap, a light blue surgical mask, a dark green T-shirt, dark blue jeans, dark shoes, and carried a large black and gray duffel bag.
A security image of the suspect has been released.
Anyone with information should call the police at 416-808-3200, call Crime Stoppers at 416-222-TIPS, or visit 222tips.com.
Man charged with punching woman in face on North York sidewalk
Source link Man charged with punching woman in face on North York sidewalk