Sports
Inside Makar's rise from Crowchild Twin Arena to Conn Smythe winner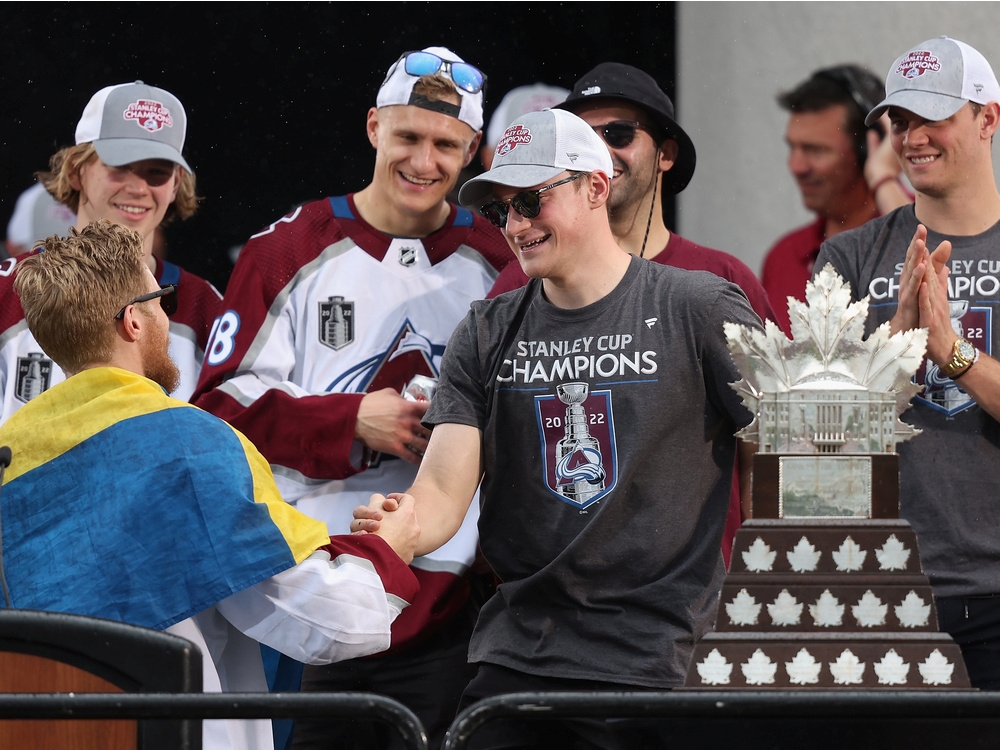 Article content
He's always had those rosy cheeks.
Article content
But what Jeff Ovens first noticed about this soon-to-be superstar was the fire in his eyes.
While Ovens has tutored countless Calgary-area kids through his STIX Hockey program, Cale Makar — now a Norris Trophy winner, Conn Smythe Trophy winner and a Stanley Cup champion — made an immediate impression.
Article content
"I remember the first time I was ever on the ice with Cale, he just had this quiet competitiveness, this look in his eyes," Ovens said. "So although I can talk about his dynamic footwork and his playmaking and his vision, I feel like what was really special about him was the fact he had that quiet leadership and competitiveness to him, and that came from a humble upbringing.
"It's not loud. It's not forceful. He's a quiet leader that just wants to win, knows how to win and continues to prove it at every level he plays."
Article content
Makar, who wears No. 8 for the Colorado Avalanche, has been on Cloud 9 all week. His proud parents Gary and Laura and younger brother Taylor must be feeling the same way.
Still only 23 and already the most dynamic defenceman in the game, the born-and-raised Calgarian was a pivotal piece in Colorado's roll to a Stanley Cup title. He joined a legendary list, becoming just the third blue-liner in league lore to win the Norris Trophy and Conn Smythe in the same season. Bobby Orr (twice) and Nicklas Lidstrom are the others to achieve that feat. That is darn good company.
"All I can think about right now is everybody that helped me along the way and everybody that has worked so hard with this team and deserves it," Makar told Sportsnet just moments after the championship clincher in Tampa.
Article content
For those who did help him along the way, that aw-shucks answer was to be expected. It was no shock that Makar waited patiently for his turn to hoist the Stanley Cup. Thirteen of his Avalanche teammates took their spins before Pavel Francouz — yeah, the backup goalie — handed the hardware to the rosy-cheeked rearguard who had racked up a team-leading 29 points in the playoffs.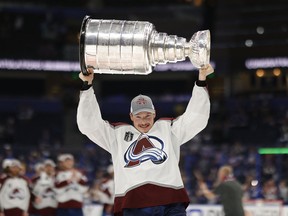 "Even with the Conn Smythe, he couldn't get that thing off the ice quick enough," said John Smith, one of Makar's coaches during his peewee days in the Crowchild minor hockey program in northwest Calgary. "It was just, 'This is about the team.' I was not surprised in the least that he skated that Conn Smythe Trophy really quickly to one of the team (staff) to say, 'Hey, take this thing. I'm going with my teammates.' That's all typical Cale.
Article content
"A lot of people say to me, 'What a humble, respectful kid.' I just think with lots of things happening in our great game of hockey, he's probably a great role model for the sport. The sport needs a whole bunch more of what Cale, I think, is demonstrating and how he plays and how he deals with the attention."
Track down any of his past coaches and mentors, and they'll marvel as much about Makar's character as his silky skating stride, his elusiveness at the offensive blue-line or his ability to quarterback a power-play.
As Charle Dumba, who's known Cale since he was a Timbit, put it: "The person behind all that talent is as good as all the talent. He's such a respectful kid."
Dumba's oldest son, Matt, has been patrolling the blue-line for the Minnesota Wild for the past nine seasons. Makar is in the same age group as his youngest, Kyle, who later tended twine for the WHL's Calgary Hitmen, and Charle and Gary often coached the boys together.
Article content
"What struck me when he was younger is that Cale was a really good forward, and we had a lot of good forwards," Dumba said, recounting a favourite story. "But as these little guys come up, some of them shoot it a little better than others, you know? And some of them see the ice a little bit better than others, you know? They all get it at different rates and different times.
"Cale, he had a hell of a shot. I remember Gary and I were talking and I said, 'Hey, I think it's time that Cale goes to play D.' Gary was a D guy himself, and I was more of a forward myself. I said, 'I think it's time.' Gary said, 'Yeah, you think so?' And I said, 'Yeah, Cale shoots it harder than everybody else, and he sees the ice better. I can tell him that he can take the puck and rush.' Gary said, 'OK, but there's one thing — then you'll have to coach the D and I'll take the forwards, because I don't want to coach Cale back there. If you coach him, he can go back and play defence.'
Article content
"And that's how that started."
And how's it going?
Couldn't be much better.
When Colorado's captain, Gabriel Landeskog, was asked by ESPN how other teams could try to copycat their recipe for success, he suggested they "find a Cale Makar somewhere."
The Avalanche found him about two hours southeast of Calgary in Brooks, where he was then workhorsing for the Junior A-level Bandits. He made a meteoric rise up the pre-draft rankings in 2017 and was ultimately selected fourth-overall, the highest pick in Alberta Junior Hockey League history.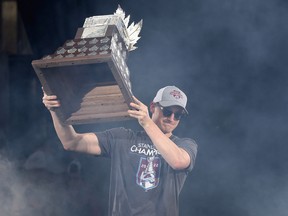 Makar would spend a couple of campaigns with the NCAA's UMass Minutemen, capped by a Hobey Baker Award nod. After turning pro, he won the Calder Trophy as the NHL's rookie of the year. Through his three seasons with the Avs, he is averaging north of a point-per-game. Defencemen just don't do that.
Article content
"It's been fun, not just this year but to watch his journey. He has taken the road less travelled, from the hockey development standpoint," Smith said of Makar, who logged 27:04 of icetime during the playoff push, the most of any dude who advanced past the opening round. "It's been really satisfying to see him stay with it, develop, grow. Honestly, it's amazing and sometimes even hard to believe that here he's being compared in the same breath as the Nicklas Lidstroms and Bobby Orrs."
Certainly, there were some who never would have believed it.
"I worked with the Medicine Hat Tigers at the time and we drafted him in the eighth round (in 2013)," Ovens recalled. "He was a small, little, probably No. 6 defenceman on the Bantam AAA Flames team and we drafted him in Med Hat. Both myself and the Calgary scout loved him. We'd go to the camps when he wasn't really knowing what route he was going to take and I'd be sitting in these meetings and these WHL scouts would say, 'Well, he's not big enough. He can't defend. He's not going to be able to be a defenceman in our league.'
Article content
"It's just incredible to see how we typecast players and we make huge assumptions about them early on, without really giving them the space to grow."
Smith is often asked about his memories of watching Makar beetle around the ice at Crowchild Twin Arena. Were there hints of something special?
While nobody was predicting superstardom, he recalls this up-and-comer "did show signs of that slipperiness on the blue-line" and that "as small as he was, he almost never got knocked off his blades." What he mentions first, however, is Makar's mental strength.
"Kids at that age ride a rollercoaster, an emotional rollercoaster. Cale did not," Smith reminisced. "We could be up five goals or down five goals, and his demeanour and body language and his next shift didn't change. And that's very uncommon for a young kid. So that would probably be the first thing that stood out in my mind. He'd recover from a mistake, and there's no shortage of them at that age. He could shake it so quick. I actually used to call him 'The Iceman.'
Article content
"Even today, people say, 'What do you have to do to get him off his game?' I don't know that anybody knows how. He had that little slip-up, I remember, in playoffs two years ago and people were wondering, 'Well, how's he going to recover?' He did just fine."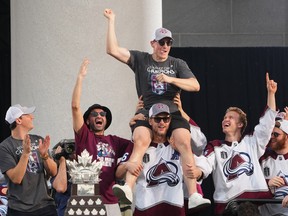 Just fine, indeed.
With 29 points during this Stanley Cup quest, Makar notched the highest playoff total by a defenceman since Brian Leetch in 1994. Because the Avalanche so seldom lost, he hit that mark in just 20 games.
He received a social-media shout-out from one of the all-time greats, with Orr writing on Twitter: "Congratulations @Cmakar8 for a wonderful season! I couldn't be happier for you and all your teammates."
On Thursday, during the championship parade in the Mile High City, he was greeted by fans with chants of 'M-V-P! M-V-P!' and 'All hail Cale!'
Article content
These must be pinch-me moments, even if Makar seems to be taking it all in stride.
"It's still amazing," Charle said. "We always talked about it — you have to do the work when nobody is watching. When everybody is watching, it's easy to do the work. But when nobody is watching, Cale works as hard or harder than anybody, especially trying to get his craft going. He's a great young man and the politest kid you'd ever meet, with those rosy cheeks."
Ah yes, those rosy cheeks.
And that fire in his eyes. As Ovens watched the 2022 Stanley Cup playoffs, he recognized that look.
"Absolutely, the same as what I saw in that little 10-year-old," said Ovens, who worked with Makar almost every spring or summer until he headed off to college — sometimes with Avalanche forward Logan O'Connor, another Hockey Calgary graduate, also participating in those skill development sessions. "It wasn't slamming his stick. It wasn't showing outward frustration. You could just tell he hated to lose, but he did it in the right way that got people to follow him and people to engage in the journey to get better so they can win. I saw that when he was 10 years old, too. It's pretty special."
wgilbertson@postmedia.com


Inside Makar's rise from Crowchild Twin Arena to Conn Smythe winner Source link Inside Makar's rise from Crowchild Twin Arena to Conn Smythe winner