Business
How Downtown Eastside street artists battled taggers ruining Chinatown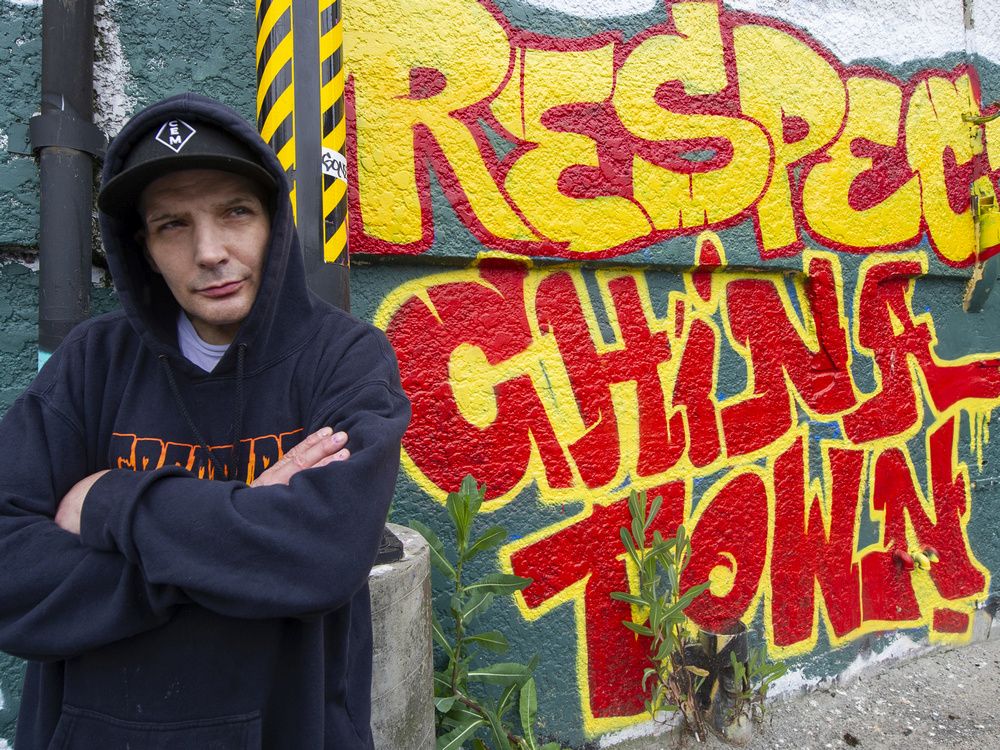 Two well-known street artists joined forces with Chinatown representatives to cover graffiti with art that respects the historical neighbourhood.
Article content
Trey Helten and Jamie Hardy are street artists in Vancouver's Downtown Eastside, who try to carefully choose the public spaces where they paint and to make their vibrant images meaningful to the disadvantaged community.
Article content
So they were outraged in March when taggers defaced the Chinatown street mural Eight Immortals Crossing the Sea. And that led to a months-long project to use their paint brushes to help heal the increasingly fractured relationship between these two neighbouring communities.
"Things were at a boiling point with the graffiti spilling out from the Downtown Eastside into Chinatown," said Helten, who paints under the name Grow Up!
"So it seemed like a natural kind of progression to reach out to Chinatown and help them when they were suffering through all the targeted vandalism. … To extend an olive branch to Chinatown to try and help alleviate some of the problematic graffiti and give street art legitimacy in this situation."
Article content
Hardy, who is known in the Downtown Eastside as Smokey D or Smokey Devil, took to a popular Facebook group for street artists to criticize the graffiti covering the mural: "Smarten the f— up, leave Chinatown murals alone — there's enough blank walls, dissed pieces, rooftops and floater spots in Vancouver that you shouldn't have to f— up other artists created masterworks that are meaningful to them."
Helten and Hardy wanted to both salvage the reputation of respectful street artists and make amends with frustrated residents and shop owners in Chinatown, where Vancouver police say there has been a 300 per cent increase in graffiti since 2019.
They joined forces with the Chinese artists who painted Eight Immortals, as well as Chinatown merchants, representatives and non-profits, to cover the unattractive graffiti with street murals that reflect the neighbourhood's history and culture.
So far, the two Downtown Eastside street artists have completed three projects in Chinatown, with a goal to do many more.
The efforts are appreciated in the neighbourhood, where business owners and community leaders have pleaded with city hall and other officials to help stop the rampant tagging that intensified during the pandemic, when Vancouver police reported that anti-Asian hate crimes had risen 717 per cent between 2020 and 2021.
Article content
"Oh, these guys have been amazing. I think it's uplifted both of our communities," said Lorraine Lowe, executive director of the Dr. Sun Yat-Sen Classical Chinese Garden.
"They've taken something that originally (increased) during COVID — anti-Asian tagging, it was such an ugly thing — but they just made a 180 and turned it all around, making (street art) so beautiful. The stuff that you see here, they all have a message. Because it's so profound, and because it's so bright, and it's so vibrant, that it actually hits home."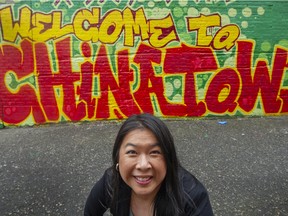 Helten and Hardy's journey began in April, when more than 100 volunteers helped to repair the damaged Eight Immortals mural.
"Me and Smokey came down to the Eight Immortals mural when it was getting fixed by the community to pay our respects, to show that not all street artists are bad," said Helten, who is also manager of the Downtown Eastside's overdose prevention site.
Article content
"I've learned from Smokey that street art can really be used in a positive sense to help others. Smokey has been doing it for 25 years."
Hardy has used his creations to share information about how to stay safe during the pandemic, to post details about missing women, and to memorialize those lost to the overdose crisis.
"We just wanted to show that not all street artists are scumbags or vandals. Because that's the kind of picture that's painted of them all because (some taggers) have been doing silly, stupid things lately, like ruining people's art. It's ridiculous," Hardy said.
The artists who created Eight Immortals, Sean Cao and Katharine Yi, encouraged the two men to use their social credit on the street to make a difference, and gave suggestions for where and what they could paint in Chinatown, Helten said.
Article content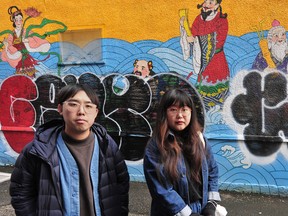 "Sean Cao and Katherine Yi were very supportive, kind of pushed us along behind the scenes," Helten said. "And then Minna stepped in and Lorraine stepped in at that point."
Lorraine Lowe, from Dr. Sun Yat-sen, and Minna Van, a Gastown entrepreneur and the co-founder of a non-profit to assist local artists, helped the two men make connections in the neighbourhood and helped with any language barriers.
"This was community building, but it was also heartfelt," said Van, co-founder of the Network Hub, which provides office space to small companies.
"I think it really resonates with a lot of people. That art isn't just something you look at now. It's about supporting each other. It's about feeling something. It's about how we communicate to each other, cross culturally. And that's how we started."
Article content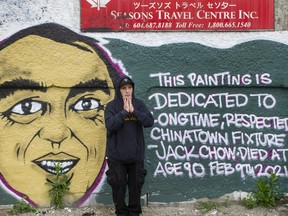 Their first mural covered a graffiti-splattered wall in an alleyway between Keefer and Pender streets, off Columbia Street. Smokey painted a portrait of Jack Chow, a longtime Chinatown fixture who owned a successful insurance company, along with a dedication to him.
"He's a well known person down here, so we thought we'd do a memorial for him," Smokey said.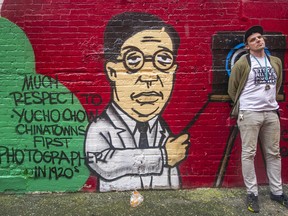 The second mural, this one by Helten, is massive, extending the length of a building in an alley off Keefer Street, between Main and Gore streets. One section of it is dedicated to Yucho Chow, Vancouver's first Chinese commercial photographer.
The other half says "Welcome to Chinatown" in huge colourful letters, which Van says has been very popular with many tourists who stop to take photos by it. "It's like the official welcome sign," she laughed.
Article content
The artists collaborated for the third mural, which they just recently finished painting on metal rolldown shutters for two businesses at Gore and Hastings streets, Chung Shan Trading Company and Leo Fine Hair Salon, which had been repeatedly hit by graffiti vandals.
Helten painted "Respect Chinatown" in both English and Chinese characters on the salon's rolldown shutter, as well as "Barber Shop" in both languages on a side wall.
It was a huge hit with Kim Wong, who works at the salon.
"Before it was dirty. Now they've made it nice. Good job," he said enthusiastically. "Every customer says it's so beautiful now."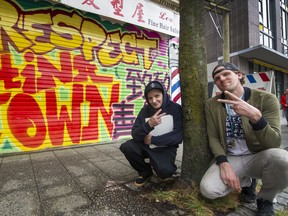 On the trading company's shutters, Hardy created the likeness of store owner Tommy Wong with the jars of traditional herbs that he sells. Wong had been so furious with the graffiti artists earlier this year that he wrote a message back to them, pleading with them to stop vandalizing his store.
Article content
"The young man at the herb shop there, he was hating it. How many times did he repaint that thing over and over and over. And that really made me mad," Hardy said.
"Once we did the picture of him, he was really happy."
So far, the murals done by Hardy and Helten have not been tagged. They hope that continues, as a sign of respect from local artists to local artists.
The pair have continued to do outreach work with Downtown Eastside graffiti artists, encouraging them not to deface Chinatown and offering to work with them in other locations. Some listen, and some don't, Helten says.
Part of the answer, according to Van, may be providing more opportunities for Downtown Eastside artists to promote and sell their art, which is often never seen outside the small, impoverished neighbourhood.
Article content
So she co-founded the non-profit Digital Hopes, which allows local artists to work together and to display their art at temporary exhibits — either in person in B.C., or nationally and internationally by selling the art in a digital format.
There was an art show featuring Downtown Eastside artists' work last weekend at the Dr. Sun Yat-sen gallery, and another scheduled for this weekend at the City Centre Motor Hotel.
Van has also been in touch with a few developers who may be interested in purchasing Downtown Eastside artwork for new buildings in the area.
Supporting local artists is important for more than financial reasons, Van says. "Art is healing. Art is a way for people to deal with trauma. It's just more than art. It's life saving in the Downtown Eastside for some people."
Article content
Besides creating opportunities for artists to sell their work, Van would also like to create opportunities for them to paint in public — legally, without vandalizing buildings and other people's art — and says this will require the support of the city, local businesses and residents.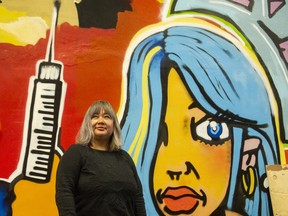 Hardy agrees. He would also like the city to create a legal area where street artists can pursue their craft without breaking any rules. "Graffiti is not like a flash in the pan or a fad, it's getting bigger and bigger and bigger and bigger," he said.
Hardy's goal for the summer is to create murals on as many rolldown shutters and business walls as possible in Chinatown. They will continue to partner with Van and Lowe to ensure they have permission from merchants and residents.
Article content
Cao and Yi, the Chinese artists behind Eight Immortals, have suggested focuses for future murals, such as B.C.-born Jean Lee, the only Chinese Canadian to be accepted into the Royal Canadian Air Force's women's division during the Second World War, or Dr. Madeline Chung, B.C.'s first female obstetrician, who delivered more than 7,200 babies.
"We want to keep helping Chinatown and beautifying Chinatown as best we can with street art. Really making it like a top-notch spot for tourism as well as an opportunity for (street) artists to showcase their work," Helten said.
They are motivated to continue, Hardy said, by the positive responses they have received from Chinatown.
"At first I didn't think it was going to get as big as it has, but it's gone really well and they are nice people. And they understand what we're trying to do."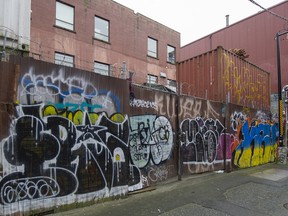 lculbert@postmedia.com
How Downtown Eastside street artists battled taggers ruining Chinatown Source link How Downtown Eastside street artists battled taggers ruining Chinatown