Canada
Home opener weekend: U of S Huskies women's hockey looking to win close matches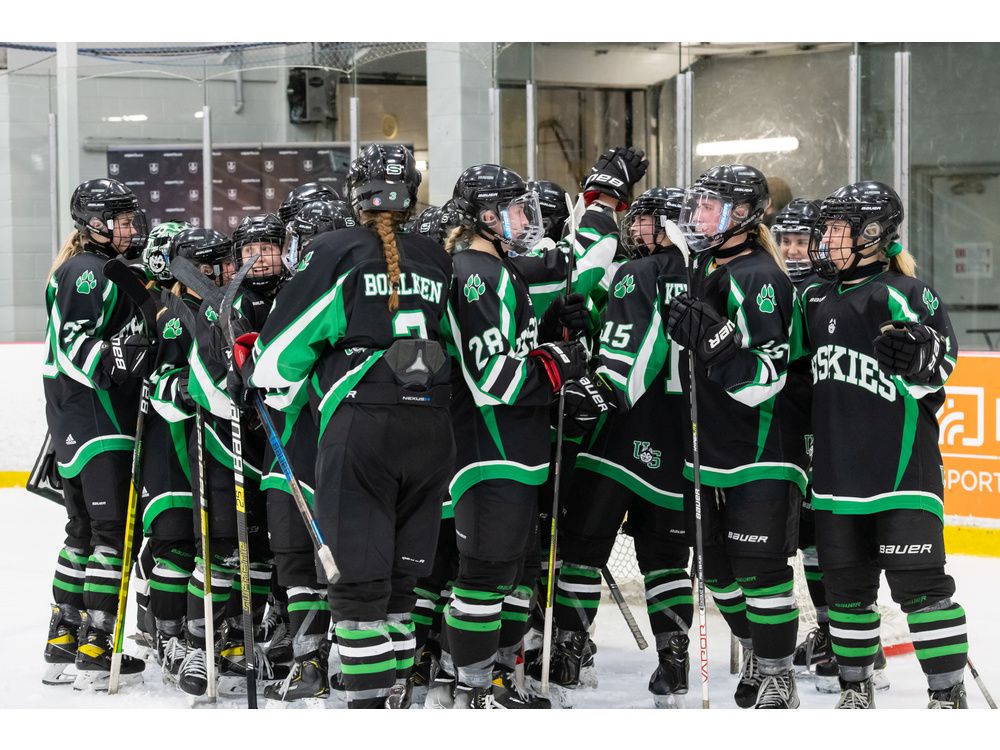 "There are a lot of kids out there who could get a lot more time than they did last year."
Article content
Steve Kook sounds like a broken record again.
Article content
"I know you say it every year, but I think we're actually getting faster this year," says the University of Saskatchewan Husky women's hockey coach. Calgary Her Dinos in Mellis Belshire Place.
Article content
The Huskies finished fifth in the conference last season with an 11-7-1-2 record, but then went 6-3 in the playoffs and won a bronze medal at the Usports National Championship.
They entered the season ranked third in the conference by Canada West coaches.
"The rankings came out and our coaches put us third, which I think is fair for us," Cook said. "We are mostly his senior year and his sophomore year. We are experienced, not exactly new to the game, but still relatively new."
Article content
Saskatchewan (1-1) split a two-game series to the Trinity Western University Spartans at Langley last weekend.
"Apparently, we look like everyone else. Everyone[at the conference]split last weekend," Cook said.
"For us, Friday night was a good learning experience. We got a little more dirty on our noses and got into play and got into some puck battles.
They will face Calgary, also going 1-1 to start the season.
"I don't know much about their roster," Cook said. "I expect a lot of parity this season." was young.
Article content
"That's the problem with the league this year. Last year, so many teams had so many rookies on their teams that this year they're all veteran teams.
"I expect every night to be a (tight) one."
Here's how a Husky is formed.
many returning veterinarians
The Huskies include goaltenders Camryn Drever and Colby Wilson, blueliners McKenna Bolger, Kendra Zucotski, Isabella Pozzi, Brooklyn Steveley, Emily Holmes, Larissa Bohlken and Meg Dyer, plus forward Kennedy. • Welcome to Brown, Jasper Desmarais, Sarah Kendall, Kara Kondrat and Mallory Dyer. Kate Ball, Kenzie Rausberg, Bronwyn Boucher, Kelsey Hall, Sophie Lalor and Paris Oleksin last season.
newcomer to the fold
On the back end, the Huskies have added Kari Hibert, a transfer student from the University of New Brunswick Varsity Reds, and goaltender Emma Buckman, who will be wearing a redshirt this season.
Article content
Former Saskatoon AAA star Hiebert is returning home after a season on the East Coast.
She includes forwards Jessica Patterson (recruit from Ontario), Jade Cadew (Lakeland College Rustlers), Taylor Wilkinson (Lakeland College) and Shelby Williamson (Okanagan Hockey Academy). ) is added.
Huskies lost 4 forwards
Among the major losses included team captain Bailey Brassa and fellow forwards Abby Shirley, Jordyn Holmes and Nicole Frye.
Blueliners Holly Angus and Jesse Helner also did not return.
strong and deep defense
According to Kook, the team's strengths include defense and goaltending.
"It's always good to have (Camryn) Drever back on the net," Kook said. "Backend Kendra Zuczocki will drive a lot of the time for us, as will Brooklyn Steveley and, of course, Isabella Pozzi, who was the most mature player on the backend. Depending on how you count it, she's going into her fourth or fifth year.
Article content
"Our back end is real mobile. Like I said to the coaching staff when Kari[Hibert]joins the lineup, if she can go, we'll have eight bona fide starters back. All of them. can play, so it's going to be a tough decision every night."
Up front, Cook sees a forward who "definitely can score".
"Sophie Larrah and Kara Kondrat can put the puck in the net.
"There are a lot of kids out there who could get a lot more time than they did last year."
dzary@postmedia.com
[related_links /
The news seems to be flying at us faster all the time. From COVID-19 updates to politics and crime and everything in between, it can be hard to keep up. With that in mind, the Saskatoon StarPhoenix has created an Afternoon Headlines newsletter that can be delivered daily to your inbox to help make sure you are up to date with the most vital news of the day. Click here to subscribe.
Home opener weekend: U of S Huskies women's hockey looking to win close matches
Source link Home opener weekend: U of S Huskies women's hockey looking to win close matches