Canada
Gunter: City disputes bronze statues of buffalo and buffalo fur traders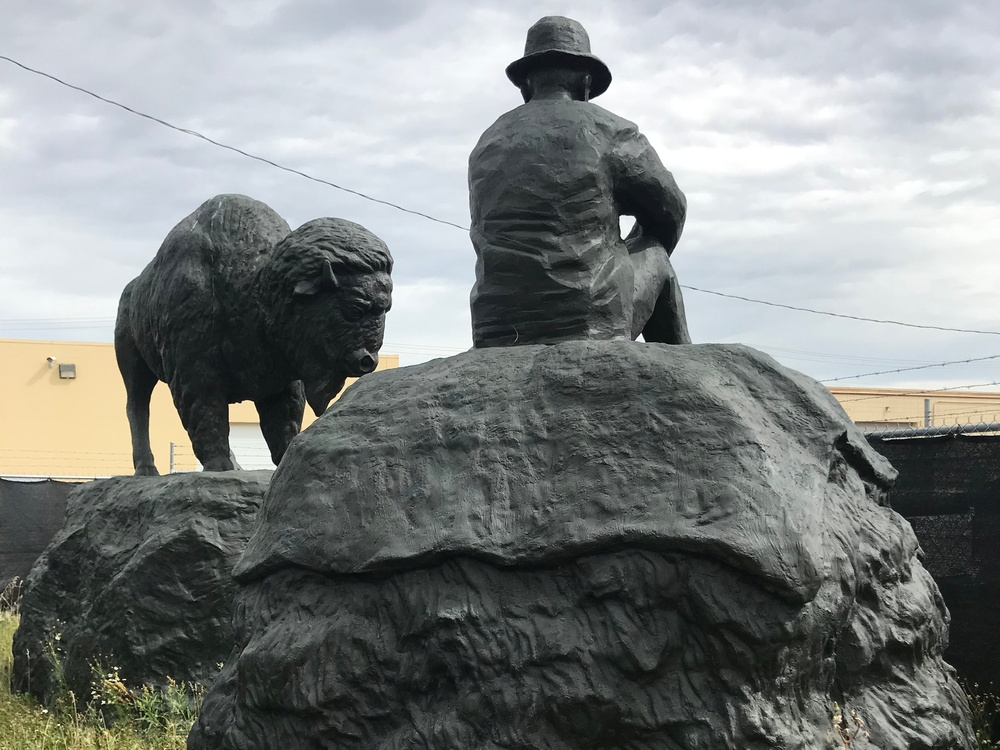 Article content
Unfortunately, we don't see what sculptor Ken Lam hoped the public would see in his two-piece artwork entitled Buffalo and Buffalo Fur Trader.
Article content
I learned that the City of Edmonton was concerned that people would see taxpayers pay $375,000 for a four-meter tall bronze statue to sit at the north and south ends of the pedestrian walkway next to the new Walterdale Bridge. I have to admit that I am looking more.
Article content
Instead of seeing Lamb's grandiose socialist and ecological statements against colonialism, I see some sculptures. At least one of them looks like a "colonization celebration".
all right. I don't exactly see colonial triumphalism (which is what the city is worried about seeing for local indigenous people). I am not "woke up" as the city arts people are.
But I see this pair as an ongoing struggle between the "wisdom offered by First Nations and Indigenous peoples, and the stupidity of greedy capitalists represented by white men in hats on piles of buffalo pelts." I'm afraid I completely ignored Lamb's interpretation that it represents a "dialectic". "
Article content
Lam argues that the man represents the "disruptive ecological and social trajectory" we are still on today.
One of the giant bookends is a very elaborate representation of a buffalo. At the other end is a white man, sitting on a stack of dozens (?) of buffalo hides.
The sculptures have been owned by the city since 2016, and it's not hard to imagine a committee of bureaucrats and ultra-sensitive arts insiders squeezing their hands on what to do with them ever since.
The commission escaped a quick decision because the bridge itself was delayed by nearly three years. But they must have been asking themselves this question, at least for the last few summers. what do we do You probably can't put these things out. One might think the man is high-fiving the bison slaughter. "
Article content
And it's true. When I first saw the man on top of the pile of hides, he looked tired, but quite happy with what he had accomplished.
I missed Lamb's Marxist critique that greedy capitalists are raping the natural world and cheating indigenous peoples.
The man appears waiting for the train to pick up all the hides for a reward.
(PS: If this represents the fur trade, it should probably be a beaver hide, not a buffalo hide. But aside.)
It's hard to choose the right side and the wrong side. Is it possible that both the sculptor and the city are wrong?
The city thinks too much about objections.
Francis Asuncion, a city spokesperson, said in an email that since the sculpture was commissioned, "as a result of several important events in Edmonton and across Canada, there has been a growing understanding of the impact of historical injustice on Indigenous peoples." It deepened."
Article content
Asuncion notes the 2018 Edmonton hearings for missing and murdered Aboriginal women and girls, the discovery of unmarked graves at a boarding school, and the Pope's recent settlement.
For real! ? You don't see much more in the sculpture than you see in Das Capital's Frontier edition of Lamb.
And now you can never know what most Edmontonians think of buffalo and buffalo fur traders.
On Wednesday, the city announced it had decided not to install the work. For this reason, it is not considered inclusive of all Edmontese. "
Lum, an artist, must be capitalist enough to keep the cash.
However, the city has said it may donate the pair to a museum.
Good luck. I think they will stay invisible for a long time in the warehouse where they are now sitting.
lgunter@postmedia.com
Gunter: City disputes bronze statues of buffalo and buffalo fur traders
Source link Gunter: City disputes bronze statues of buffalo and buffalo fur traders