Canada
Elderly Vancouver woman leaves hospital after falling, shocking family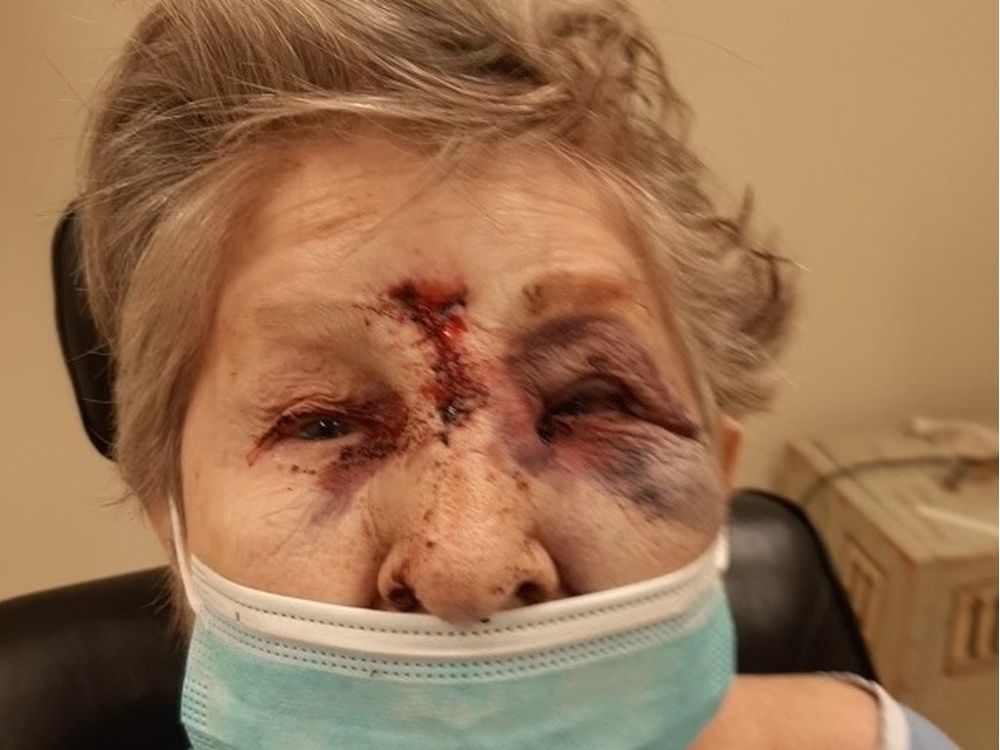 "Something is crumbling. I don't blame the staff," says Sandra Robinson, whose 85-year-old mother was discharged from hospital with a broken face. I think"
Article content
Joyce Robinson, 85, of Vancouver, was rushed to the emergency room after falling at 2 a.m. Thursday, breaking her nose, breaking her orbital bone and tearing her eye tube.
Article content
Her visits to the ER at Vancouver General Hospital were not uncommon. According to her daughter, due to her age and after suffering a minor stroke, she has fallen multiple times over the past few years.
However, not staying overnight in the hospital for observation was unusual.
Her daughter, Sandra Robinson, a professor at the University of British Columbia's Souder School of Management, was shocked her mother left the hospital in only her gown after staff threw her clothes away for being bloody and not using painkillers. I received An orbital bone fractured excruciatingly.
Her mother is usually watched overnight in the hospital because of her age and medical history. They usually have to run tests to find out why she fell. Even though these injuries were the worst from the fall, she was sent home.
Article content
Robinson would like to know if the threshold for overnight hospitalization of the elderly has changed given the current medical staff shortage.
"My mother has been through the ER many times. They usually keep her for several days to evaluate. this is really the first time" she said.
"Something is falling apart. I don't blame the staff. I think they are trying to deal with a crumbling system."
In a written response, Vancouver Coastal Health said it had "competence and the necessary level of clinical and support staff" to provide care to all patients.
"Vancouver Coastal Health will not discharge patients due to lack of beds.Patients will be discharged only on the advice of a physician and will be provided with a discharge plan," the statement said.
Article content
Joyce Robinson, who lives in her apartment on a small subsidized housing complex in Vancouver, needed her eye stitched up by a senior ophthalmologist before she was released. But her daughter said the Eye Center is in another building she's three blocks away.
"But she had neither clothes nor shoes. Then they asked us to take her there." said Robinson. Her brother was finally able to get her into her wheelchair by her hospital staff. According to Robinson, her mother was told not to scratch her face and she was discharged wearing a hospital gown.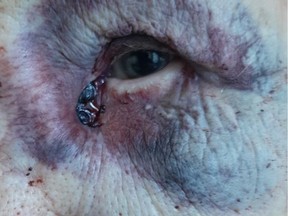 It wasn't until the family got her home that they realized she hadn't been given pain meds, only a prescription for antibiotics.
"I know there is no space, and I know there are other people in the hospital who are in dire situations. It's just so sad," she said.
Article content
"We see a lot of evidence that the health care system has been under stress for a long time. And I think it's reached a tipping point. If you stop accepting or supervising older people after they just say, "Hey, you can go home," then you have to. why did you change?"
Prime Minister John Horgan said B.C.'s health care system was "wobbly" given staffing shortages that have led to the closure of at least three emergency rooms.
Hogan has repeatedly pointed to increased federal funding as the key to strengthening health care. The state and territory have asked Ottawa to increase its share of healthcare funding from he 22% to 35%. This represents an annual increase of $3.9 billion for BC.
Article content
Last month, reporters Lori Calvert and Dan Humano wrote about how a woman died at Lionsgate Hospital after being stuck in the waiting room for two days. It's a sign of a growing shortage of staff in overcrowded emergency rooms in British Columbia.
— with file by Katie De Rosa
ticrawford@postmedia.com
North Van patient dies after two days stuck in overcrowded, understaffed hospital waiting room

BC under pressure to resolve staffing shortages closing ERs
---
More News, Fewer Ads, Faster Load Times: Get unlimited add-on access to the Vancouver Sun, the Province, the National Post, and 13 other Canadian news sites for just $14/month or $140/year. Subscribe now from Vancouver Sun or The Province.
Elderly Vancouver woman leaves hospital after falling, shocking family
Source link Elderly Vancouver woman leaves hospital after falling, shocking family