Canada
Drained: Sask. rancher's land 'dying' without water from reservoir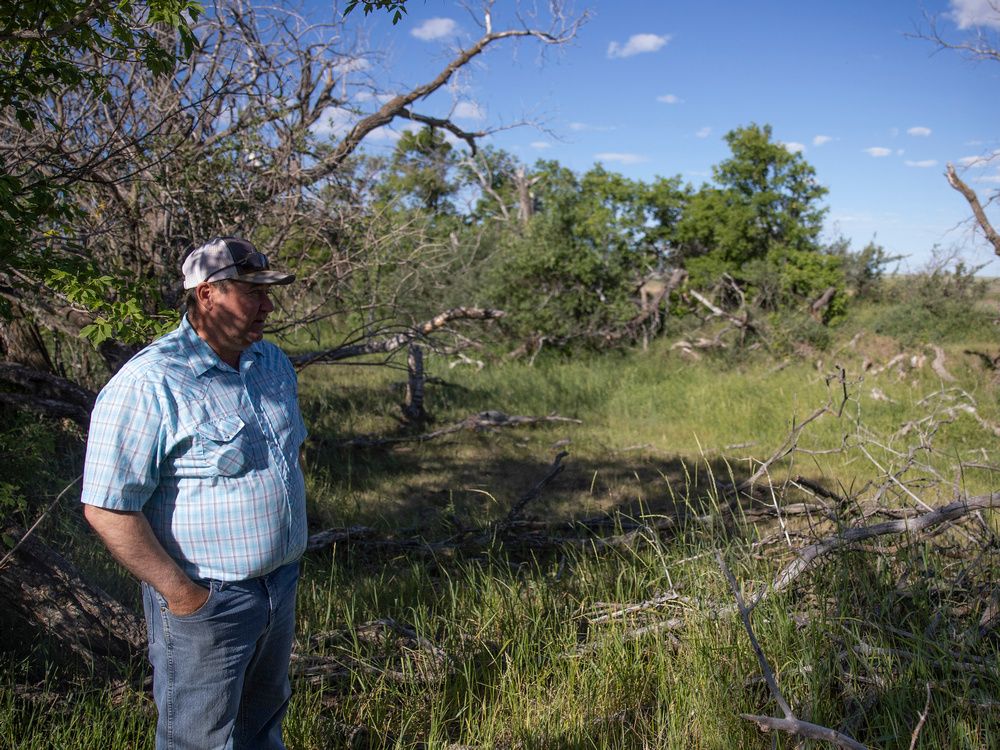 In Part 2 of a three-part series on the province's water policies, a Maple Creek rancher says, "It's like they're deciding who gets to live and who get to die."
Article content
MAPLE CREEK — On his ranch, Doug Wilson walks past an old abandoned three-storey home and stands at the bank of what had once been the flowing Maple Creek.
Article content
The creek is dry again this year as brittle, dead tree debris litters the edges. Grass is growing where, at one time, water would have normally passed by.
Article content
"Over the last 20 years we've seen a huge amount of tree loss," Wilson said earlier this summer near the southwest Saskatchewan town. "It's dying. The whole area is dying."
Wilson relies on the water to feed his cattle. It represents his livelihood and helps him survive.
But over the last few years, he's had to reduce his herd size from 600 cattle to 400. He's also had to pay for someone else's feed because he's been short on water.
While Wilson acknowledged recent droughts have worsened his fortunes, he said there's also another reason why he's been left parched.
Upstream of him is the Junction Reservoir. It's operated by the Water Security Agency (WSA) and controls how much water is let out downstream. Over the past few years, Wilson says he's hardly been getting a trickle.
Article content
In Part 2 of the series Drained, the Leader-Post explores how current water management policies have left some producers, like Wilson, dry. It's the opposite of what's happening in the east-central region, where farmers are being flooded out.
Fed up with the lack of water, Wilson hired an engineering company in 2018 to show that limited flows out of the Junction Reservoir have meant less water for him and his land.
The hydrologic analysis, compiled in 2018 by Westhoff Engineering Resources, stated controlled discharges from the reservoir have caused flows into the Maple Creek to "drastically" reduce.
The engineers stated a berm and other irrigation works constructed along the creek have also prevented natural spills from entering Tenaille Lake, on which Wilson's land relies.
Article content
Using modelling and past data, engineers found water flows fell by 76 per cent.
From 1911 to 1938 before the reservoir was constructed, flows from Maple Creek above Tenaille Lake were on average recorded at 0.96 cubic metres per second. From 1976 to 1992, which is recorded as the "reduced releases" period, flows were recorded on average at 0.23 cubic metres per second.
Data after 1992 was not available, though the engineers noted current water releases from the reservoir are "very limited."
"When they built all these dams, it was under the promise that they were there to help you, that they would slow the water down," Wilson said. "It's like a gun; it can help you originally, say for hunting, but, eventually, what they've done here is they've taken that same gun and turned it into a murder weapon."
Article content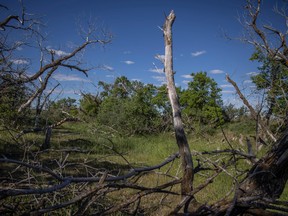 It's not just his livelihood under threat, Wilson said. He also worries about the wildlife that rely on Tenaille Lake.
A separate study, prepared for Wilson by BearTracks Environmental Services, showed the lake is considered ecologically important in providing resting, feeding and nesting habitat for various wildlife, including species at risk. For instance, it's been home to a great blue heron colony.
Further, the report stated the province has classified the lake as a migratory bird concentration site.
Wilson said he has spent tens of thousands of dollars on the studies. For him, the cost pales in comparison to the $200,000 he estimates he lost last year because of the lack of grass for his cattle.
Areas where water once stood are now full of mature foxtail weeds, which have posed serious problems for his animals. Sharp awns can lodge in their nose or mouth, potentially leading to infection.
Article content
"I ended up having to shoot her because it just chokes them eventually," he said while pointing to a picture of a cow that got into too much foxtail. "You can't stop it. It blows in the wind. I can't get away from it."
The Leader-Post did not receive comment from the WSA by deadline regarding water flow issues in the Maple Creek. However, Wilson had taken the agency to court over the issue and, through documents he provided to the Leader-Post, an affidavit from a WSA manager stated there won't be "any change in the historic operations of the infrastructure, including the Junction Reservoir."
Kevin Wingert, the WSA manager of southwest regional services, wrote in his affidavit that the reservoir only generally permits continuous releases of water when there is high spring runoff and large amounts of summer rain.
Article content
Wilson said he lost the case because he couldn't show personal damages at the time. However, he said his problems still stand; he's not benefiting from the water upstream.
"These studies are basically common sense," he said. "If you block water to an area, what could go wrong?"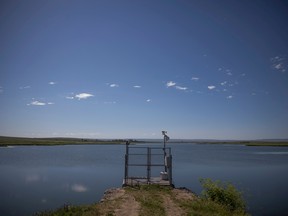 Lush on the other side
After showing the dried up creek next to his ranch, Wilson hopped into his truck and drove past the Junction Reservoir, remarking on the dozens of sprinklers in the distance.
This is upstream, where multiple farms have irrigation pivots that connect to the reservoir and nearby water infrastructure.
"It looks better up here, eh?" Wilson said.
The WSA, which provides licences to farmers to access the water and allocates certain amounts per year, took over the reservoir and other dams in the area in 2017.
Article content
It was previously built and operated by the Prairie Farm Rehabilitation Administration (PFRA), which is now defunct, and later managed by Agriculture and Agri-Food Canada (AAFC). The dams were among the numerous projects the PFRA undertook during the Dirty Thirties to secure water supplies.
While Wilson said he's not opposed to irrigation, he said too much of it can cause problems for producers who aren't connected into the system. He would rather see it done in moderation.
"In their mandate, it says we are here to protect the watershed but that's not what is happening," Wilson said. "Their mandate is to get as much irrigation into the producers' (land) as possible."
In line with the province's plans to streamline drainage approvals to boost crop output, Saskatchewan is poised to expand irrigation through a $4 billion project that would move 690,000 acre-feet of water when completed.
Article content
The province has touted the project as a tool to boost the economy, as well as aid in water security, but environmentalists have raised concerns the plan will reduce water flow to critical areas, particularly the Saskatchewan River Delta, a massive ecosystem that features an array of wildlife.
While an environmental assessment has not yet been publicly released, some have estimated water levels will drop by five to 10 per cent. During droughts, they would shrink further.
Wilson said his situation already mirrors what environmentalists are concerned about.
"They take all this water and conserve it, but what damage is caused by that?" He said. "Every action has a reaction."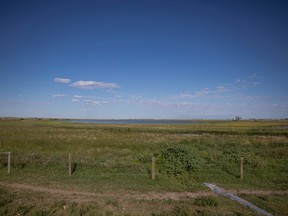 Fight over the lake
Core to Wilson's battle against the WSA is not only the flows out of the Junction Reservoir, but also how those flows are reaching Tenaille Lake.
Article content
In Wingert's affidavit, he claims past survey maps show the Maple Creek does not connect to the lake. Instead, he stated, a diversion channel and other infrastructure were constructed to connect to it.
Wilson's engineers, however, say there is an abandoned meandering channel that connects to the lake naturally. The channel would have been used in the past, the report stated, noting flows were higher before the infrastructure was built.
Wingert wrote there had previously been an irrigation project known as the 'V' that fed lands around the lake. However, the PFRA found feeding these lands were problematic because there was a large ground aquifer. The project was then discontinued and the infrastructure has since been abandoned.
Article content
The engineer report disputes a channel was constructed as part of the 'V' project, insisting the lake could be fed via that natural channel should a blockage be removed.
Wingert wrote that Wilson had made an application to bring water to the lake but it was ultimately rejected because it was "not sustainable, and would not be an efficient and valued use of water."
In its decision, the WSA stated the project would have had high evaporation losses and would negatively affected other water users. It also would have required the old irrigation infrastructure.
Despite the environmental study showing the lake supports critical habitat, the WSA came to the conclusion that its concerns outweighed potential environmental benefits.
Article content
Since the dispute, AAFC has recommended to decommission the infrastructure around the lake. The removal of one outlet would drain the lake to "natural levels," the report stated. No timeline on its decommissioning has been provided.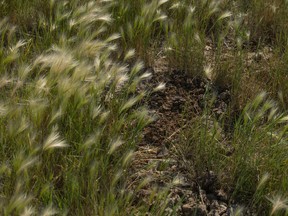 Keeping up the fight
While standing outside a gate looking at the Junction Reservoir, Wilson said he's still willing to fight for the water to which he believes he has a right.
But he acknowledges the battle has somewhat worn him down.
"I can only afford to do so much," he said. "Another thing for me is, all of those species that were identified in that study, what are they going to do once the lake has completely dried up? They've just displaced them."
He wants the WSA to do an environmental study to show how much water can be restricted before damages are felt downstream. He would also like more of the water released.
Article content
In a Freedom of Information response, the WSA stated it doesn't have an environmental study related to the reduction of flow into this watershed.
"Drought is normal in this area, but they homesteaded this spot first because there was water," Wilson said of his ranch. "It's like they're deciding who gets to live and who gets to die."
In Part 3 of the three-part series Drained, the Leader-Post explores the deterioration of water quality in Saskatchewan and how some are worried future water projects could worsen ecosystems. 
Drained: Sask. farmer fights for creek in wild west of illegal drainage

Mandryk: Sask. irrigation has long been a puzzling dream
jsimes@postmedia.com
The news seems to be flying at us faster all the time. From COVID-19 updates to politics and crime and everything in between, it can be hard to keep up. With that in mind, the Regina Leader-Post has created an Afternoon Headlines newsletter that can be delivered daily to your inbox to help make sure you are up to date with the most vital news of the day. Click here to subscribe.
Drained: Sask. rancher's land 'dying' without water from reservoir Source link Drained: Sask. rancher's land 'dying' without water from reservoir