Canada
Drained: Sask. farmer fights for creek in wild west of illegal drainage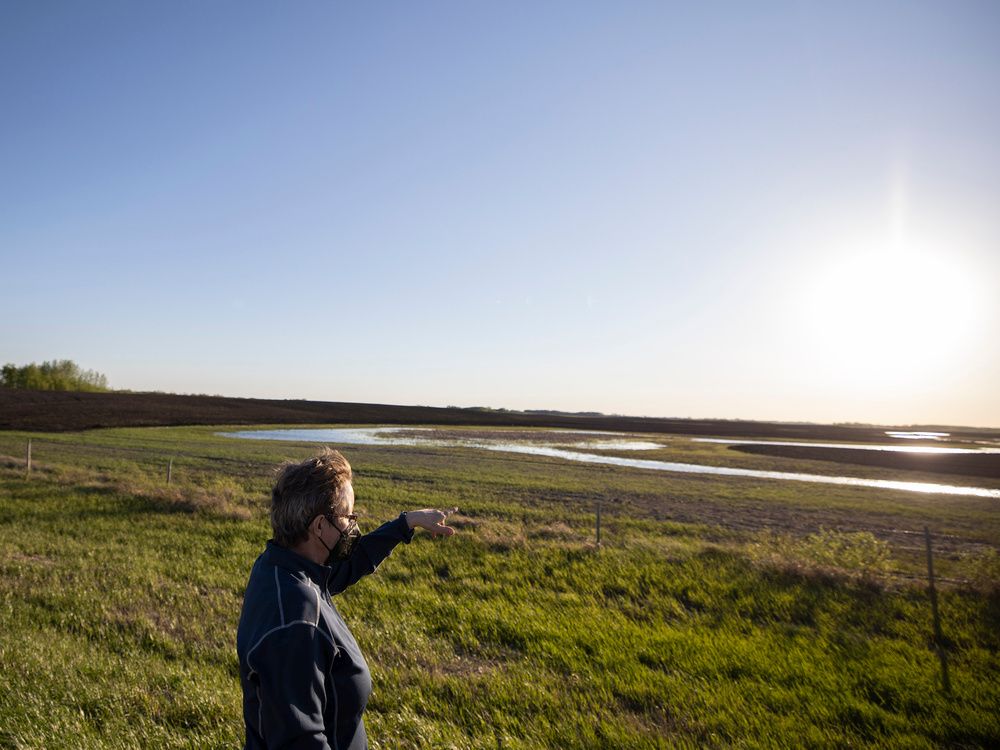 In Part 1 of a three-part series on the province's drainage policies, one Kelvington area farmer says, "it's created a situation where we're forced to fight against each other."
Article content
KELVINGTON — Sandy Lowndes' father used to fish regularly from the Duck Creek that runs through her land.
Article content
For multiple generations, she says, the creek has served her family and the wildlife. Cormorants now hunt for fish where her dad would have cast his hook.
Article content
"I value the trees, I value the creek and I value the wildlife that comes with it," Lowndes said on her farm near Kelvington, located in east-central Saskatchewan, earlier this summer. "That's including the bees, right? Everybody is talking about the bees lately."
But over the past few decades, Lowndes has been dealing with what she says has become a growing illegal drainage problem, jeopardizing her land and the creek she cherishes.
This past spring, water crested over the road and into the yard where her grain bins are located. She didn't seed some areas because the ground was sopping.
Article content
Flooding like this over multiple decades, Lowndes said, has meant a loss of farming acres, an increase in salinity, potential contamination and a decline of wetland habitat in and along the creek.
"I'm just trying to protect my farm," she said. "We need to put the brakes upstream and just slow this water down so you're not wrecking the land downstream."
In Part 1 of the series Drained, the Leader-Post explores how the province's drainage policies have put farmers, like Lowndes, in a position where they say they are being steamrolled.
The east-central region, where Lowndes lives, has often been described as the wild west of illegal drainage.
It's here where many producers have illegally drained water from sloughs or potholes on their land to maximize crop output. But in doing so, they've caused water to gush downstream, leaving their neighbours with a big mess.
Article content
"It's created a situation where we're forced to fight against each other, but I've been left with no choice," she said. "We've kind of put our foot down and said, 'Look, we don't want all this water.'"
In 2016, the Water Security Agency (WSA) estimated there were between 100,000 to 150,000 illegal drainage ditches in the province.
The agency did not provide an updated figure of illegal ditches by deadline, but said in a recent statement that 4,862 quarter sections have been brought into compliance since new rules came into effect in 2017.
"Drainage is an important tool for all producers in Saskatchewan," it stated. "Any water management project that moves water off a producer's land needs a drainage approval from WSA."
Article content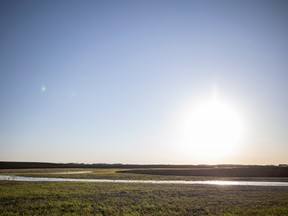 Battle over the creek
On a gravel road located near her land, Lowndes gets out of her car and walks toward the Duck Creek, remarking on its ability to support wildlife and filter contaminants.
But like her farm, the creek floods each year because of upstream drainage. It's also where the local development authority has waged its latest war, she said.
The Kelvington Conservation and Development Area Authority (KCDAA), which is undertaking a drainage project in Lowndes' area, has recommended "channel works" through parts of the creek as a way to move downstream water quickly, according to an engineering assessment prepared for the organization.
This includes potentially re-aligning the creek.
Should that plan go ahead, Lowndes believes the creek will be stripped, resulting in a loss of natural habitat.
Article content
"What they do is they straighten them out so water can come in at greater volumes. It means you don't have the grasses, the bull rushes and the bushes to slow it down and clean it up before it gets to an outlet," she said. "There's nothing in this that's about conserving wetlands or trees or anything. It's all about development."
Crandall Hrynkiw, the executive director with the Saskatchewan Conservation and Development Association, which oversees the Kelvington project, said the plan is awaiting approval.
While there have been discussions about whether parts of the creek will be cleaned up or turned into a channel, he said the authority always considers environmental concerns.
"If you are channelizing, you are changing that natural creek flow by straightening it out," Hrynkiw said. "So that would be something that the (authority) has to work with landowners on and coming to some sort of agreement as to what is best for all concerned."
Article content
For Lowndes, she said it's been difficult to even get to a point where an agreement could be made.
She said she's largely been in the dark about the KCDAA's proposal. At one point, she said she was told the KCDAA was considering to expropriate her land as a way to sidestep the process.
While the KCDAA has expropriation powers, Hrynkiw said there has been no talk of doing that. Expropriation is considered a last resort, he added, noting that landowners should communicate with their local authorities if they have concerns.
In 2019, farmers near MacNutt, located southeast of Yorkton, raised concerns about potential expropriation after dealing with flooding for eight years.
"If landowners have an issue, they should communicate in a way that's a problem-solving approach," Hrynkiw said. "It can't be a Hatfield–McCoy situation, or it gets nowhere. It just makes people angry and upset."
Article content
Producers who've dealt with illegal drainage have long said the process pits neighbours against neighbours.
In Lowndes' case, she said she was met with a swath of problems when she raised a complaint.
After bringing her concerns to the WSA, she said she had experienced intimidation and harassment, as well as had her property vandalized, supposedly by someone in her community.
"At one point we decided we were just going to put up with it because we couldn't keep putting up with the vandalism or the harassment," she said. "But, over time, I just got fed up because I wasn't getting answers. I had to lay another complaint, because the Water Security Agency won't do anything unless you lay a complaint."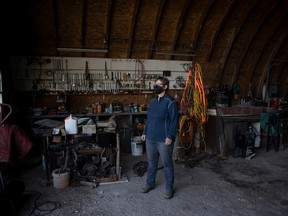 Streamlining the process
Article content
Back on her farm in her yard, Lowndes said she's become a casualty amid what she believes is the government's larger mandate of encouraging more drainage to boost crop output.
In 2015, then-Environment Minister Scott Moe unveiled a plan that allowed producers and municipalities to control and organize drainage projects when they have permission from downstream users and an adequate water outlet to receive the flows.
As premier in 2019, Moe announced $5 million in additional funds to develop more conservation and development (C and D) authorities, like the KCDAA, to manage water, mitigate floods and support the agriculture sector.
While the funds are also intended to address the environment and infrastructure, Moe had said the government needed to "streamline" the approval process.
Article content
Hrynkiw said C and Ds are established when a group of landowners come together and identify a need to drain water. Once established, they create a board and are able to levy producers for their projects.
He said one of their main priorities is to "increase the amount of acres of cultivatable land" by moving water in a way that aims to not negatively affect downstream users.
The WSA stated this network approach "is an effective and efficient way to help landowners manage water locally and receive drainage approvals."
But for Lowndes, she said her concerns aren't being taken into account.
"They want to keep draining this province for the sake of a few acres on every farm and to be able say we are growing more grain," she said. "It's just a lot of shortsightedness. There's a benefit of having a slough on your land, having the grasses that go with it, having the insects and having the micro-organisms."
Article content
Peter Leavitt, a biology professor and co-director of the Institute of Environmental Change and Society at the University of Regina, said Saskatchewan has lost roughly half of its wetlands over time to boost crop output.
Leavitt said wetlands can recharge groundwater supplies and filter contaminants. Should everything be channelized, he said, there would be more flooding, erosion and a decrease in water quality.
"We don't do a quick flash, chemical treatment in the city's wastewater plant. We put it into holdings that hold the wastewater long enough to allow the biological processes and chemical processes to have their effect," Leavitt explained. "That same process happens in natural wetlands."
Changes in Saskatchewan drainage policy come as the Moe government continues with a $4 billion irrigation project at Lake Diefenbaker that would have huge ramifications for the movement of water.
Article content
While it's been touted to mitigate flooding, protect against drought and significantly increase agricultural production, concerns have been raised over how it will affect wetlands, grasslands, rivers and lakes.
Leavitt said it's important the government gets it right by requiring vigorous environmental, cultural, social and economic impact assessments.
"You need to make sure there is a net benefit," he said.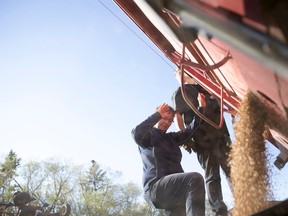 For Lowndes, she's prepared to do what it takes to save her creek.
Should it become a channel, she said decades of illegal drainage will essentially become legal, washing away all that was good for her family and the wildlife.
"They say there are going to be winners and losers in this," she said. "The winners are going to be the people who want to keep illegally draining, and the losers are going to be the people at or near the bottom of the water basin, which is me."
Article content
On Friday in Part 2 of the three-part series Drained, the Leader-Post explores how water management policies have left some producers dry, including one rancher who needs the water most.
Mandryk: Saskatchewan farmland drainage hasn't been neighbourly

Sask. politicians don't want to upset farmers on drainage issues
jsimes@postmedia.com 
The news seems to be flying at us faster all the time. From COVID-19 updates to politics and crime and everything in between, it can be hard to keep up. With that in mind, the Regina Leader-Post has created an Afternoon Headlines newsletter that can be delivered daily to your inbox to help make sure you are up to date with the most vital news of the day. Click here to subscribe.
Drained: Sask. farmer fights for creek in wild west of illegal drainage Source link Drained: Sask. farmer fights for creek in wild west of illegal drainage