Canada
Day of fun at Meaford farm raises money for emergency food assistance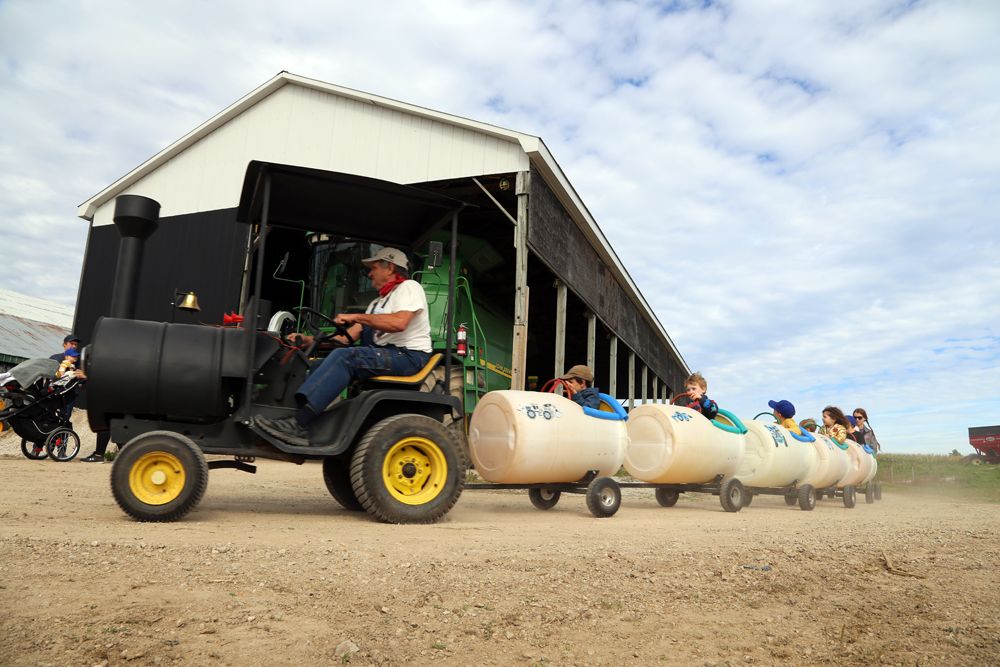 Article content
After a two-year hiatus during the COVID-19 pandemic, an annual day of fun on the farm in support of Canadian Foodgrains Bank returned to the Parkin's plot southeast of Owen Sound Saturday.
Article content
Heather Parkin said Owen Sound Harvest for Hunger scaled down the event this year, but a steady stream of vehicles and smiling faces hauled around on the barrel train indicated attendees weren't ready to scale down the fun.
"With COVID, we missed the last two years and then we planned for this somewhat scaled-down version," Parkin said. "It was going to be even smaller, but we thought it would be cool if kids could come and pick their own pumpkin and corn stalks, and it just kind of snowballed."
The family event, dubbed Fall Day at the Farm this year, is admission-by-donation.
Any money raised is donated to Canadian Foodgrains Bank, which helps feed the less fortunate in the world through emergency food assistance, and helps to train others to grow their own food while engaging Canadians and the government.
Article content
In eight years of raising funds for the cause, Owen Sound Harvest for Hunger has raised close to $200,000.
Parkin said this year money to purchase food is headed to Yemen, while money to help train people to grow their own food is earmarked for Niger. The Canadian government matches any money raised 4:1 for food and 2:1 for training programs, she said.
"They not only provide the food but teach people to be self-sustaining as well," Parkin said of the organization. "It's a really good organization, Canadian Foodgrains, it's one of the top organizations where the amount of money raised is actually going to those in need.
This year's Day at the Farm also included a corn maze, horse and buggy rides, a bouncy cow, giant sand pile, face painting and matchbox car racing. The Inter Township Fire Department had a display on site, and volunteers from the Owen Sound Alliance Chruch were serving up ice cream, pie and hot dogs.
Article content
"We've been amazed at the community support and all those helping out today," Parkin said. "Some are picking pumpkins and helping them out to the people's cars, some of them are cooking, some are face painting, they're all being put to work."
Parkin said they'd be happy if 500 people showed up Saturday, by noon it looked like they would reach that mark easily. The event ran from 10 a.m. to 4 p.m.
The Gray family travelled from just next door as Hallie and Logan, twin 15-month-old girls, had fun playing in the pumpkin patch.
The tractor-pulled barrel trains did steady tours of the property while several families enjoyed the corn maze. William Olivier's quick footsteps could be heard throughout the stalks of corn as he raced his brother through the maze.
Article content
The Parkin farm is a working farm. Several children stared in amazement at the massive tractors on site. Parkin said the family also grows crops in support of Canadian Foodgrains with proceeds donated to the organization.
"I mean it's something so small, but it's actually making a really big impact," Parkin said.
That's where the idea started. Initially, the family was interested in growing a crop and donating the proceeds to Canadian Foodgrains Bank, but again a good idea snowballed.
"Eight years ago we called the first meeting and 30 people showed up wanting to be a part of it, so we planned the event and it went on for five years before COVID," she said. "Even last fall I didn't see it coming back. We're all getting older, the volunteers are all getting older, and I think this was the right solution. Just to scale it back and get the youth involved. Hopefully, they see what a great thing this is and want to continue being involved."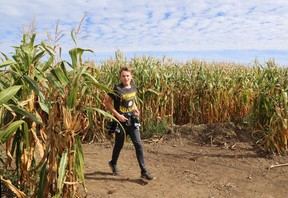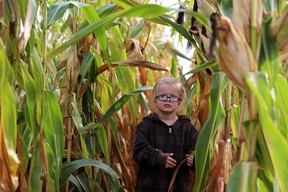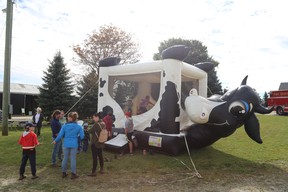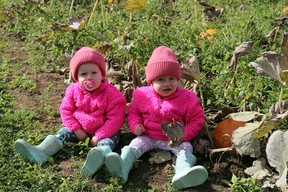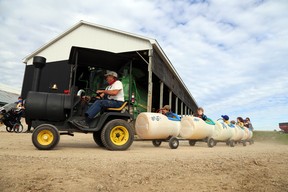 Day of fun at Meaford farm raises money for emergency food assistance Source link Day of fun at Meaford farm raises money for emergency food assistance