Sports
Danny Austin's 10 Takeaways from the Stampeders' win over the Elks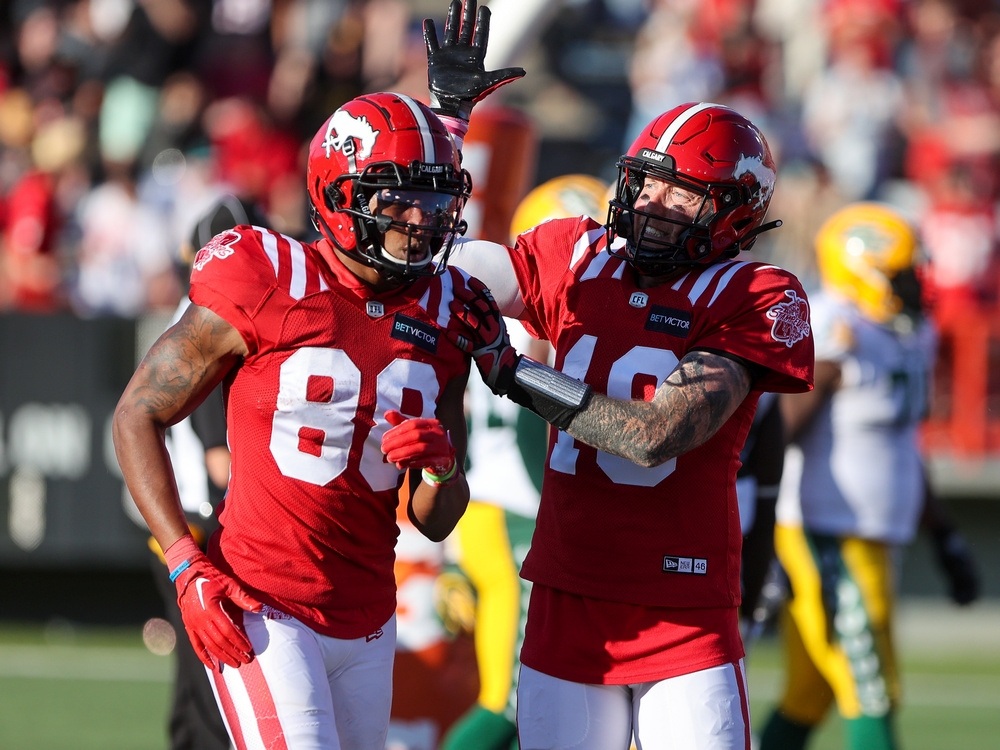 Article content
It wasn't easy work, but the Calgary Stampeders got the job done.
Article content
Up against a visiting Edmonton Elks team that is better than some people might think, the Stampeders overcame a start that was slower than they would have liked and confidently marched to a 30-23 win at McMahon Stadium on Saturday night.
Now, they're 3-0 heading into their first bye week of the year.
That's right where you want to be.
Article content
Here are 10 takeaways from Saturday's game:
STANDING O
There are lots of people who are better at writing about offensive line play than I am, but it would be irresponsible not to highlight the exceptional work that's being done by the Stamps' big men this season.
Through three games, they've allowed two sacks. They didn't allow a single sack on Saturday night.
Those questions about how Derek Dennis would respond to being out of football for two years? Yeah, the Stamps' left tackle has answered them. He's good.
Article content
On the offensive side of the line, there's a rumour going around that Julian Good-Jones has not been beat cleanly for a single sack since he joined the Stamps last year. I honestly have no idea how to even check if that's true, but he's been exceptional.
In the middle, Sean McEwen is the best centre in the league, while Ryan Sceviour and Zack Williams have turned into total beast at the guard positions.
The Elks didn't send a tonne of pressure at quarterback Bo Levi Mitchell on Saturday night, but what they did send, the Stamps dealt with comfortably.
This is a very strong unit. Football is won in the trenches, and with the o-line the Stamps are fielding, they're very comfortable fighting there.
BEGELTON COMES UP BIG
We're going to get to Malik Henry later in this column, but let's talk for a bit about fellow receiver Reggie Begelton. Why? Because when the Stamps needed a big play late in the first half, Begelton stepped up in a huge way — just like you'd expect him to.
Article content
Begelton finished the game with four catches for 77 yards. That's a nice statline but doesn't tell the whole story of his impact.
With the Stamps trailing 13-3 and the clock ticking down in the second quarter, Mitchell twice looked downfield and found Begelton for huge gains. One was for 24 yards, the other for 37, and they combined to set up a Ka'Deem Carey touchdown that pulled the Calgary crew to within three points going into halftime.
It was arguably the turning point of the game, and offered further proof of just how valuable Begelton is.
It's also worth noting that he had another 30+ yard reception in the first quarter that was wiped off the board by an offside penalty that had nothing to do with him, so when I say his statline doesn't tell the full story, I mean it.
Article content
BO IS BO
I'm kind of just done having to defend Mitchell, in this space or any other.
In general, it does seem like the QB has managed to silence a lot of the critics who insisted he was done like dinner in training camp despite never actually getting eyes on him for a single snap in pre-season.
Through three games, he's led the Stamps to three wins. He's thrown for 833 yards, second in the CFL — although he's played more games than the B.C. Lions' Nathan Rourke, who is coming for that top spot, it seems.
On Saturday, Mitchell was all-round excellent despite the Stamps thinking he probably wouldn't be playing until a couple of hours before the game. Fortunately, Mitchell got his ankle wrapped in a way that gave him decent mobility in the pocket, and he responded by completing 21-of-28 passes for 321 yards and a touchdown.
Article content
If that's not good enough for you, I don't know what will be.
Heading into the bye week, Mitchell has not only proven he's still got some magic left in his body, he's put himself in the early Most Outstanding Player conversation.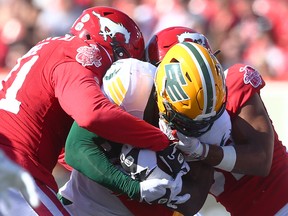 BALL HAWKS
"Yeah, our linebackers are probably leading the league in interceptions right now," Shawn Lemon said with a smile after the game.
In the Stamps' first two games, it was Jameer Thurman who came down with interceptions. On Saturday night, it was Cameron Judge.
The Stamps' linebackers are averaging an interception every game this season. More importantly, they're tackling well and using their athleticism to be disruptive both on the line and in the backfield.
Judge has settled in very nicely with the Stampeders since signing in the off-season. The linebacker spots were expected to be positions of strength for the Stampeders this season, and that's exactly how it's playing out.
Article content
LEMON STILL LEMON
In his post-game media availability, Stamps head coach Dave Dickenson acknowledged that there's something of an open competition at defensive end. The Stamps like their backups and are high on the guys on their practice roster, so the starters need to produce.
There can be no complaints about Lemon's contributions on Saturday, especially in the second half.
On the Elks' first drive of the half, Lemon stepped up. He had a tackle on James Wilder, a pass knockdown deep in Calgary territory and then a sack on the very next snap that pushed the Elks out of field goal range – they lost 12 yards on the play.
A few minutes later, he had another sack, this time forcing a fumble.
Lemon didn't seem interested in pumping his own tires after the game and instead repeatedly expressed gratitude for the opportunity the Stampeders are giving him. But he's got three sacks on the year. Only the Saskatchewan Roughriders' Pete Robertson has more.
Article content
SPECIAL TEAMS
I wanted to make this entire takeaway about kicker Rene Paredes' continued excellence, but I feel like I do that every week. Let's just keep it simple and acknowledge that he was quite excellent and move on to the rest of the special teams unit.
They showed a lot of improvement. Going into the game, the Stamps were allowing the second-most yards on punt returns (11.0) and kickoff returns (24.0) in the CFL.
They allowed an average of 11.7 yards on punt returns to the Elks, which wasn't a huge improvement, but the longest return was 14 yards. On kickoffs, the coverage unit allowed an average of only 19.8 yards.
Dickenson was pleased with the improvement, specifically pointing to the efforts of Charlie Power.
Article content
On their own returns, Jalen Philpot did well in his CFL debut, running three kicks back for an average of 22.3 yards, while Peyton Logan did nicely on punt returns, averaging 14.8 yards on four returns.
It was a step in the right direction.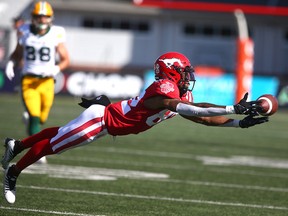 HENRY'S BIG NIGHT
I wrote about 600 words on Henry after Saturday's game, so I don't have that much more to add.
Needless to say, Henry had a breakout performance. We'd seen him show flashes as a returner for the Stamps last year, but we'd never seen anything like the six-catch, 173-yard receiving performance he put up Saturday evening. He added a touchdown, too, which was icing on the cake.
Making it even more impressive was the fact that Henry had a tough first half. He fumbled the ball and took an offside penalty that cost the Stamps a first down. Obviously, the club needs him to cut out those mistakes, but if opponents are going to focus on keeping the ball out of Begelton and Kamar Jorden's hands, Henry is going to hurt them.
Article content
When you combine Henry's big Saturday night with the way Richard Sindani stepped up and got to 100 receiving yards in Week 1, it's clear the Stampeders have more depth than some people might have given them credit for.
RUFFIN STEPS UP
The Elks' receivers made some plays, let's not pretend otherwise — great to see Emmanuel Arceneaux playing the way he did, and even the most hardened Calgarian must feel good about seeing former Stamps QB Nick Arbuckle playing well for the Edmonton crew.
But the Stampeders' defensive backfield deserves credit for the way they limited the damage through the air. This was a young group and they were going up against a receiving corps that included established game-changer Derel Walker, Arceneaux and Kenny Lawler, the CFL's highest-paid receiver.
Article content
Dionte Ruffin, in particular, deserves kudos for his work at boundary corner. With Tre Roberson out, it was a tall task for the first-year DB, and I don't think there can be any complaints about the way he played.
Yes, he took a pass interference penalty early while trying to cover Lawler and it led to a touchdown. I'm not saying it was a bad call, but it was a soft one.
Eventually, the Stamps are going to have Roberson and Branden Dozier back. That should help. For now, though, this beat-up defensive backfield is holding its own.
ELKS NOT THAT BAD
Because the Elks were humiliated in a 59-15 Week 1 loss against the B.C. Lions, they're being treated like a bit of a joke. They're better than that.
They gave the Riders a fight in Week 2, but lost 26-16, and were leading at halftime against the Stamps. Speaking after the game, Mitchell was clear that people needed to start taking them seriously.
Article content
I still have the Elks finishing last in the West Division, but with the Lions stomping their first two opponents — including a 44-3 blowout of the Toronto Argonauts on Saturday night — and the Riders suffering a couple of tough injuries in Dan Clark and Shaq Evans, I'm not convinced the West is going to match all the pre-season predictions of a three-way-dogfight between the Stamps, Winnipeg Blue Bombers and Riders, with the other two teams fighting for a go-nowhere fourth-place finish.
THESE STARTS, THOUGH
I wanted to talk about Ka'Deem Carey just kind of quietly running for 91 yards and a touchdown and adding 11 receiving yards. Maybe this already-too-long column needs to become 15 takeaways?
But I would feel strange talking about Saturday's game without acknowledging that the Stamps fell behind early … again.
Article content
It wasn't nearly as distressing as the 24-point deficit they built for themselves against the Hamilton Tiger-Cats in Week 2, but they still fell behind by 10 points and there was a stark contrast between the way the Stamps played in the first and second halves.
They've managed to survive their slow starts so far this season but there's no way you can look ahead at the schedule, see two July games against the Bombers and not feel like they need to figure out how to start better, and do it in a hurry.
The Bombers won't let the Stampeders get away with a lackadaisical first half.
daustin@postmedia.com


Danny Austin's 10 Takeaways from the Stampeders' win over the Elks Source link Danny Austin's 10 Takeaways from the Stampeders' win over the Elks