Sports
Danny Austin's 10 Takeaways from the Stampeders' loss to the Bombers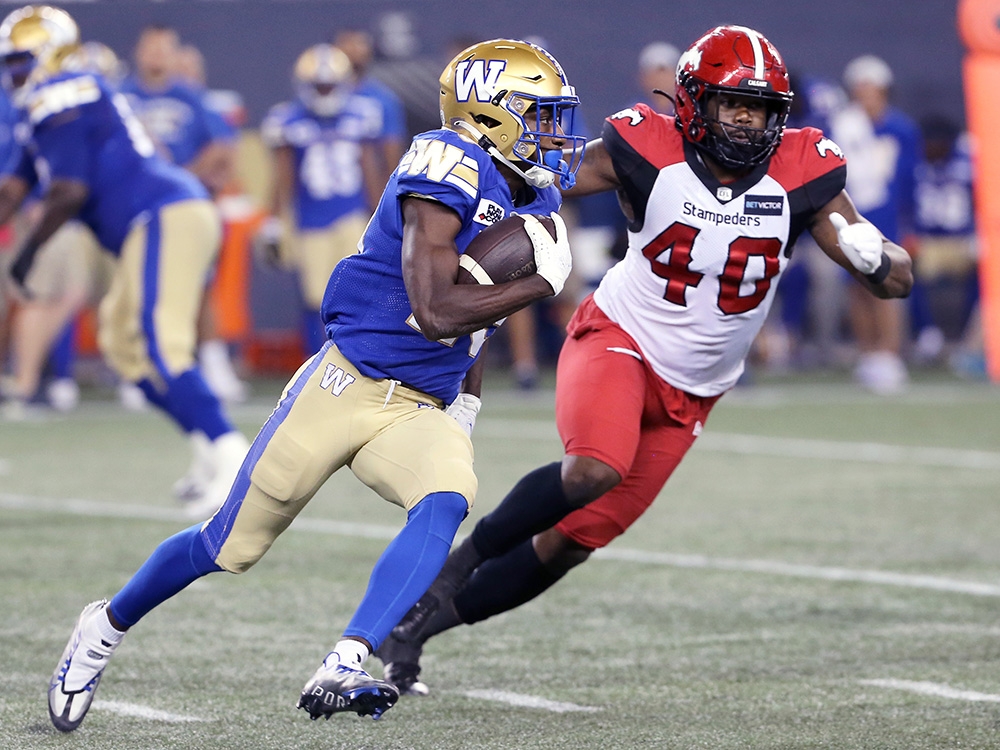 Article content
You've gotta finish.
Article content
The Calgary Stampeders played a lot of good football on Thursday night against the Winnipeg Blue Bombers.
Article content
We've said that before about the Stamps when they've gone up against the two-time reigning Grey Cup champions this season. Nobody's questioning that they're close to the Bombers. Nobody in their right mind looks at the three head-to-head matchups between the two West Division rivals and thinks there's a huge gap in talent.
But the Bombers are three-for-three against the Stamps. The Stamps have absolutely nothing to show for three good performances.
They just can't seem to get across the finish line. In the fourth quarters of each of their losses this season, the Stamps have fallen short.
"These games against the top teams in the CFL, they come down to the last 10 minutes or so, the last few drives," said Stamps QB Jake Maier. "In my honest opinion, we didn't finish well enough and that starts with me … I need to be better in those moments."
Article content
This is not the first time the Stamps have lamented their struggles closing out games.
In their four losses this season, they've been outscored in the fourth quarter every time. Cumulatively, they've been outscored 43-16 in the final 15 minutes of those four games. So yeah, finishing games has been a problem. Their finishes aren't "end of Game of Thrones" bad, but their fourth quarter play leaves a lot to be desired.
Fortunately, the Stamps are basically only at the midway point of their season. There's lots of time to fix problems.
"You get 18 regular season games for a reason," said Stamps defensive end Shawn Lemon. "If you can find a way each week to just get better and get better and find a way to put these games away at the end of games, we're going to be fine."
Article content
Those fourth quarters are inevitably going to be the focus going forward for the Stampeders, although they may not be tested again this regular season the way they have been over the past month-or-so.
The Stamps faced the Bombers three times since mid-July and also played the Nathan Rourke-led Lions. Those teams' combined records are 18-2. They have a .900 combined winning percentage.
If we look forward and don't include the Lions, who will be without their superstar quarterback for the foreseeable future, the Stamps' opponents between now and the end of the regular season – the Edmonton Elks, Toronto Argonauts, Hamilton Tiger-Cats and Saskatchewan Roughriders – have a combined 15-24 record, or a combined .384 winning percentage.
Article content
Nobody's saying it's going to be easy going forward, but it's probably going to be easier than the past six weeks.
It's a chance to put wins on the board and solidify their playoff position, but more importantly, to focus in on the issues that have plagued them late in games against the teams they're going to need to beat come playoff-time.
Here are 10 Takeaways from Thursday's game: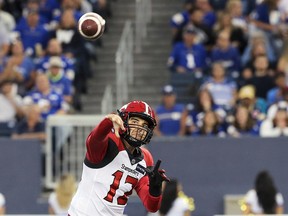 Maier was inevitably going to be the main point-of-focus for any story about the Stamps' performance against the Bombers. That's what happens when you're tapped to step up at quarterback in the place of a franchise legend like Bo Levi Mitchell.
All-in-all, there can be few complaints about Maier's performance.
Faced with near constant pressure from a very good Bombers d-line, Maier completed 23-of-28 passes for 294 yards and three touchdowns. At one point in the first half, he completed 15 straight passes.
Article content
Yeah, I got one e-mail from a guy ripping Maier and saying he was average-at-best, but that guy writes me all the time and I just genuinely hope he's doing OK. Otherwise, it seems like everyone was pretty pleased with Maier.
The touchdowns, in particular, were encouraging. Heading into the game, the Stamps had only nine passing touchdowns through nine games this season. That was the third-worst mark in the league. Getting three passing TDs in one game is obviously a big improvement.
What is the Stampeders' plan at QB going forward? I have no idea, although I suspect they're not interested in rotating back-and-forth between Maier and Mitchell every week.
Against the best team in the league, Maier did pretty well. It's hard to imagine them benching him for the Labour Day Classic.
Article content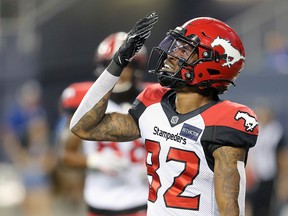 While we're on the topic of the passing game, it's got to be said: Getting Henry back was an immediate boost for the Stamps offence.
The wide receiver finished the game with seven catches for 122 yards and three touchdowns. His speed caused the Bombers defensive backs real problems and he's emerged as a reliable target both down the sideline and across the middle.
There are other receivers who may pass him as the CFL rolls through its mid-week schedule, but Henry is currently eighth in the league in receiving yards, with 637, and third in receiving touchdowns, with three. All that despite missing the last two games – and most of the Stamps' win over the Redblacks three weeks ago – with an injury.
There was good news elsewhere in the Stamps receiving corps, with Reggie Begelton looking the best he has all season, but Henry has emerged as the star of the group so far this season.
Article content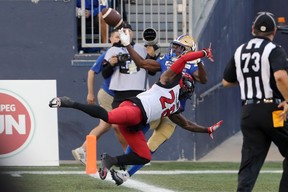 Brad Muhammad was draped all over Bombers receiver Greg McCrae in the endzone early in Thursday's game. A pass interference flag was even thrown, only for McCrae to come down with a spectacular touchdown catch.
It was a tough play, but it didn't break Muhammad. At all.
In fact, he came up with two huge endzone interceptions that kept the Stamps in the game. One was at the end of the second quarter, the second was in the third. They saved the Stampeders 14 points, so it can't be overtstated how important they were.
Former Stamps defensive coordinator DeVone Claybrooks once told me it never stressed him out to see a DB get beat on a pass. What worried him was if the DB got rattled and the play caused him to get away from his own game.
Article content
To his credit, Muhammad kept his head after the McCrae touchdown and made big plays for his team. That's all you can ask.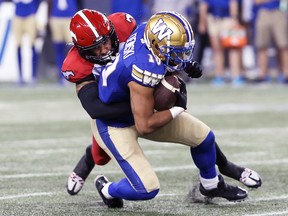 If you want to get mad at the Stampeders' pass defence on Thursday night, knock yourself out.
I do think some context is required, though.
Jonathan Moxey was by far the Stampeders' most experienced defensive back and a) he's in his second year as a starter and b) he wasn't even playing in his normal position.
In fact, if you went across the six DB positions, you could argue that there wasn't a single player who was starting at their position who would normally be playing there if everyone was healthy – Muhammad is the exception.
The Bombers didn't have all their receivers available, and that is worth noting, but I'm just not sure anyone should be losing sleep about the way the DBs played. They were missing Tre Roberson, Titus Wall and Branden Dozier, all of whom are guaranteed starters every week. We all expected Javien Elliott to be a starter before training camp, but he's been out all season, too.
Article content
It was a tough situation. All things considered, they did OK.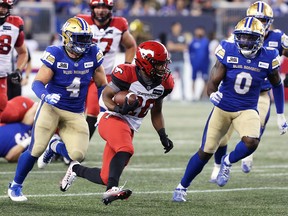 The Stampeders have three running backs who can flat-out play. We know this.
For a while now, I've been on my soapbox about wanting to see Ka'Deem Carey and Dedrick Mills both trucking over defenders in the same game.
Turns out, I wasn't paying enough attention to the potential of Carey and Peyton Logan together.
Carey is probably the league's best running back. He explodes through holes, seems to absolutely love contact and has a thrilling balance of speed and power. He's a handful for defenders.
When the Stamps would switch things up and go to Logan, though, his blistering speed seemed to genuinely throw the Bombers off. It's just really hard to go from trying to stop a guy like Carey on one play and then having to adjust to a completely different style of running back on the next.
Article content
Carey finished the game with 62 yards on 11 carries and added two catches for 14 yards.
Logan, meanwhile, ran the ball six times for 51 yards and had three catches for 52 yards.
Their ability to catch the ball is an added dimension and as a tandem, Logan and Carey are extremely dangerous. It's going to be fun to watch for the rest of the season.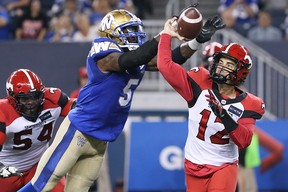 PRACTICE WHAT THEY PREACH
Next man up, next man up.
We hear it all the time, but when the next man up is coming in to replace offensive linemen as strong as Julian Good-Jones and Sean McEwen, it's inevitable that it won't be easy.
I'll be honest when I say that I thought the Stamps o-line was going to struggle against the Bombers d-line. Guys like Willie Jefferson and Jackson Jeffcoat make life a nightmare for the best o-linemen in the CFL, so it was easy to imagine Josh Coker – playing his first game – having a tough night.
Article content
Was it perfect? No, it was not. Jeffcoat had a big knockdown in the fourth quarter when the pocket was collapsing on Maier and Shayne Gauthier had a big sack on the same drive.
But in general, I think the Stamps o-line did pretty well. The Gauthier sack was the only one the Bombers picked up all night. Those rushing numbers we mentioned in the fifth takeaway? Those don't happen without the o-line doing their job and creating holes.
Maier was under pressure a fair bit, but he handled it well.
This could have been way, way worse. It's a credit to the guys on the field that it wasn't.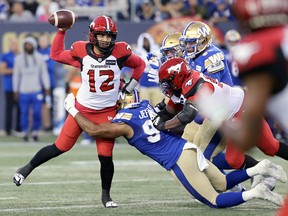 Turnovers will kill you against a team like the Bombers, so it's significant that the Stampeders didn't fumble the ball or throw an interception once on Thursday night.
Article content
The Bombers had the best turnover ratio (+10) in the league heading into the game, but the Stampeders surpassed them. They're now +11.
All of this would feel a lot better with a win and it's probably worth noting that turnovers haven't exactly been a big problem for the Stamps this season. They're now tied with the Bombers for the fewest turnovers made, with 15 each.
Either way, the Stamps offence has been a source of consternation in recent weeks. If you're looking for further evidence that improvements are legitimately being made, having zero turnovers against an elite defence like the Bombers should count for something.
LET'S JUST ACKNOWLEDGE IT AND MOVE ON
I really don't like using this column to complain about officiating. It's been bad all over the CFL this season and the last thing I'm going to do is suggest there's some sort of conspiracy theory against the Stampeders – there is absolutely not.
Article content
But man, the Stamps have every right to feel like they got the short end of the officiating stick on Thursday.
Before any Bombers fan who is inexplicably reading a 2,000-word Stampeders takeaway column gets mad, yes, it's true that the roughing the passer penalty called against Jefferson in the fourth quarter was ridiculous. Don't worry, TSN folks made sure their opinion on that was known, you don't need me to do it.
But the holding penalty called on Ryan Sceviour as the Stamps went for it on third-and-two a couple plays later? That was equally soft. It feels like there's got to be blatant, obvious holding on a play that big if the ref is going to call it. I personally don't think there was.
Earlier in the game, the refs also blew the whistle awfully early after Collaros had lost the ball. They thought it was an incomplete pass, it wasn't. When the play was reviewed, it was ruled a fumble, but the Stamps didn't gain possession because the whistle had blown, even though they recovered it.
Article content
That cost them three points. They lost by two.
I'm not saying those two plays cost the Stamps the game. Seriously, I'm not. I'm just saying that you sometimes wish the standard of officiating was a bit higher.
Was cute when the linesman sat-up and signalled for a touchdown after getting run over by Malik Henry, though. That was great.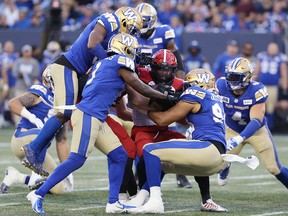 This is just going to be a quick takeaway because this is already running so long, but I do enjoy what the Stampeders are doing on short-yardage plays.
Third-string quarterback Tommy Stevens is just so big and is great at finding holes, and the play they ran where Stevens flipped the ball to Logan in the first quarter worked like a charm.
Last year, it sometimes felt like the Stamps were always going to come up short on those plays, even when they were getting the yards they needed every time.
Article content
Not this year. This year, they're confident and rightfully so.
Winning 12 games in a CFL season is impressive. It doesn't matter who finishes ahead of you, that's a good year.
Despite Thursday's loss, I'd argue the Stamps have a decent chance of getting to 12 wins.
These back-to-back Labour Day games against the Elks are winnable. After that it's two against the Lions, who don't have Rourke. Then you've got the Ticats and Argos at home, both of whom the Stamps beat on the road and then the Stamps finish things off with a back-to-back against the Riders, who are one of the most confounding teams I've ever seen.
The Stampeders need to win six-of-eight to get to 12 wins. Look at that list of opponents, I'm not sure anyone should bet against them.
daustin@postmedia.com


Danny Austin's 10 Takeaways from the Stampeders' loss to the Bombers Source link Danny Austin's 10 Takeaways from the Stampeders' loss to the Bombers