Business
COVID-19: End of order for masks in rural areas that are barely noticeable in public on day 1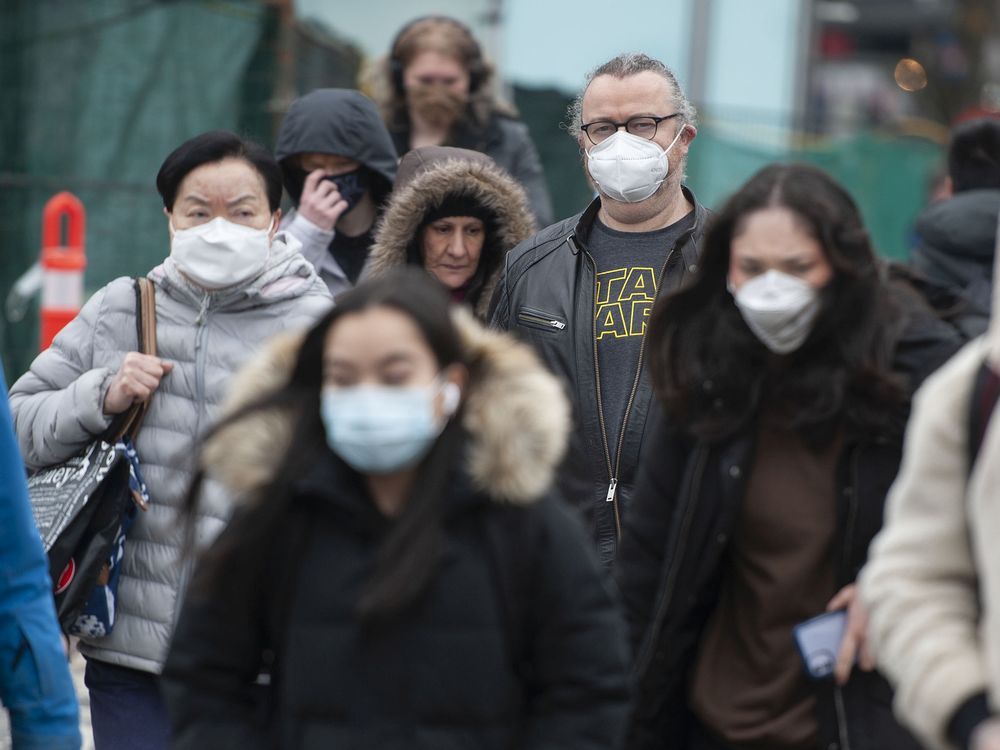 On Friday, the vast majority of people remained masked during transportation, restaurants, and even on the streets.
Article content
On the first day when face masks were no longer needed in BC, the corners of Broadway and Canby, one of Vancouver's busiest pedestrian crossings, were still flooded with masks.
Article content
Very few passengers on the Canadian line left the station without a mask. Looking at the spread of masks in restaurants, stores, businesses, buses, and even outdoor sidewalks, it was not clear that state health officials had declared that they had significantly exceeded their obligations.
"I always wear a mask, but I'm going to test it to see how it feels," said Kim Larsen, one of the few who hasn't worn a mask from a station on the Canadian line that is still marked. Said. Mandatory mask.
"It really feels good," he said. "I felt like I did something wrong and I was hoping for negative feedback, but no, I didn't."
Larsen had a mask with him and was hoping to wear it at his dentist's appointment for the day.
He wasn't sure if he would avoid crowded venues that didn't stick to their own compulsory mask policy. "It's a difficult question because it's the first day. If it's really crowded, maybe. If the way back (Canada line) is full, you might wear a mask."
Article content
Translink has announced that masks will no longer be required in transportation systems, but signs may remain until the crew has the opportunity to remove the masks, as they did at the Broadway City Hall station on Friday. Said.
The transition to walking around in public is probably a step-by-step process.
"I think it will take a while to get used to it," said Buse Bedir, who did a quick shop at Whole Foods without covering his face, admitting that the experience was a bit uncomfortable. "I will probably still use it in transit."
"It certainly feels a little naked," says maternity nurse Blair Graham shopping at Save-On Foods. "It will take some time for this to feel normal. It's been two years. It's said that it takes 90 days for the habit to develop."
Article content
She said 90 percent of the shoppers around her still felt masked.
Graham also said he was ready to revive mandates if COVID cases and hospitalizations increased again.
"I think I always wear a mask," said Mary Kehler, a Save-On shopper. "I generally feel more protected from bacteria. I don't have the flu, colds or COVID. I think we'll see more masks in the future. In China, they wear masks. "
She also said she wasn't sure if anyone was still aware, but the mission was lifted.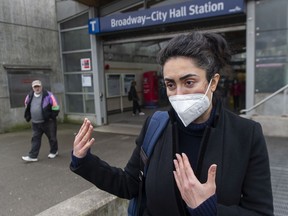 Rose Bactasi said he chose to continue wearing masks in public, including a trip to Canada that he was about to go on Friday.
"People are sitting right next to you and 15 centimeters away from my face," she says, and will continue to wear it in crowded grocery stores, but don't hesitate to take it off in restaurants. I added that it would be.
Article content
Like most others interviewed on Friday, she said she was healthy with triple vaccination, whether masked or not, so she wasn't afraid of COVID.
Bactasi said he fully respects each individual's right to decide on a mask.
"They have the right to choose," she said. "It's a free country."
But she is also worried about people who are immunocompromised or who may otherwise be vulnerable to COVID.
"I hope they have a choice," she said.
"You don't know if you're vulnerable because people don't have a sign around their neck to indicate they're not vaxxed or vaxxed," Larsen said.
Many Broadway companies still posted signs requiring them to wear masks.
Gina Law, owner of Radiant Hair & Nail Salon, said she would let customers know if she likes masks.
She said she didn't have much time to adjust the new rules.
"It's a little too fast," she said.
COVID-19: End of order for masks in rural areas that are barely noticeable in public on day 1
Source link COVID-19: End of order for masks in rural areas that are barely noticeable in public on day 1