Canada
Calm down with some holiday tunes: A curated Christmas playlist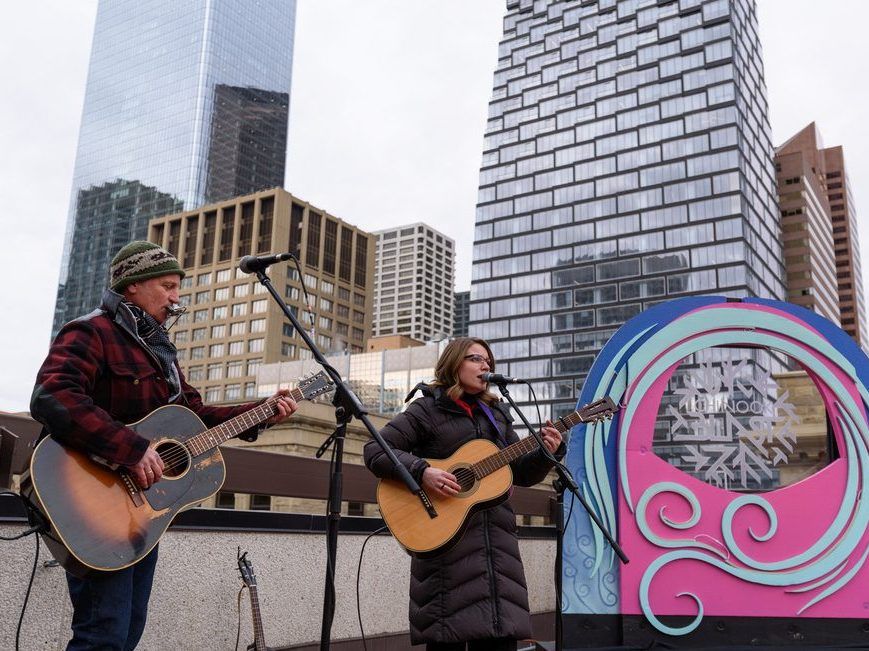 Reviews and recommendations are unbiased and products are independently selected. Postmedia may earn affiliate commissions from purchases made through links on this page.
Article content
Whether you're planning a holiday get-together or just need a little inspiration for your Christmas decorating and baking, a good Christmas playlist can help. CKUA Radio host Lisa Wilton has dug into a few songs vaults to kick off your season's soundtrack.
Article content
She & Him – All I Want For Christmas Is You
Mariah Carey's platinum-selling holiday juggernaut is polarizing. Either you love it, or you're trying to avoid it at all costs from mid-November to New Year's Eve.
Its popularity is not surprising. It's a very catchy earworm. So if all you want for Christmas is secretly enjoying yourself, but you want to keep a little bit of musical snob cred, try She & Him's indie pop cover. Maybe not, but her smooth, resonant voice is perfect for this song.
Article content
Slade – Merry Christmas everyone
In 1973, the economic situation for Britain's working and middle classes looked dire. Strikes broke out across England and many were looking for a way to forget their troubles.
Enter Wolverhampton's Glam Band Slade with the barn-burning rock 'n' roll stompers that roused the masses (at least three and a half minutes).
It's a lively and joyful song that has become a staple of Christmas. And if you like it, try Wizzard's I Wish It Could Be Christmas Everyday, released in the same glam rock vein that same year.
Article content
Hawksley Workman – First snow of the year
It's been 20 years since Juno Award-winning singer and songwriter Hawksley Workman released his now-classic Canadian Christmas album, Almost a Full Moon. First Snow of the Year is one of his most whimsical tracks on the record. It evokes the nostalgic feeling of first snow. For kids, it's a thrilling toboggan ride, and for adults, it's a nasty chore of clearing the driveway.
A quirky and likable song.
Article content
Sarah McLachlan – River
Another quintessential Canadian Christmas classic, River was written by Alberta-born music legend Joni Mitchell. Her version should be on any holiday playlist, but Sarah McLachlan's beautiful mezzo her vocal range and distinctive tone and timbre add a magical quality to this oft-covered song. I'm here. "River" isn't exactly her happy holiday number (Mitchell wrote it after breaking up with her Graham Nash), but it's surprisingly soothing.
Article content
Shay Zadravek – Silver Bell
Described as "a rodeo song with a Christmas twist," Silver Bells is a charming roots ballad written by Canadian folk songwriter and country legend Ian Tyson.
This new version by Calgary singer Shaye Zadravec is great. Shay's mournful voice perfectly captures the regret and homesickness of a "South Texas cowgirl" who can't return to Alberta for her vacation.
Shay adds warmth to the song, which also features a verse sung by the gruff-voiced Tyson.
Article content
Khruangbin – Christmas time
Little did jazz pianist Vince Guaraldi know in 1965 that the opening song he composed for the animated television special "A Charlie Brown Christmas" would become a Christmas staple.
The original still holds up, but this recent version from psychedelic Austin trio Khruangbin is soulful, sophisticated, and utterly cool.
Article content
Ella Fitzgerald – Sleigh ride
Composed by Leroy Anderson in the heat of the summer of 1948, Sleigh Ride is one of the most recorded Christmas songs in the holiday music canon. Ella Fitzgerald's version is a winner thanks to her playful expression and vintage swing her jazzy sound. Step out of the Jell-O mold, hang up your mid-century Christmas decorations, and pop the iconic vocalist's Christmas album, Ella Fitzgerald Wish You a Swinging Christmas, for a Euletide season in vintage her style.
Article content
Louis Armstrong – "That You, Santa Claus?
Like Ella's Sleigh Ride, 'Zat You, Santa Claus' is a hilarious holiday song from one of jazz's greatest musicians.
It's not one of the more widely known holiday offerings, but it's enough cheeky fun to add to your Christmas playlist.
Article content
Waitress – Christmas Wrapping
For those who love irreverent Christmas songs with a touch of humor, this 1981 single by Akron, Ohio new wave band The Waitresses is perfect.
Frontperson Patti Donahue sings from the perspective of a busy modern woman. She decides she's going to simply skip Christmas this year, but eventually warms up to the season after romance enters the picture.
It's funky, fun, and probably the most danceable Christmas song on your holiday playlist. Well, except that…
Article content
Bonnie M – Mary's Boy Child/Oh My Lord
Much like Mariah Carey's All I Want for Christmas is You or Wham's Last Christmas, Bonnie M's epic 1978 holiday standards are either vilified or adored.
Count me in the latter camp. My love for this song solidified after I witnessed a Ship & Anchor patron meandering around the pub with her conga line singing loudly? But perhaps it's fun and unpretentious, and Christmas just wouldn't be the same without it.
Other songs to include:
The Pogues and Kirsty McCall – New York Fairy Tales
Low – Like Christmas
The Kinks – Father Christmas
Grant Lee Phillips – Winterglow
Pentatonix – Carol of Bells
Calm down with some holiday tunes: A curated Christmas playlist
Source link Calm down with some holiday tunes: A curated Christmas playlist